Step #1: Sulfate-Free Clarifying Wash NOT Final Wash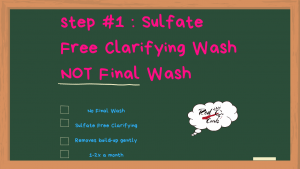 To start the Curly Girl Method, you need a clean slate. You need to remove the silicones that are currently in your hair from the last time you washed and styled your hair. Now here is where the misinformation comes in that we must clear up at once!
The Final wash is an asinine EXTRA step when starting the method. It is the act of using a sulfate shampoo one last time to remove all the silicones and start fresh instead of waiting the few months for the silicones to disintegrate (break down) on their own. The reason the final wash isn't needed or encouraged is that it is redundant and can cause damage.
The moment you decide to follow the Curly Girl Method, you give up using sulfates right then and there. It's that simple and quick of a decision. There is no need to wash one last time when a sulfate-free clarifying shampoo has the same capability with far less risk of damage.
Why? Because sulfates are a type of surfactant. Sulfates are part of a bigger class of surfactants known as Anionic Surfactants.
Anionic surfactants are a group of surfactants (both sulfate and sulfate-free choices) that work to deep clean and remove build-up. This includes ALL build-up, including silicone buildup. The shampoo will be strong enough to wipe the slate clean so you can properly begin your modified curly girl method journey without damaging your hair as sulfates can.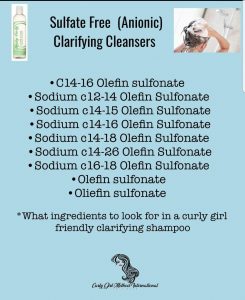 If you would like more information on the differences between cleansers and shampoos (including the difference between no-poo and low-poo) please click here.
If you are choosing to follow the "strict" Curly Girl Method, you do not use shampoo to clarify, instead, you use an acidic rinse like a Lemon Rinse or an Apple Cider Vinegar Rinse.
Step #2: Deep conditioning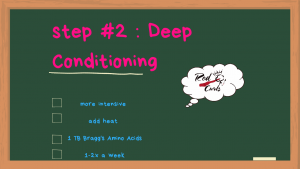 Deep conditioning is vital to the health of your hair. This is quite possibly THE most important step in your haircare regime.

Deep conditioners are a more intensive conditioner than the day-to-day rinse out conditioner, this is why it is so vital to repair the health of your curls.
Deep conditioners are designed to penetrate the strands (deeper than most conditioners) and work to help repair damage and maintain overall health from within.
Deep conditioners moisturize the hair from within increasing the hair's elasticity and strength. In the long run, this prevents split ends, breakage, and possible damage from future manipulation.
Deep conditioners are especially effective when you add safe, indirect heat like the q-redew hair steamer.
Microwaveable caps like the Thermal Haircare Hothead are also a very popular choice
If you do not have any of these options, you can use a plastic shower cap or shopping bag. Your scalp naturally releases heat, so if you add a shower cap or plastic bag, you are essentially "heating up" the deep conditioner as you leave it on for the suggested 30 minutes.
Deep conditioners vary from rinse-out conditioner because rinse-out conditioners focus on sealing the cuticle (the outermost layer of the hair responsible for porosity) to avoid frizz instead of penetrating to the innermost layer of the hair (known as the cortex) to moisturize and repair damage from within, leading to overall healthier hair.
If you would like more information on the science behind deep conditioning including tips to boost deep conditioning benefits, please click here.
Step #3: Styling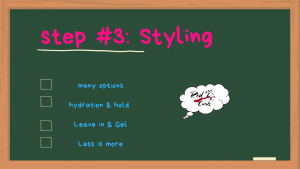 This is the one step where it's very difficult to guide you on a proper routine. Everyone's hair is different, so, what works for one person or your favorite influencer, may not work for your hair. This is why we tell you, do not compare your hair to other people's hair. There's a lot of factors that go into a great result. You have to account for product application technique, specific product ingredients, weather, build-up, etc.
When it comes to styling the minimalist approach is best. This can mean many things. For me, a minimalist routine is using one product for each step of my wash day like my go-to the Tresemme Botanique Nourish & Replenish Conditioner with Coconut Milk and Aloe Vera. I use this as my sole product for select washdays. That means I use this as my co-wash, my deep conditioner, my rinse-out conditioner, and my styling product. To see how I do this, click here.
Hair needs two things to be on it's the best behavior; hydration and hold.
Hydration quenches frizz and allows hair to clump nicely. You will notice hydrating products often include terms like moisturizing, curl enhancing, etc. When you apply hydrating products such as a leave-in conditioner onto soaking wet hair, it locks in the moisture of the water in your hair and helps you spread the product more smoothly and evenly throughout the hair.
Focusing on proper product application helps you use less product, so you don't weigh your hair down with product Wavy hair and fine hair cannot afford to overdo it on products, use pea-size amounts at a time to build up.
The next step is going to be a product to provide hold. Many times this will mean gel, but this does not limit product use to just a leave-in conditioner and gel. The gel is meant to provide hold to the curls. Gel locks in moisture and locks out humidity helping preserve curl definition.
There are many different styling options such as curl creams, mousses, and even lotions! The list really does go on and on, the product combinations are endless. At the end of the day, the choice is ultimately up to you, finding the right products will take time through trial and error.
Step #4: Drying Your Hair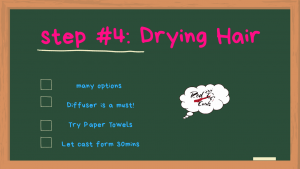 The Curly Girl Method is all about avoiding the damaging high heat that has to lead us all to our current state of dead ends and dry hair. To dry your hair, your options are naturally air drying, diffusing, plopping, or sitting under a hooded dryer.
Air drying: styling your hair as you want it and leaving it alone for a couple of hours to dry naturally as you go on with your day. This can take anywhere from 2 hours to 24 hours depending on your porosity and hair density (how thick your hair is). The weather and climate in your area could also be a factor in air-drying time.
Do not touch your hair at all until it is 100% dry or you will cause your hair to frizz!
Hooded Dryer: The same rules still apply for heat! Cool to low heat, sit until your hair is completely dry, and then scrunch the gel cast out with a sealant(e.g. oil, water-based sex lubricant, conditioner, etc). Once you have scrunched out the cast (hard and stiff hair feeling), pick and fluff as you desire.
Diffusing: using a hairdryer with a unique bowl-like attachment on cool or low heat. Diffusing can cause excessive frizz, my best tips to solve this are, using the pixie method to diffuse and to allow your hair to air dry for a bit before diffusing. This allows your gel cast time to form, lock your curls into place to help withstand the diffusing. I like to air-dry 15-45 minutes, depending on what my schedule provides, to allow my hair to air dry then I go ahead and diffuse it.
Plopping: Tying a cotton t-shirt or microfiber towel around your head in a forward motion gently placing the hair in an accordion-like fashion. This allows the fabric to absorb some of the moisture from your hair so it can dry faster. Plop your wet hair after you've applied your styling products and before you start to dry your hair. It will "accordion" your curls, helping them keep their defined, spiral shape, even after they dry.
If you choose to plop, do not plop for too long, or you run the risk of allowing the fabric to absorb too much moisture from your hair, causing frizz. Start out with 10-20 minute intervals until you find the right time frame for your hair.
Step # 5: Scrunch Out the Crunch (SOTC) and Seal Ends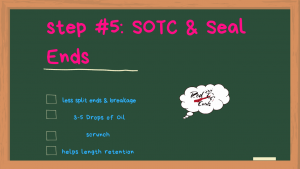 The most important thing about the Curly Girl Method is making sure we keep moisture sealed in the strands. The best way to do that is using a sealant, I prefer to use 3-5 drops of oil, massage it in your hands, and gently scrunch away the hard gel cast left after hair dries.
As you can see from the visual demonstration above, the oil on your hands will seal the ends of your hair as you scrunch, sealing in the moisture preventing the ends from drying out and breaking off.
This is essentially the same benefit a conditioner or lube provides. The goal is to seal the scales on your hair cuticle, to hold in that moisture and shine. This will be extra helpful when it comes to length retention.
The oil(sealant) also helps to separate curl clumps without causing frizz. You can add a hairspray and use a pick to fluff as desired.