My Beautiful #RedCarpetCurlsRoyalty,
Welcome back to my natural haircare blog! Today, I will be introducing (or for the O.G. Followers, re-introducing) one of my favorite clean/all-natural haircare brands on the market. Formally known as MySoigne, Miribel Naturals is a five product line designed to repair, define, grow, and protect Naturally Textured Hair (waves, curls, coils, etc.)
This review has been years in the making, you know your girl had to do the deep dive research for you all. I did all the hard work for you, so all you have to do is read this article and feel secure that you are purchasing a product you know will work for you.
Please remember you can purchase all these products on the Miribel Naturals Website. When purchasing on the website you can use my special discount code to save money: REDCARPETCURLS
If you are purchasing on Amazon, you can purchase each individual product on my Amazon Influencer Store front.
Miribel Naturals Creamy Cleanser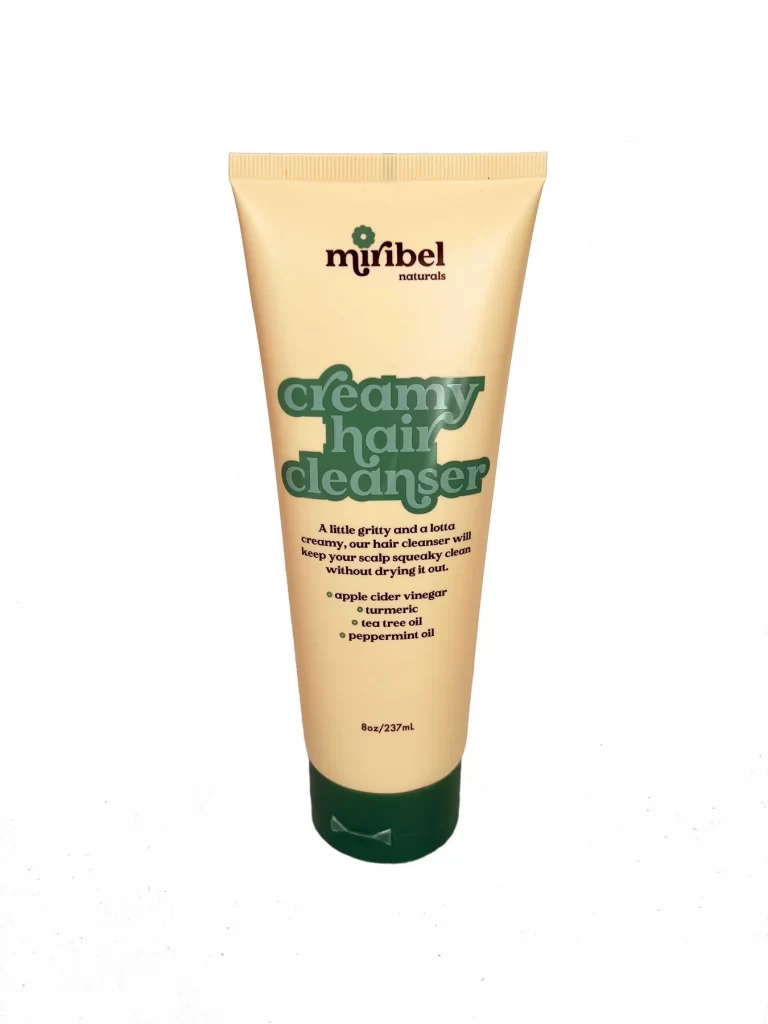 Now, I'll be the first to tell you with my fine hair texture, I have never been a huge fan of co-washing.  Call me stubborn, but I love seeing the foam a shampoo normally creates. What I don't appreciate is the extremely drying effects those sulfate-filled shampoos impart.
That's why the concept of co-washing makes sense, but this is also why following a "modified' Curly Girl Method Routine is so important. Because co-washing exclusively causes eventual product build-up, it's important to have a clarifying shampoo in your routine at least once a month. This will keep a nice balance for both hair and scalp between clean and moisturized. 
I say all this to say that if you find the right balance, a co-wash can be your absolute best friend. I am very picky when it comes to co-washes. I don't want any filler ingredients that will weigh down my hair. That is why through my entire seven year haircare journey I have only given my stamp of approval to two other co-washes on the market. 
The Miribel Naturals Creamy Cleanser has officially joined the duo and given me my holy trio of all-natural co-washes. 
This gentle cleanser purifies, moisturizes, and exfoliates the scalp without stripping the strands of its natural oils and moisture. Even better, it WON'T weigh your hair down once fully rinsed out. 
The Creamy Cleanser has become one of my favorite cleansing experiences because of the exfoliation provided by the Jojoba Beads, it really makes up for (in my head) the lack of suds from this cleanser.  Paired with the Turmeric Leaf Powder (great anti-inflammatory properties), the formula offers a nice creamy but gritty texture. 
Once applied to soaking wet hair and scalp, it offers a deeper clean than just using the pads of your fingertips. The jojoba beads help remove dead skin cells (which can  clog hair follicles and prevent new hair growth), leaving behind a clean but moisturized feeling.
If you are looking for an even deeper clean, you can always pair this cleanser with the Scalp Brush (Discount Code: REDCARPETCURLS). The prongs on the brush are a little longer than most other cleanser brushes. It offers a deep clean for anyone who has an oily scalp, or feels a bit of product build-up in the middle of their week/routine. 
The cleanser is pH balanced (4-5), meaning it won't strip your hair of its natural oils (also known as Sebum). 
The Aloe Vera Juice and Jojoba Oil work to soften and moisturize the hair strands. Specifically, working on laying and sealing the scales on the Cuticle layer of your hair to promote beautiful, shiny, frizz-free results. 
Well since, I am discussing ingredients already, this seems like the perfect segue to breakdown the first five ingredients of this product. 
First Five Ingredients:
Water –

should always be the first ingredient in any moisturizing product you use. Your hair is like a plant, the only ingredients able to properly hydrate hair is water and aloe vera (made up of 98% water). 

Aloe Barbadenis (Aloe Vera) Leaf Juice –

along with being known as the ultimate hydrating ingredient (98% water), aloe also contains over 70 different nutrients and minerals to encourage hair growth and length retention. It also includes 18 different amino acids to strengthen and repair the hair. 

Cetearyl alcohol –

According to

NaturallyCurly.com

, " Cetearyl alcohol is a long chain, fatty alcohol that adds an emulsifying agent to many hair care products and can help your hair feel smoother with less frizz. Long chain alcohols are oilier than short chain alcohols thanks to their abundance of carbon atoms in each molecule (between 12 and 20). Made from a combination of Cetyl alcohol and Stearyl alcohol, Cetearyl alcohol can be naturally sourced from plants or synthetically created." Essentially this is a fatty alcohol that adds and helps retain moisture in the strands.

Vinegar (Apple)

– Apple cider vinegar is naturally slightly acidic, so it serves as the perfect alternative to restore the natural Ph level of the acid mantle (a very fine, slightly acidic film on the surface of human skin. It acts as a barrier to bacteria, viruses and other potential contaminants that might penetrate the skin.) When the acid mantle is exposed to the acidity of the apple cider vinegar, the mantle hardens the outer layer of the hair strand, this ultimately leads to the "scales" flattening, allowing hair to be more manageable and shiny.  – read more about ACV

in this article

. 

Behentrimonium Methosulfate

– According to

MelaninMane.com

, "Despite its name, Behentrimonium Methosulfate is a non-sulfate, derived from rapeseed oil. Prized for its effective detangling abilities, it's able to penetrate the hair shaft making it an excellent moisturizer and conditioner, while remaining gentle on the hair and skin, without coating the scalp or causing buildup. It also has hair thickening properties. 
I love the light fresh-scent provided by the Peppermint Oil. Of course, I cannot forget to mention the amazing anti-inflammatory properties the oil provides. Peppermint oil promotes hair growth, balances oil, can increase hair thickness, and calms inflammation. All while providing that lovely tingling sensation. 
If you suffer from dandruff, this cleanser contains Tea Tree Oil which according to the Journal of American Academy of Dermatology, is known to combat and prevent dandruff and other skin conditions. 
To make sure this cleanser works effectively, saturate your hair fully with water and apply the cleanser to your wet scalp. Begin massaging/focusing the cleanser into the scalp and allow the product to work its way down to the ends of your hair. Allow the product to sit in your hair for five minutes and then completely rinse out with water. For those with fine textured hair like me, it is very important you rinse out ALL of the product, ensuring your hair won't be weighed down with product build-up. 
This product is good for up to a year after the first opening product. So make sure to make a note in your calendar when you first open the bottles. That way you know when the product expires. Product does not need to be refrigerated.
Protein Powerhouse Cream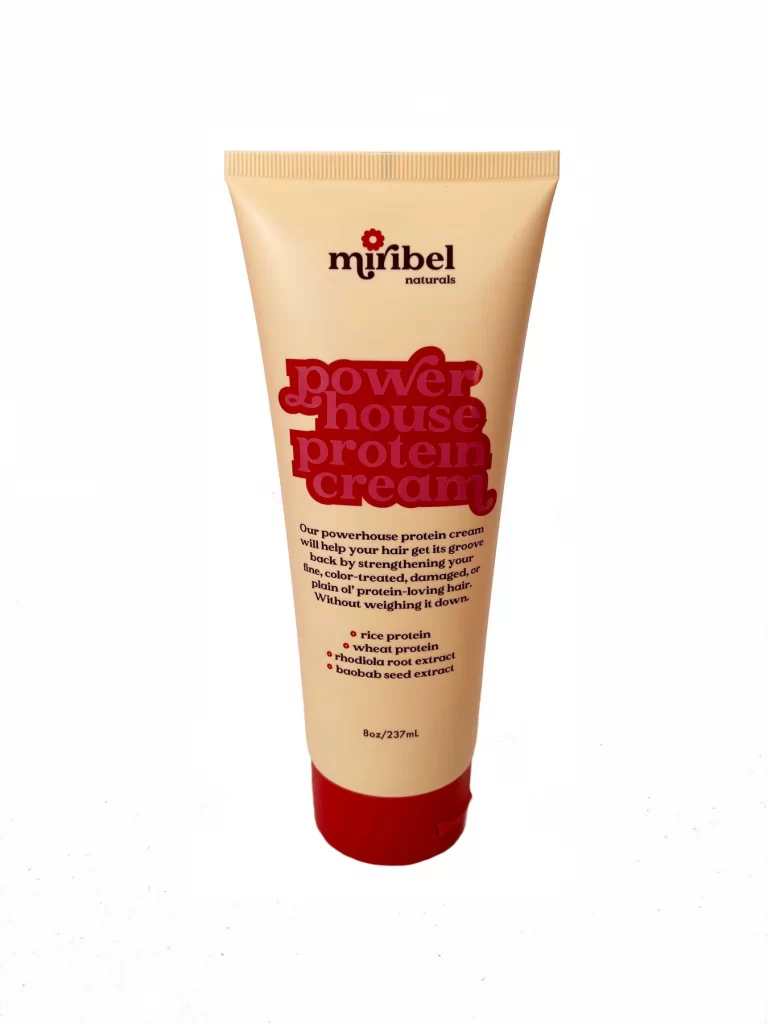 If you have Naturally Textured Hair (waves, curls, coils, etc.), then you have experienced the dilemma of limp, flat, lack luster hair days. If you're anything like me, it most likely means you need more protein in your hair care regime. To narrow down, what exactly is your hair lacking, try going  through my mental checklist:
Have I clarified my hair?

Have I deep conditioned my hair?

Have I used styling products that will both moisturize my hair and provide hold?
If you have done all of this and your hair is still lacking definition, then it means your hair needs and is craving more protein. 
As discussed in my Why Your Curly Hair Needs Protein article, "Hair is made up of approximately 91% protein. Protein gives the hair strands structure, providing a physical space to absorb and retain moisture, color, etc.  Think of your protein-based hair strands as individual containers for moisture. If your 'container' is full of holes then all the moisture you just imparted will leak right out. Protein acts as a temporary spackle to repair any damage the hair strands have sustained to keep it healthy, vibrant, and strong."
The Miribel Naturals Powerhouse Protein Cream (discount code: REDCARPETCURLS)is a protein rich dream come true! It's perfect for every protein-needed scenario you can think of; high porosity hair, color-treated hair, chemically damaged hair, low porosity hair, etc.
This cream instantly and effortlessly detangles your hair thanks to the slip from the moisture-packed ingredients.. This versatile product can be used as a mask, leave-in conditioner, and rinse-out conditioner. 
What makes this product perfect for all hair types, textures, and porosities is the fact that this product is formulated with Hydrolyzed Proteins which are small enough and gentle enough to penetrate hair strands at its deepest levels. The smaller the protein, the deeper it can reach and help repair and strengthen the hair from the inside out. 
First Five Ingredients: 
Water –

see description above

Cetearyl Alcohol

– see description above

Cocodimonium Hydroxypropyl Hydrolyzed Rice Protein

– gentle protein known to improve strength and manageability, help prevent split ends and breakage. As well as add volume and shine. Prized for its detangling and smoothing properties.

Behentrimonium Methosulfate

– see description above

Glycerin –

humectant, According to the

Academy of Hair Design

, "Derived from natural plant seed oil sources such as coconut, palm or soy, glycerin is pure and nontoxic. It moisturizes and is known to prevent breakage, especially on hair that isn't chemically treated. Since it helps draw moisture from the air onto your hair and is easily soluble in water, glycerin can serve as a great deep conditioner."
Have you ever purchased a product because the label specifically mentioned a particular ingredient? Here you are spending money, thinking you are purchasing a product made with mostly the ingredient advertised right? 
Wrong.
As I always tell you guys in my reviews, the first five ingredients of your product label is what approximately 80% of your formulation actually contains. That's how many brands bamboozle us into purchasing products. They advertise a certain ingredient like hydrolyzed protein as one of the key ingredients. When you flip the product over and take a look at the ingredient label, many times you find the ingredient you're looking for at the bottom of the list. Anything at the bottom of the ingredients list makes up less than 2% of your product formulation. 
To ensure you are purchasing the right protein-based product for your hair, you always want to see at least one type of protein listed within the first five ingredients.
 For example, in this protein cream, the second ingredient is Hydrolyzed Rice Protein which is known to add up to 32% more volume to hair as well as increase shine and moisture retention levels. This means you are purchasing a product that is designed to strengthen, repair, and volumize your hair with naturally sourced proteins. That's what makes this cream the perfect choice to reshape and condition your hair without ever weighing it down. 
Immediately following the hydrolyzed rice protein, Hydrolyzed Wheat Protein is listed as the sixth ingredient, which is close to the top of the list, meaning you get more of this ingredient in your product formulation. According to the Journal of Cosmetic Science, Wheat Protein is able to penetrate all the way to the deepest layer of the hair known as the Cortex, repairing and strengthening the hair from the inside out. According to themestizamuse.com, "Because hair is made up mostly of proteins, the proteins in hydrolyzed wheat can repair damaged hair follicles, lifting the hair up, and reduce porousness (minute holes) in the lengths of hair shafts." This improves compatibility and imparting a smooth silky feel. 
Since hydrolyzed proteins are small and gentle they are perfect for both High Porosity and Low Porosity Hair. The hydrolyzed protein in this amazing cream will be effective enough for both porosities making your natural texture pop tightly giving beautiful definition and shine once the hair is fully dry. 
This is the perfect product to use for those that are brand new to Natural Hair Care. The protein will strengthen hair and reduce split ends/breakage. What's better than one single product offering control that is soft to the touch , Reducing frizz, and being an overall game changer for fine hair? 
 Of course we can't leave out the loads of other beneficial ingredients like Rhodiola root extract, Chia Seed Oil, and Neptune Kelp Extract which  help repair damaged hair. Amaranthus Caudatus Seed Extract deeply penetrates damaged hair and contains lipids that help the hair generate a protective barrier. Baobab Seed Oil is full of Omega-3 fatty acids and adds moisture to balance out the protein. So of course, it goes without saying less is more when using this product. When you use pea-sized amounts per section its very lightweight yet effective. Apply before using the Miribel Naturals Silky Smooth Flaxseed Gel, or, if additional moisture is needed, apply before using the Dreamy Hair Cream.
Silky Smooth Flaxseed Gel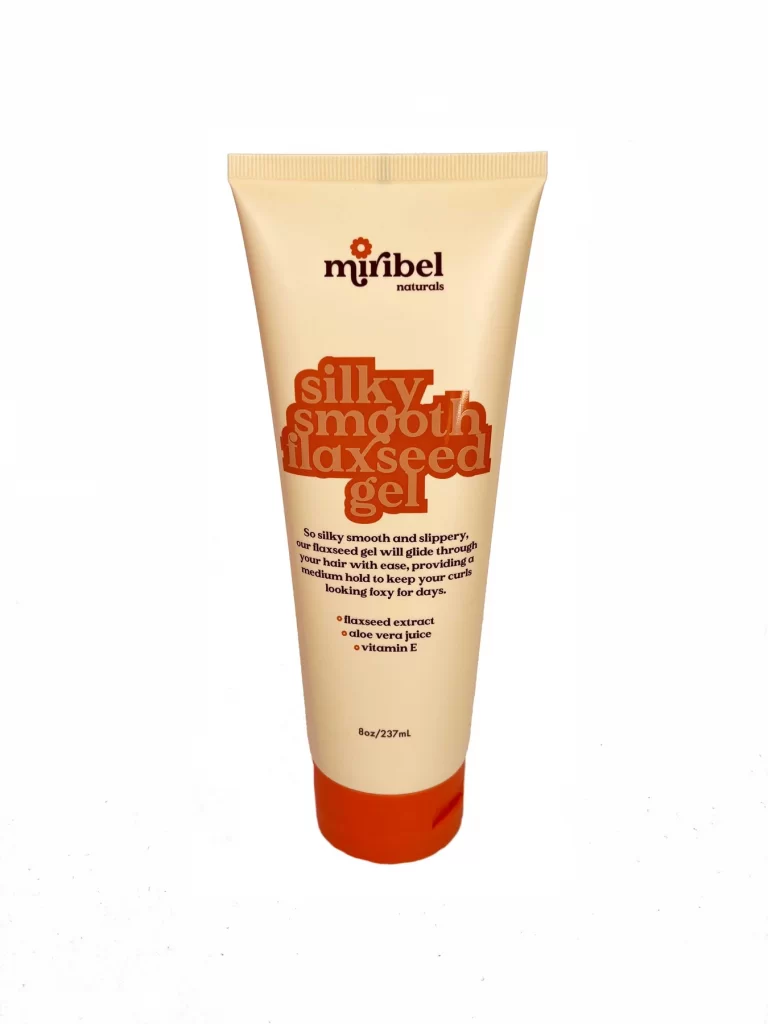 Now if you have been looking into Natural Hair Care long enough, I'm sure you've come across the DIY Flaxseed Gel recipes. I'm sure you've heard of the amazing hair repairing and growth benefits. 
If you're an O.G. Miribel Naturals Fan (meaning you were down since they were originally MySoigne), then you'll also know your girl, guest wrote a piece all about Flaxseed Gel benefits for the Miribel Naturals Blog a few years back. You can read that piece by clicking here. 
Personally, I love Flaxseed Gel, I just hate the prep work. That's why I have always loved that the brand owner Jackie, did all the work in her kitchen so we didn't have to!
Flaxseeds are full of Omega-3 Fatty Acids, which are known to revive and nourish hair follicles encouraging hair growth and length retention.
 Flaxseeds are known to relieve scalp  inflammation, nourish and moisturize the scalp, and keep itchy scalp and dandruff under Flax Seeds also contain magnesium, vitamin B, and other nutrients that are moisturizing and promote hair growth and elasticity.
Since we are talking about ingredients, this seems like the perfect time to break down the first five ingredients of this product.
First Five Ingredients:
Water

– see description above

Linum Usitatissimum (Flaxseed) Seed Extract

– see description above

Aloe Barbadenis (Aloe Vera) Leaf Juice

– Contains vitamins A, C, and E which help repair and strengthen hair.

 

Polyquater­nium-10

– hair conditioning agent, boosts natural shine to the hair, increases volume and improves the texture by reducing damage caused by hot tools and chemical treatments. It improves overall hair manageability and provides definition to curls

Panthenol –

provitamin, derivative of vitamin B5. According to

CurlyNikki.com

, "Panthenol is not only a humectant, but is also a useful moisturizer and emollient. It spreads evenly on the surface of hair strands, forming a smooth film on the surface of the cuticle. This film gives enhanced coherence to the reflection of light from the surface of the hair, which imparts significant gloss and shine. The smooth film also provides excellent slip between adjacent strands of hair and detangling properties. Panthenol is capable of penetrating the cuticle and entering the hair shaft as well, where it aids in moisture retention and provides volume.
 Flaxseed gel is known to quench frizz and create beautiful curl clumps giving you the volume and definition you are looking for. The medium hold allows for touchable definition and shine which will last past day 1.
The Miribel Naturals Silky Smooth Styling Gel is a thick moisturizing styler which will impart lots of slip to help define and style your texture. Since this product is so thick and moisturizing, less is more. Start with pea-sized amounts per section to build a proper frizz-free foundation.  I am a big fan of finger coiling, and anyone who finger coils their hair knows in order for this styling process to work you need products with lots of slip. 
There's a few things I love about this product and as an educator it would be a disservice not to share with you! So, overall this product gives beautiful definition and shine with each and every use. Thanks to the all-natural ingredients this product does improve the health of hair over time making it perfect for high porosity hair, damaged hair, or those that are new to haircare. 
The product doesn't flake like cheap drug-store brands and best of all it can withstand not only the humidity of the summer, but the dry cold conditions of the winter months as well. That makes it perfect for fine hair or thick coarse hair
To ensure proper product application, apply the Silky Smooth Flaxseed Gel to wet or damp hair to style. For best results, use after applying the Dreamy Hair Cream, Protein Powerhouse Cream, or the Va Va Volumizing Foam. 
This product is phenomenal as a stand alone styler for refreshing. 
Va-Va Volumizing Foam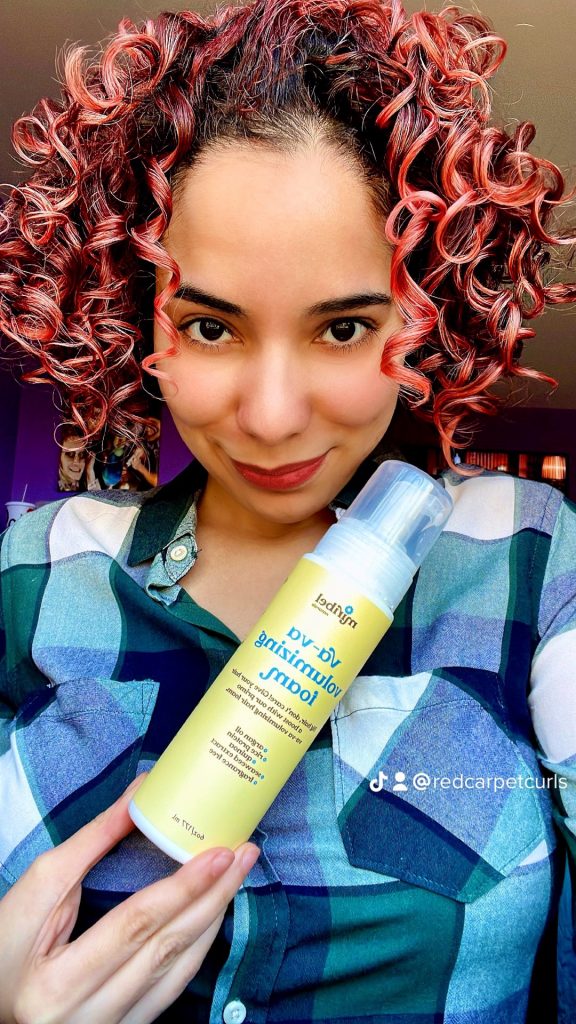 The newest addition to the Miribel Naturals product line launching February 1,  2023!
Anyone with Naturally Textured Hair (waves, curls, coils, etc.) are united in our never ending quest for volume. Many times in the quest for volume, we feel  we need to sacrifice definition.
Miribel Naturals newest Va-Va-Volumizing Foam is proof you never have to make the sacrifice again!
This fragrance-free foam provides the moisture and definition of a curl cream while remaining weightless. 
A little goes a long way with this product, that is why I recommend sectioning your hair and applying 1-2 pumps per section. This way you can build a proper foundation of moisture and hold providing lasting frizz-free results.
Once the hair is fully dry, there is a nice cast that locks the curls in place. At this point to Scrunch Out The Gel Cast, I always prefer and recommend using five drops of an oil to reveal the soft bouncy curls and add another layer of protection against frizz. Even though this foam alone is enough to protect against frizz. 
This is the ultimate single styler you need when it comes to refreshing hair due to all the slip the product provides.
When it comes to refreshing, I like to keep it as minimal as possible. Refreshing is exactly what it sounds like, simply retouching the work you did the day before. That does not mean re-create the work you did prior. It simply means touch it up. 
For me, touching up my curls always involves steam and one solo product. For refreshing, I look for products that are going to quench frizz, something to help re-define/re-style the curls framing my face, and of course, something with a nice medium hold. 
Miribel Naturals Va-Va Volumizing Foam delivers on all those expectations. Since it contains water as its first ingredient it is going to hydrate the hair, quenching frizz. The Hydrolyzed Rice and Quinoa Protein will work together to re-define hair strands and protect the hair from damage. 
For Day 2 Hair, I refresh my hair with my Q-Redew Hair Steamer, and then apply 1-2 pumps (praying hands method and scrunching) to my hair. This reveals beautiful, defined, bouncy, and hydrated hair. I normally do not have to re-fresh again until Day 4-5. 
The amazing results imparted by this hair foam is due solely to the magnificence of the ingredients and formulation. Don't just take my word for it, let's break down the first five ingredients of the product. I always do this because the first 5 ingredients are what makes up approximately 80% of the overall product. So, these ingredients are what you are predominantly paying for: 
First Five Ingredients:
Aqua –

water should always be the first ingredient in any of your moisturizing stylers and products. Our hair is like a plant, you hydrate the strands with water or aloe vera because aloe is 98% water. 

Babassuamidopropyl hydroxysultaine –

amphoteric surfactant (reduces static in hair by decreasing its surface charge density) of Babassu oil. It promotes the formation of foam and improves viscosity- thickens the formula giving the product body while maintaining weightless moisture. 

Sodium Chloride –

common table salt, used in water-thin products to make them nice and thick. Salt does reduce moisture level of hair, so if hair does seem to get dry after a while make sure to properly moisturize the hair with other products such as the

Dreamy Hair Cream

(Discount Code:

REDCARPETCURLS

)

Argania Spinosa (Argan) Kernel Oil –

Softens hair and adds shine. Also has the ability to repair damaged hair due to its contents of various vitamins and nutrients such as protein, carotenoids, sterols, squalene, Omega-3 fatty acids, Omega-9 fatty acids, Vitamin E, and Polyphenols. The perfect lightweight oil for anyone struggling with frizz.

Caprylyl glycol –

humectant – hydrates hair and retains moisture.  It works as a preservative, preventing bacteria from growing and spoiling the formula.
As you can see from the first five ingredients you are paying for an all natural product designed to hydrate the hair, repair and maintain hair health, along with loads of vitamins and minerals that encourage hair growth as you consistently continue using the product. 
Now that we have discussed the most important ingredients, let's talk about some of the benefits of other ingredients we touched upon earlier, also found in this foam!
The Va-Va Volumizing foam also contains Rice Protein, which  has shown to significantly increase total hair volume by up to 32%. It also adds natural shine and highlights to the hair. By increasing the ability of the hair and skin to bind moisture, it leads to increased flexibility and tensile strength. This means the rice protein is guaranteed to add volume, shine, and strength to the hair. It will repair any damage in the Cuticle  (outermost layer of the hair) of the hair, allowing moisture to bind more effectively to the hair strand. This will increase moisture retention levels over time, cultivating healthier hair. 
As if one hydrolyzed protein wasn't enough, there is also Quinoa protein! The essential vitamins, minerals, protein, and other nutrients present in quinoa not only aid in reviving your damaged hair but also strengthens your hair from the roots. It nourishes the stem cells present in your hair follicles, which in turn, breeds  healthy, thick, and voluminous hair growth with stronger hair roots.
The final  interesting ingredient  I am going to tell you about is Seaweed Extract, which is known as such a beneficial ingredient because of its feeding process. It has no roots so it feeds through osmosis. This feeding process allows seaweed to become a dense concentration of vitamins, minerals, trace elements, macro elements, phytohormones and amino acids. (Mane Addicts). That means seaweed extract has tons of beneficial nutrients and minerals which will repair damaged hair and help maintain strong, healthy, and ever-growing natural hair.