Natural Hair encounters damage from every angle, UV rays, manual manipulation(brushing, combing, tight hairstyles), it's our job to protect and prevent damage. When it comes to Naturally Textured Hair, the key to beautiful definition, growth, and length retention is going to be repairing the disulfide bonds in the hair. The stronger these bonds are the stronger and healthier your hair is, and there's no better way to repair those bonds than with the Inahsi Naturals Rescue & Repair Bond Strengthening Product Line.  Don't forget to save money on Inahsi Naturals Products by using my discount code: REDCARPETCURLS 
Rescue & Repair Bond Strengthening Shampoo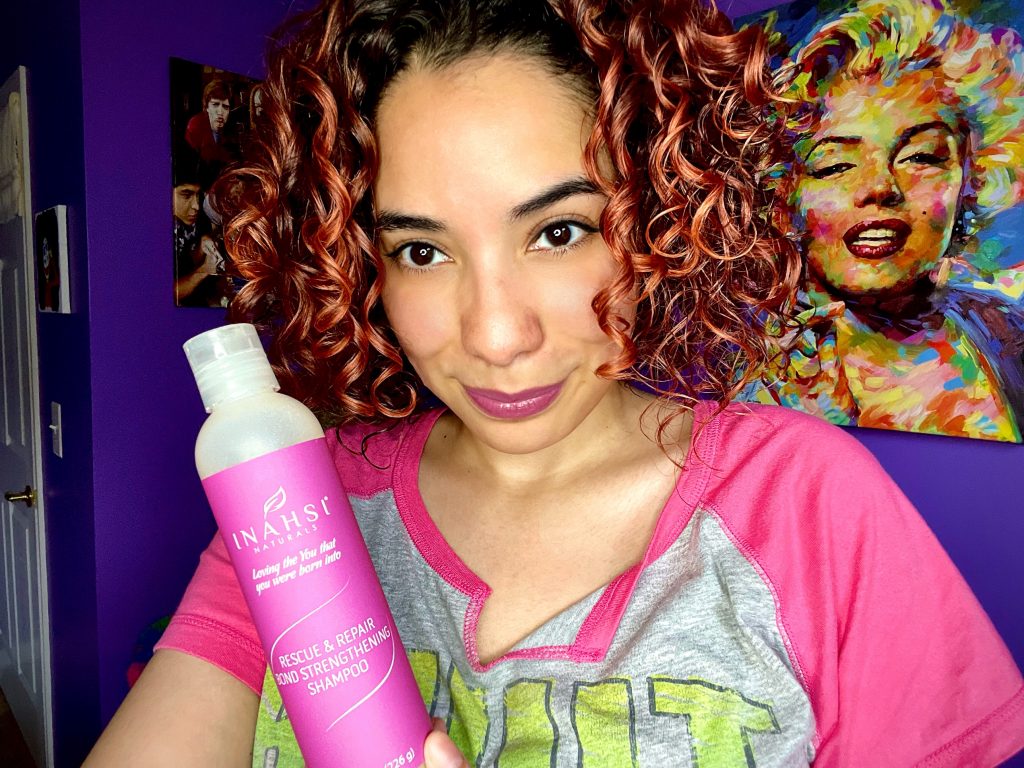 When poured onto the palm of the hand, it is a thicker formula, so you definitely feel the weight of the moisture; that's a good thing! When applied to the scalp, it quickly produces a thick and luxurious lather. This sulfate-free bond-strengthening cleansing shampoo promises to restore, strengthen, and repair dry, damaged curls as it cleans. What I love about this shampoo is that it cleanses very well without stripping the hair and scalp of all its natural oils. Paired with a scalp brush, your scalp gets a nice deep clean feeling without feeling dry and tight. Honestly, I fell in love with one wash! 
This shampoo contains patented technology that will deeply penetrate the cortex (innermost layer)  of the hair to form new hydrogen and ionic bonds broken during coloring, heat exposure, chemical treatments, and environmental factors, while the rice protein will repair your curls, leaving them soft, voluminous, and bouncy. That's why I normally love pairing my Olaplex #3 treatments beforehand. Hence, my ENTIRE washday is about restoring those broken bonds responsible for my hair's strength and structure. The more you repair these bonds, the "curlier/tighter" your curl pattern will be! This bond-strengthening treatment also helps reduce post-Covid hair thinning and breakage by creating stronger bonds that promote length retention.
Did I also mention this shampoo contains Hydrolyzed Rice Protein which also strengthens the hair, fills in any gaps or holes in the cuticle, and promotes shine and length retention. Hydrolyzed protein is the only type of protein that should be used in Natural Hair Care. You can read more about protein by clicking here.  
First Five Ingredient Breakdown
Aqua (Water/Eau)-

The INCI ( International Nomenclature of Cosmetic Ingredients) name for "water" is "aqua". The term "Eau" is French for water. If a cosmetics company puts water\aqua on their packaging in Canada, by law, they have to add the French (no English without French), resulting in "water\aqua\eau". 
Sodium Cocoyl Isethionate-

also known as "Baby Foam", a gentle anionic surfactant made from coconut oil. It is known to gently cleanse hair while removing excess oil to reduce tangles and frizz, as well as allow the products to lather.
Cocamidopropyl Betaine-

known as a foam booster derived from coconut oil, exhibits mild moisturizing properties, which help to keep your dry and brittle hair soft and more manageable. It is also used in conditioners as an anti-static agent, which helps to reduce static charge build-up and flyaway hairs.
Glycerin-sugar

alcohol is known to be one of the most effective humectants (an ingredient that pulls moisture in from the environment to keep hair moisturized for longer periods of time). Hydrates the scalp, eliminates breakage, and fosters a healthy scalp environment.
Decyl Glucoside-

Decyl-glucoside is a gentle and biodegradable surfactant used in cosmetic products, such as shampoos and cleansers. It's derived from plant-based fatty alcohols and glucose (sugar/starch), and it's become popular because of its ability to lather into a generous foam. 
    Rescue & Repair Bond Strengthening Hair Masque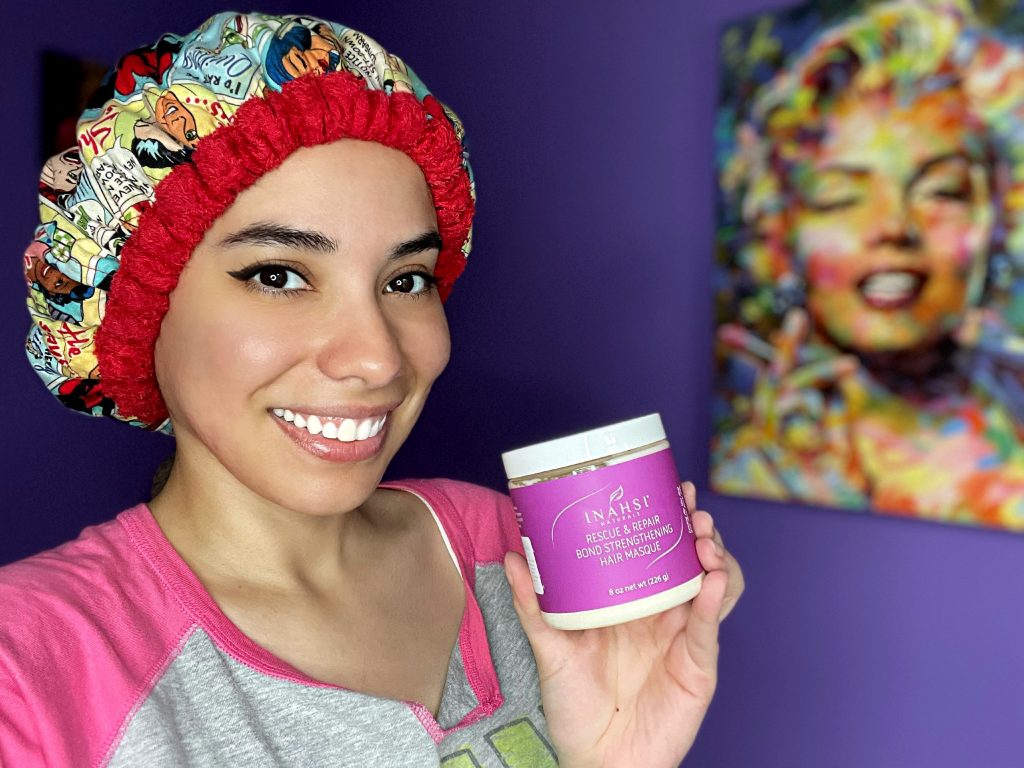 Looking for a deep conditioner with the power to moisturize and repair all in the same step? Then let's talk about the Rescue & Repair Bond Strengthening Hair Masque.
This bond-strengthening deep treatment hair masque promises to restore and repair the bonds, protect, and strengthen your tresses to promote overall healthy hair.
Same as the Shampoo (Since it is a complete set), the patented technology will penetrate deeply into the hair fiber to the cortex(innermost layer of the hair) and restore hair fiber strength back to the levels of virgin hair. 
This masque is also enriched with ceramides, such as sunflower seed oil, that will help hair retain moisture, restore hair balance, and help to minimize the effects of daily wear and tear.  The quinoa (hydrolyzed, of course)  will strengthen your hair and restore protein loss due to damage.   Perfect for transitioners from chemical to natural, heat styling, color-treated hair, and over-processed hair.  
What I love about this masque is the slip! Slip is a sign of a highly moisturizing product, and this deep conditioner is DEFINITELY moisturizing along with repairing. Since I have fine hair, I cannot bombard my tresses with moisture, so for me, less is more with this rich product. It instantly transforms my dull, dry, and brittle hair into luscious, silky soft, shiny, and vibrant curls.
Since this is a deep conditioner, you will leave this product in longer than a regular rinse-out conditioner. That is because this is a more intensive treatment focusing on repairing the hair; these things take time. The minimum time required for this treatment to work is 10 minutes. I suggest leaving the masque in for 30 minutes (the normal time for a deep conditioning session) and pairing it with some kind of indirect heat like the Q-Redew Hair Steamer or a microwavable cap like mine from Thermal Haircare Hot Heads. The added heat will help the masque penetrate deeply more quickly and efficiently. This is a fantastic tip for both Low and High Porosity Queens and Kings out there. 
This is one of my favorite masques since I have color-treated hair. Anyone who dyes their hair knows how dry and brittle it can get when trying to retain the color for as long as possible between salon visits. This masque helps me keep my color vibrant, my curls shiny, defined, but most importantly, strong and moisturized. 
First Five Ingredient Breakdown
Aqua (Water/Eau)-

See definition above
Behentrimonium Methosulfate–

Despite its name, Behentrimonium Methosulfate is a

non-sulfate

derived from rapeseed oil. Prized for its effective detangling abilities, its ability to penetrate the hair shaft makes it an excellent moisturizer and conditioner while remaining gentle on the hair and skin without coating the scalp or causing buildup. It also has hair thickening properties.
Cetearyl Alcohol–

also known as "Fatty/Moisturizing Alcohol," is a long chain, fatty alcohol that adds an emulsifying agent to many hair care products and can help your hair feel smoother with less frizz. Long chain alcohols are oilier than short chain alcohols, thanks to their abundance of carbon atoms in each molecule (between 12 and 20). Made from a combination of Cetyl alcohol and Stearyl alcohol, Cetearyl alcohol can be naturally sourced from plants or synthetically created. Fatty alcohols, like humectants, can also draw moisture from the atmosphere to your hair to maintain hydration.
Citric Acid–

Citric acid helps lower the pH in many products, such as shampoo, with much higher, more alkaline pH levels. This helps keep hair at healthy pH levels.
Cetyl Alcohol–

another fatty/moisturizing alcohol, is often used because it has film-forming properties to coat the hair and provide slip. It helps to provide maximum hydration to thirsty strands and prevent dryness. This alcohol has emulsifying and thickening properties and a creamy texture, so it is often used in many types of shampoos and conditioners. It makes them opaque and helps stabilize foam, resulting in a more luxurious product feel.
Rescue & Repair Bond Strengthening Leave-In Conditioner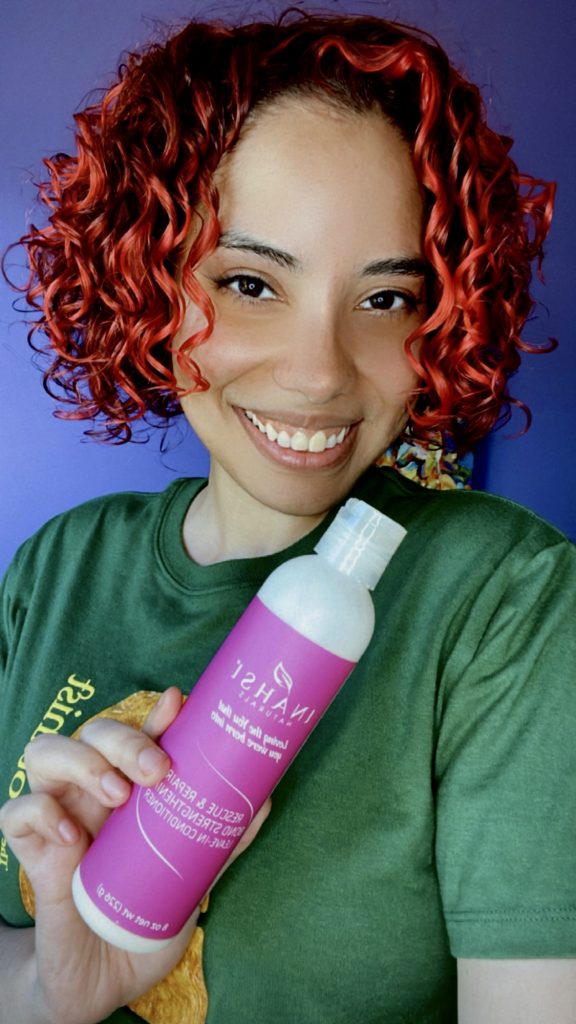 The Rescue & Repair leave-in conditioner promises to moisturize, strengthen, and repair curls from the inside out, which makes it a triple threat to parched damaged tresses. Like the rest of the line, this leave-in has patented technology to penetrate the cortex(innermost layer of the hair) to create new bonds to strengthen and repair keratin in the hair.
Whenever I use this very lightweight leave-in, I know I will have a good hair day because the formula works to combat frizz, define your curls, and make detangling a breeze. This leave-in even contains baobab protein, which provides care from the damaging effects of heat, UV, and environmental exposure. That makes this leave-in the perfect choice, especially during the end of this insanely humid summer!
The rich oils of avocado and olive will restore shine and lock in moisture to make the hair soft, supple, and sleek. Perfect for detangling your hair either before your washday or after. Since this formula is so lightweight, it is perfect for refreshing Day 2+ hair, just add a little water and conditioner and watch the frizz disappear!
First Five Ingredient Breakdown:
Aqua (Water/Eau)-

See definition above
Persea Gratissima (Avocado) Oil-

Latin name for avocado, an excellent source of skin-replenishing and hair-repairing fatty acids, including omega-3 linolenic acid, omega-6 linoleic acid, oleic acid, and beta-sitosterol. It is extremely rich in oleic acid and monounsaturated fats, making it one of few oils that can actually penetrate the hair shaft and moisturize your hair, rather than sitting on top and coating your hair. These fats also strengthen the hair shaft and help prevent breakage. 
Olea Europeae (Olive) Fruit Oil-

rich with oleic and linoleic fatty acids and is very nutritious for your hair and scalp, helping hair stay healthy. The liquid fat is obtained from the pressing of the olive fruit from the olive tree. Rich in antioxidants, fatty acids, essential minerals, and vitamins A, E, and K, olive oil improves the elasticity of the hair and scalp. It helps to strengthen the hair follicle and naturally conditions the hair and scalp.
Behentrimonium Methosulfate-

See definition above
Cetearyl Alcohol-

See definition above