My Beautiful #RedCarpetCurlsRoyalty,
Welcome back to the blog, and if you are new here, welcome! Your naturally textured hair is in the right hands with Red Carpet Curls!
Today's review is a little bit of a blast from the past. A while ago, I posted a review on Elaine Beaute's High Porosity Haircare Line. Even back then, I fell in love and was so disappointed with the company founder, Felicia, who announced she would stop making haircare products and focus her attention on skincare products. While my hair was devastated, my skin has never looked so amazing! So, seriously, thank you Felicia for following your passions and creating such amazing all-natural haircare and skincare products.
A few months ago, Felicia announced a funding campaign to start making hair products again so, of course, I donated all I could to make this dream a reality once more.
Fast forward to today, and here I am with all the information you need to know about this heaven-sent trio of products formulated specifically for High Porosity hair.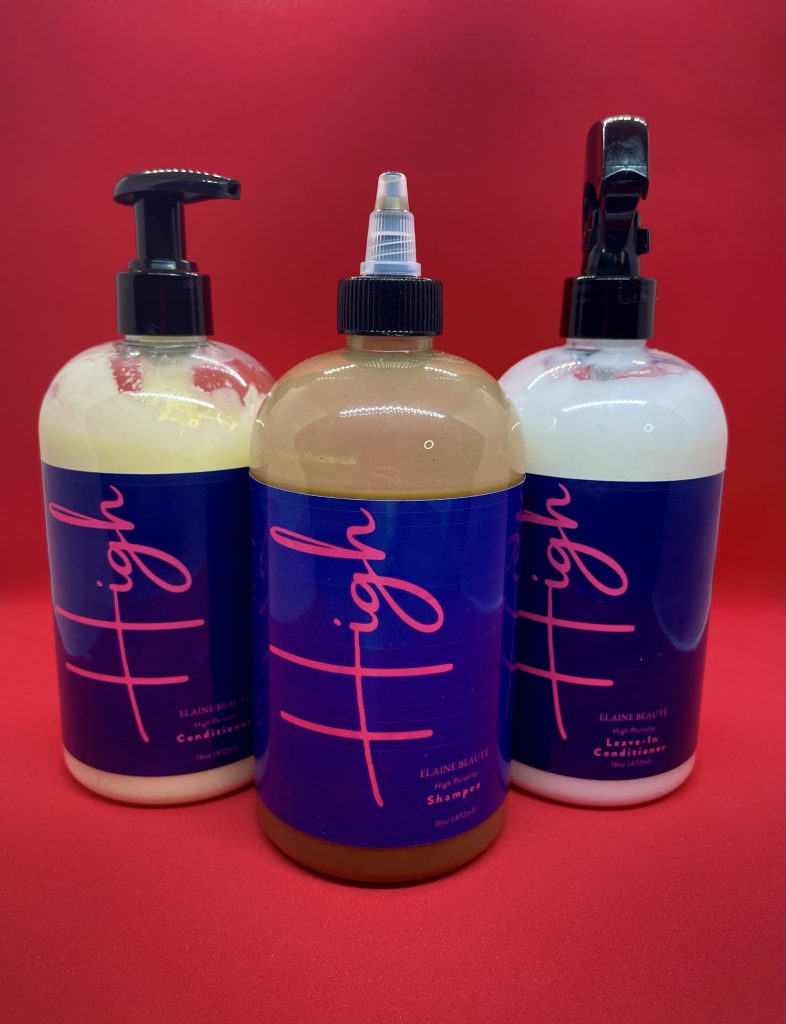 For those that are new to this, High Porosity hair is essentially hair that has been damaged either by chemical/heat styling, your environment, your routine, etc. The outermost layer of your hair strand is known as the
Cuticle
layer. This layer contains overlapping scales (looks a lot like roof shingles), these scales gently raise and lower to allow moisture in and out of the hair. If the scales on this layer are damaged (a.k.a holes/gaps) moisture retention isn't possible because the moisture slips out the cracks. You need to use products that contain gentle
hydrolyzed protein
, hydrating, and sealing ingredients. This overtime will improve the overall health of the hair. Aren't you lucky
Elaine Beaute
formulated a line specifically for this hair challenge with the exact ingredients you need!
High Porosity Shampoo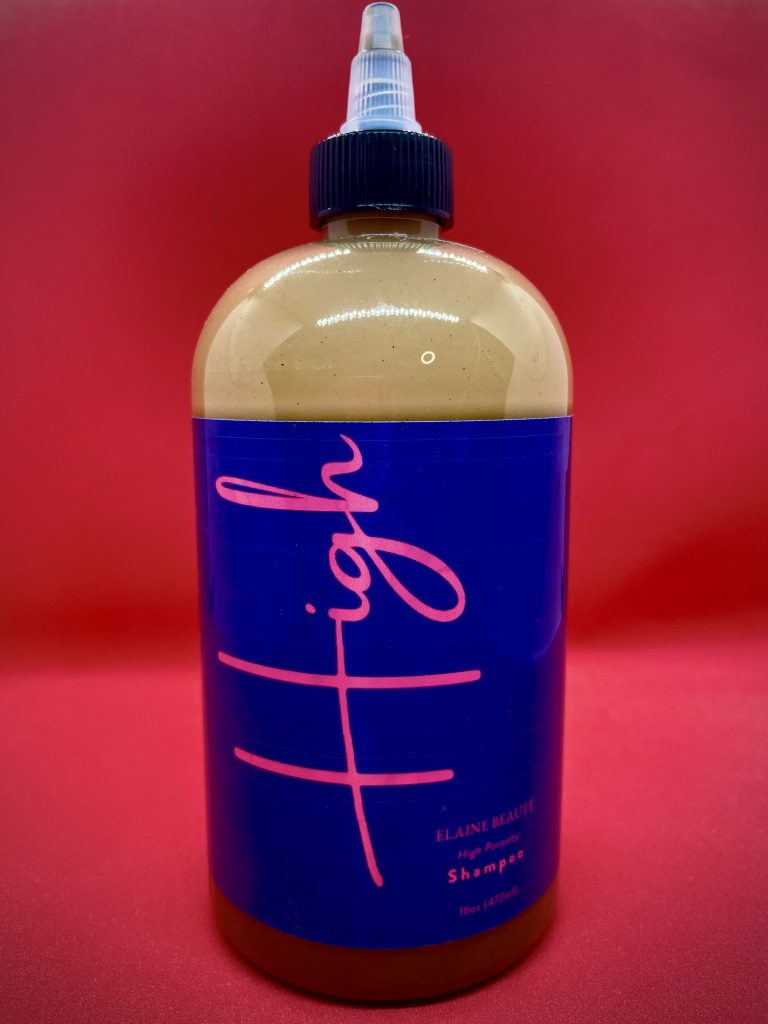 Elaine Beaute's High Porosity Shampoo thoroughly cleanses without stripping, gifting extreme softness and manageability back to your hair. Formulated with Babassu Oil and Kokum Butter to seal in moisture and Flaxseed Gel for that needed slip. Can use for any texture or density. Safe for color-treated, chemically treated, relaxed, and natural hair. 
Key Ingredients:
Babassu Oil-

"

Babassu oil is rich in antioxidants and fatty acids that make it great for your skin and hair. It's also anti-inflammatory and antibacterial.

Fatty acids

are essential for hair growth and repairing your hair."
Peppermint Essential Oil – "an antimicrobial, vasodilating, and anti-inflammatory agent, all reasons that it is reported to boost hair growth and even help to relieve headache pain. Vasodilation, or the expansion of blood vessels, is a significant property of peppermint oil because improving blood flow better delivers essential vitamins that serve as antioxidants and nutrients to the follicles where hair takes root. Restricted flow to the hair follicles can speed hair loss and increasing circulation may help prevent it. A study conducted in 2014 in mice demonstrated that peppermint oils

made hair grow faster and thicker because hair follicles were receiving increased blood flow.

" 
Soy Lecithin- "Lecithins are

emulsifiers that are surface-active and water-loving

. These fatty substances are often found in hair and skin products because of their main nutrients: choline and inositol. Choline and inositol are both important for healthy hair growth, as they are part of the B complex vitamins. Lecithin supports and enhances the required amount of protein for hair growth while improving the texture and look of hair by adding shine or luster. Its high concentration of fatty acids creates a barrier on the skin and hair that effectively captures and seals in moisture. This moisturizing benefit makes lecithin perfect for persons suffering from dry, brittle hair. It

adds shine, seals in moisture, and restores hair's natural protective coating

often damaged by styling, chemical applications, heat, or environmental changes."
 

   First Five Ingredient Breakdown:
  My First Impressions:
Very thin runny consistency shampoo, love the twist applicator tip which allows me to focus more product on the areas I feel need more attention due to product build-up. I have very fine density hair which encounters product build-up quickly, especially since I've spent the last few days resting (gotta keep this liver in remission!) With all the itchy build-up this low-poo was really put to the test, and I am still wildly impressed!
The moment the shampoo made contact with my soaking wet hair and scalp, the shampoo lathered up so richly and quickly it spread around my greasy feeling scalp. Within seconds of working it in with my fingers, the greasy feeling immediately melted away making my scalp tingle with a deep clean feeling like I just clarified my hair. I loved how thick and moisturizing the foam felt all around my hair, even allowing me to finger detangle my hair during my shampoo session. Paired with a scalp brush, my hair was left feeling spotlessly clean. I only needed one wash as opposed to double cleansing, which I normally do with low-poos.  I did find the moisture rinsed away with the formula leaving my tresses parched and ready for the moisture from the conditioner. 
High Porosity Conditioner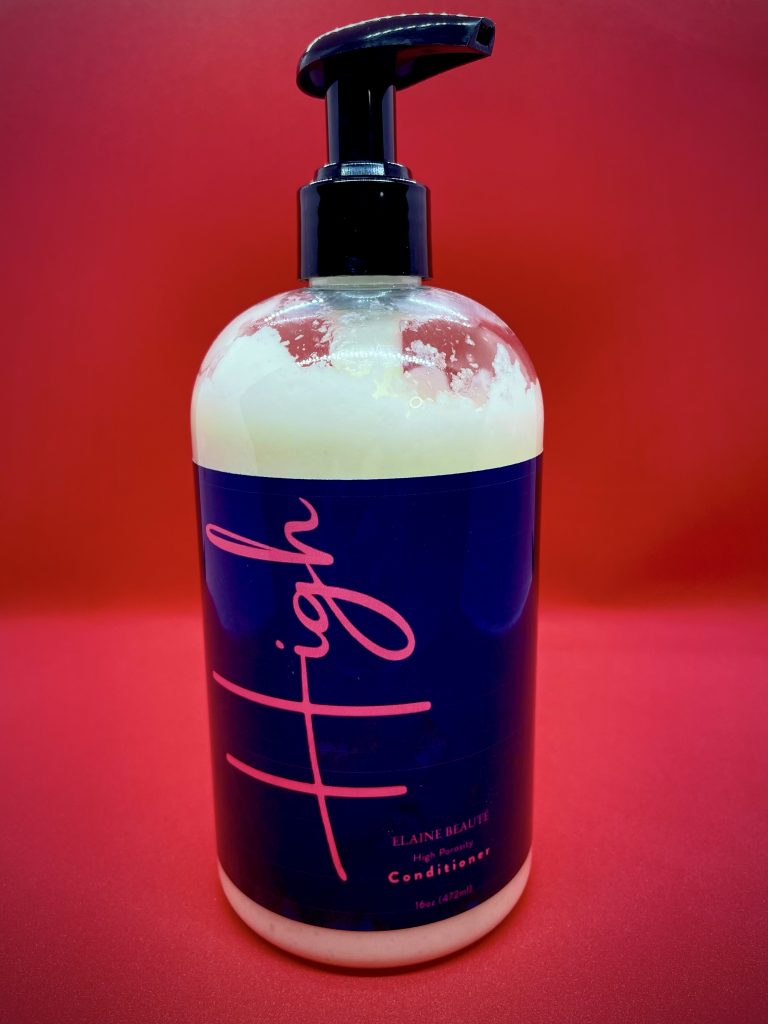 Elaine Beaute's High Porosity Conditioner is richly formulated with Kokum Butter and Babassu Oil. It will fully nourish and hydrate dry and brittle hair, instantly penetrating the hair shaft restoring manageability, shine, and softness. The reformulation has also added Soy Lechtitin, a strong antioxidant that helps revitalize your hair while boosting and stimulating hair growth. Safe for color-treated, chemically treated, relaxed, and natural hair.
Key Ingredients:
First Five Ingredient Breakdown:
First Impressions:
Shampoos naturally lift the scales on the cuticle (outermost layer of the hair strand) allowing for the cleansing of the strand, it's the canvas to thoroughly moisturize your hair.
Remember you can't moisturize hair that is already heavy with build-up, it will just add another layer on top of the last.
With the scales on the cuticle lifted, the conditioner can penetrate more deeply and effectively. I loved how lightweight the conditioner feels when you pump it out of the bottle and into the palm of your hair, once you massage your hands together it turns into a thin layer of moisturizing goodness ready to bless your hair. The peppermint essential oil gives an amazing clean tingle while the formula quickly transforms dry brittle hair into silky smooth tresses.
Conditioners naturally work to seal the cuticle to increase shine and moisture retention. Like most conditioners, this conditioner can be used as a deep conditioner or a rinse-out conditioner. For this review, I used it as a deep conditioner by pairing it with my Thermal Haircare Hot Head for 30 minutes. I only used my fingers to apply the product all through my hair, the product was so moisturizing I didn't even need to use a brush to ensure product application. 
High Porosity Leave-In Conditioner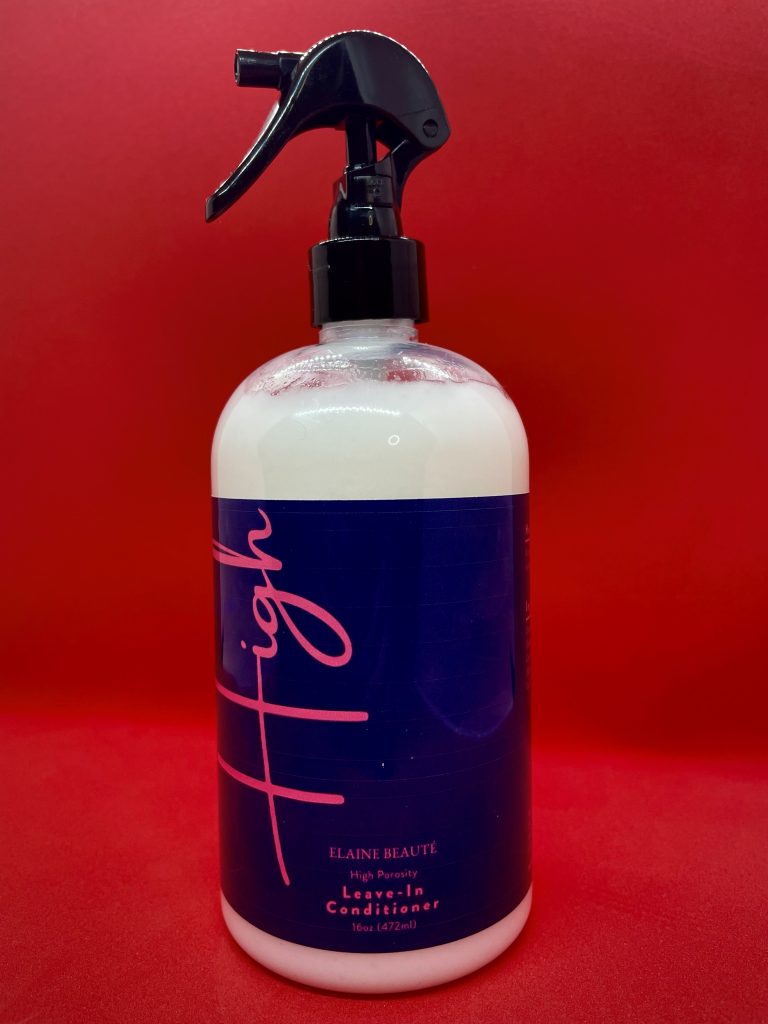 Elaine Beaute's High Porosity Leave-In Conditioner will greatly ease the pain of those tough wash days. This perfectly textured leave-in conditioner is enriched with Rice Bran Oil and Kokum Butter. It injects and seals moisture, adds shine, and returns luster back to the hair. Also includes the addition of Soy Lechitin, an antioxidant that fully strengthens and stimulates hair growth. This Leave-In detangles and richly moisturizes leaving your hair feeling silky and smooth. Safe for Color-treated, chemically treated, relaxed, and natural hair.
Key Ingredients:
Rice Bran Oil- "In addition to protecting our hair from sun damage, the ferulic acid and esters present in rice bran oil

stimulate hair growth and help to prevent skin aging

, according to the Journal of Scientific and Industrial Research. The oil's ample supply of vitamin E repairs and builds tissues, so when you apply it to your scalp, it can

help reduce inflammation and repair damage to the hair follicles, which in turn can enable healthy hair growth.

Vitamin E is also said to have anti-aging properties, and its antioxidants such as

omega-3 and omega-6 fatty acids have been shown to nourish hair while combatting premature graying

."
Kokum Butter-

See description above 

Soy Lechitin-

see description above 
First Five Ingredient Breakdown:
First Impressions: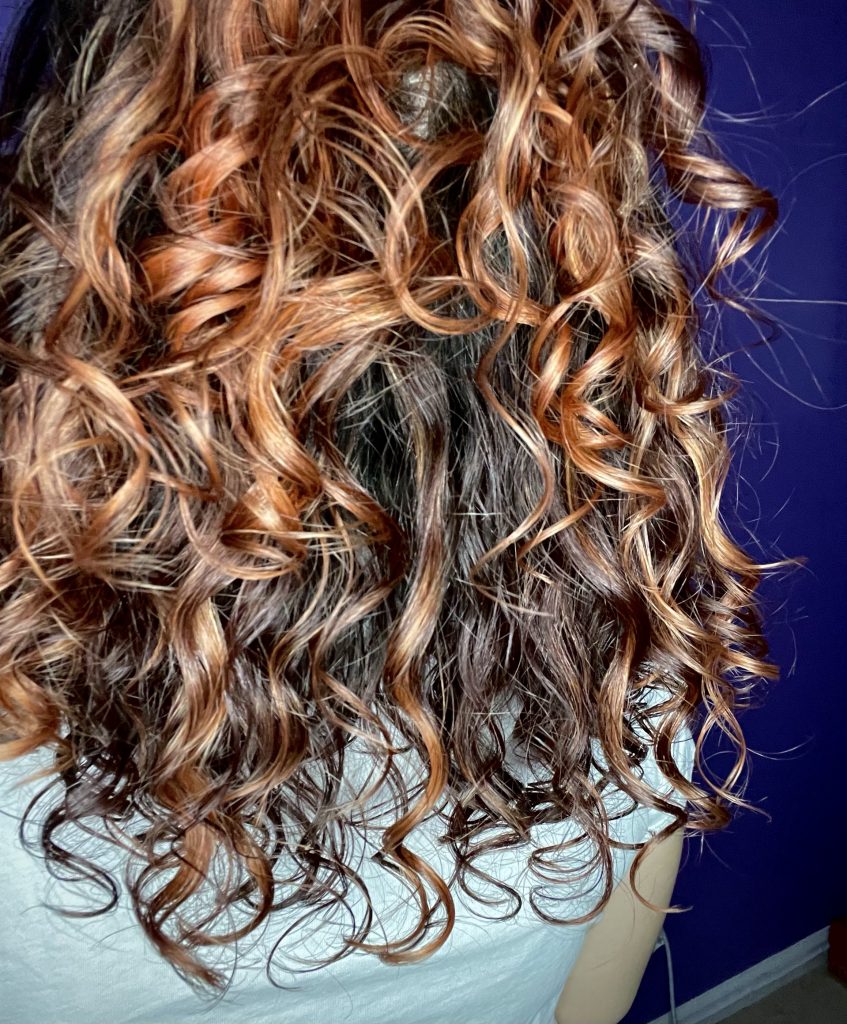 Another lightweight yet highly moisturizing product! As a long-time fan, I have tried the prior High Porosity Line before their current reformulation, and I must say Brava!
Having fine hair means my hair doesn't have the space to hold as much moisture as thicker/coarser hair. That's why for fine density or wavy hair lightweight moisture like this mist is the way to go! I began spraying the formula onto my soaking wet hair immediately after I rinsed out the conditioner, I wanted to lock in as much of the moisture as I could. What I loved was the change in bottle top, the last leave-in had a press down type of applicator making removing the product a little difficult, this new spray bottle type of top made application way easier.
The conditioner came out in this really fine mist, after a few pumps it looked like a marshmallow, not gonna lie really cool! Upon application, it immediately softened my hair and brought my curls back to life! Lots of slip allowed me to style with my finger-coils for a more uniform definition. Slip is soo important when it comes to styling, this prevents more tension and damage to the hair. Perfect as a refreshing spray. Also has a very tingly and refreshing peppermint sensation and aroma!
For extra hold, I decided to pair this leave-in with my equally lightweight Inahsi Naturals Define & Shine Liquid Styling Gel  (Discount code: REDCARPETCURLS). 
Honestly, I didn't think you could improve any more on the original formulation, but I pleasantly stand corrected! Much lighter feeling products make this bundle perfect for all high porosity hair (fine density or coarse/thick density)!
Make sure to follow Elaine Beaute on Instagram to get updates on when you can get your hands on your very own bundle! My low-porosity ladies and gents, don't fret, you have your own line too!