Hey, #RedCarpetCurlsRoyalty,
Welcome to my humble little corner of the natural haircare world! Whether you're a seasoned visitor or a newbie, you've come to the right place. My blog is all about getting the most optimal care for Naturally Textured hair – wavy, curly, coily, you name it.
I'm here to guide you on your Healthy Hair Journey, so you'll find plenty of posts discussing the science behind your hair strands and product recommendations for all types. But that's not all – I've got a product review/recommendation for you today, and there's a GIVEAWAY at the end that you won't want to miss. So let's dive in and get those tresses popping!
Summer is upon us, and with it comes the need for stylish accessories to protect ourselves from the scorching sun. As royalty who take pride in their hair, we know that finding the perfect hat that won't damage our tresses can be a real challenge. That's why I was so excited to try the Curl Revolution Satin Lined Baseball Cap – the ultimate solution for a fashionable and functional summer look. Created by fellow curly hair sister/member (Veronica Chisum) of the Curly Girl Method Support Group International, these cute accessories are bound to become this year's must-have! Here's my review of this trendy hat that has revolutionized the way we protect our hair from the sun.
Introducing the ultimate solution for hat headaches and hair damage caused by wind, sweat, and flattening – the revolutionary Curl Revolution Satin Lined Cap. The amazing adjustable buckle feature allows you to adjust the cap to fit heads up to 57cm in circumference and even create a ponytail hole, making it perfect for those with long hair or extensions. But that's not all! The cap is also satin-lined to keep your curls moisturized and styles intact, preventing frizzing and flattening. And the best part? The snug fit of the adjustable buckle keeps your cap securely in place even on windy days! Say hello to a hat that not only looks stylish but also keeps your hair healthy and happy.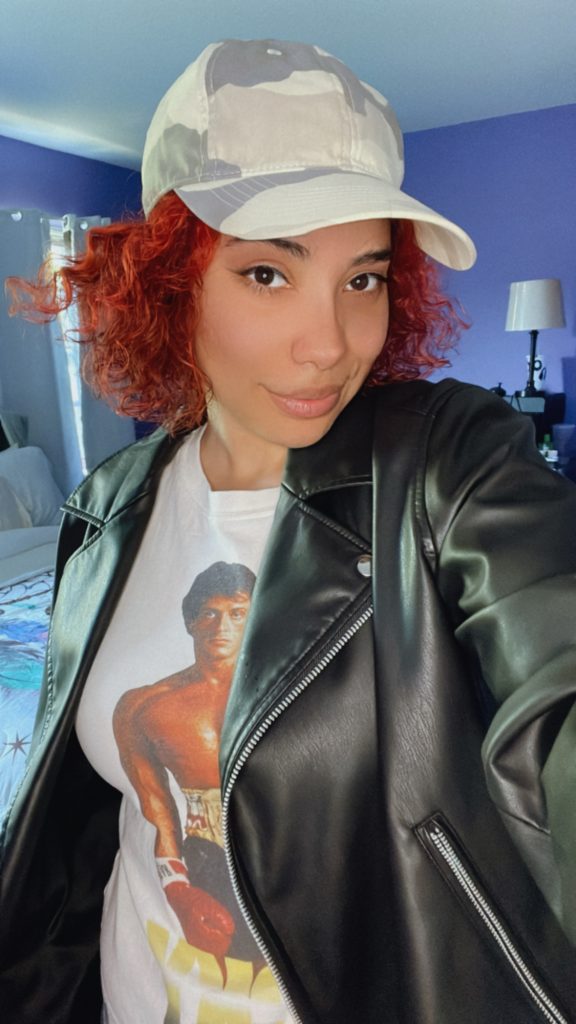 The Curl Revolution Satin Lined Baseball Cap comes in six fashionable designs that appeal to different styles and preferences. From the popular Camo and Gray Leopard Print to the bold Blue Tie-Dye and Purple Leopard Print, there's a design to match every outfit. My personal favorite has turned out to be the Purple Leopard! Since I am a huge fan of the color purple, I have found it's the perfect accessory to make me look casual yet cute. I especially appreciate that the low-profile curved brim provides enough shade to keep the sun off our faces without overwhelming our features, and the unstructured fashion cap adds just the right amount of casual flair to our ensembles.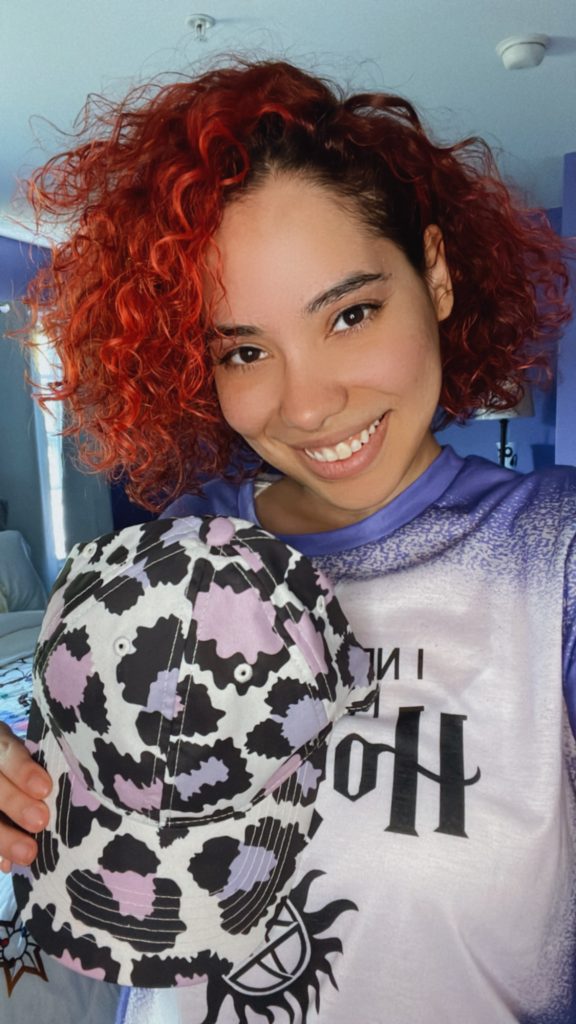 What sets this hat apart from others on the market is the 100% satin liner that is incorporated into each design. Satin is known to prevent frizz, reduce thinning, and stop the friction between hair and synthetic fabrics. As I explain in my blog post Why Your Curly Hair Needs Satin Accessories, Cotton fibers (which are negatively charged) suck out the natural oil/moisture in your hair strands. The more moisture removed from your negatively charged hair strands, leaves the hair brittle and susceptible to split ends and breakage. Satin protects your natural texture by gliding off the strands preventing friction and damage. Say goodbye to headaches because your hair isn't pulled back anymore. Satin smoothes frizzy hair and minimizes static allowing you to truly enjoy your day without worrying about your fragile tresses.  As I wore the Curl Revolution Satin Lined Baseball Cap, I felt the smooth and gentle touch of the satin on my curly hair, which helped keep my tresses looking and feeling healthy, even on my not-so-great hair days. The liner also absorbed sweat and heat, which kept me cool and comfortable even as the temperature rose in the coming days.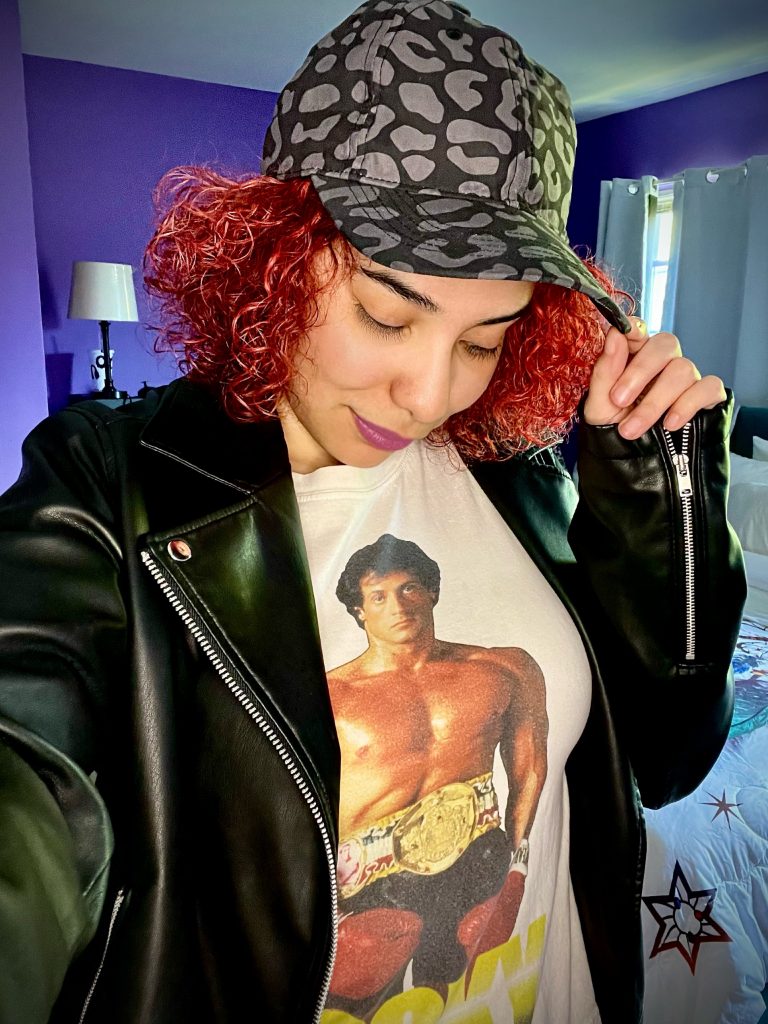 Another benefit of this cap is its durability and easy care. The 100% polyester fabric of the outer cap is water-resistant and can be wiped clean with a damp cloth, making it perfect for days at the beach or pool. I also appreciate that the cap is lightweight and easy to pack, making it a versatile and convenient accessory for travel.
Overall, I highly recommend the Curl Revolution Satin Lined Baseball Cap for those who want to combine style and comfort in their summer looks. With its adjustable buckle, fashionable designs, low profile curved brim, and 100% satin liner, this cap is a game-changer for hair care and sun protection. I am thrilled to have discovered this brand and anticipate it being your go-to summer hat. 
You made it to the finish line, congrats! As promised it's giveaway time! Reward yourself with a stylish and tress-protecting satin-lined baseball cap. Six of you will be lucky winners, so here's how to ensure you snag one of these luxury caps:
Step 1: Subscribe to redcarpetcurls.com
Step 2: Follow Curl Revolution on Facebook
Step 3: Comment on the pinned giveaway post on the Curl Revolution Fb Page
The giveaway is officially on, and the chosen six winners will be announced on April 30, 2023!
Winners will be notified through Facebook Messages. Don't miss out on this chance to win!
If you don't want to leave your chances of trying out these amazing satin-lined baseball caps to fate, then check out this special ( limited-time) discount code which will save you 20% off your purchase! Click here to use the code.
Thank you for taking the time to read my post! If you have any further questions or comments, please feel free to leave them below or shoot us an email at Queenmonroe@redcarpetcurls.com. I'd love to hear from you and continue the conversation. Don't forget to subscribe to my email list for more valuable insights and updates in the Natural Hair Care world.