Healthy hair requires a balance of moisture and protein.
Since protein vs. moisture balance is often the root of most curly hair struggles, let's discuss this balance a bit more in-depth, starting with why we need protein and moisture.
Why Does Hair Need Moisture?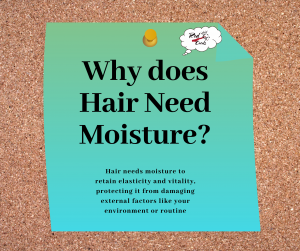 In our "Why Your Hair Needs Moisture" article, we discuss the importance of moisture.
Hair needs moisture to retain its elasticity and vitality, protecting it from damaging external factors like your environment or current hair routine.
Since our natural hair texture significantly slows down the spread of our natural Sebum, we must supplement the moisture we lose due to the Sebum not making its way down the strands. That's where conditioners come into play; they act as synthetic Sebum to moisturize the hair.
Too much moisture isn't healthy; that is why protein needs to be supplemented into your regime. If you never use protein and only use lots of moisture daily, you will end up destroying the cuticle layer of your hair, which will increase your porosity.
Hygral fatigue is known as water damage to the cuticle layer of your hair.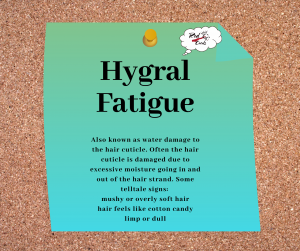 The hair cuticle is damaged due to excessive moisture going in and out of the hair cuticle. Some telltale signs are:
Mushy or overly soft hair
Hair feels like cotton candy
Hair lacks definition
Hair has little to no elasticity when wet (the curl stretches too far and doesn't return to its original shape or the curl doesn't extend at all/it breaks)
Excessive frizz
The gummy feeling when wet
Limp
Breakage
Over moisturizing, the hair is effortless if you aren't paying close attention. You can over-moisturize your hair by deep conditioning overnight, excessively wetting hair without letting it completely dry, regularly using moisture-based products without ever using protein, and even forgetting to clarify your hair continually.
Why Does Our Hair Need Protein?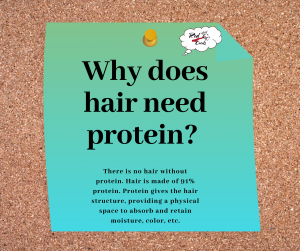 In our "Why Your Hair Needs Protein" and "5 Benefits of Adding Protein to Your Haircare Regime" articles, we discuss the importance of protein.
There is no hair without protein.
According to the Milady Cosmetology Textbook, Hair is comprised of approximately 91% protein. Protein gives the hair structure, providing a physical space to absorb and retain moisture, color, etc.
 Too much of one good thing (may it be protein or moisture) turns into a bad thing. Keeping a delicate balance of protein allows the moisture to bind to the hair strand more effectively, which increases moisture retention levels. A steady routine involving protein prevents Hygral Fatigue (cuticle damage due to over-moisturizing your hair).
Protein temporarily fills the gaps in the cuticle layer, increasing hydrophobicity of hair, which keeps hair color vibrant. Protein also prevents natural weathering (damage) from your environment and everyday manipulation.
Remember everything in MODERATION! Getting a little too protein happy can cause the hair to go into protein overload. This is when the hair contains too much protein, and it begins to coat the hair making it feel dry and brittle. Often it feels like straw, lacks curl definition, and in extreme cases, begins to snap or break off. To correct protein overload, you need to remove all protein from your regime (including your products) and use a moisture-based routine for a few weeks or even months.
How Do We Strike & Keep the Perfect Protein VS. Moisture Balance?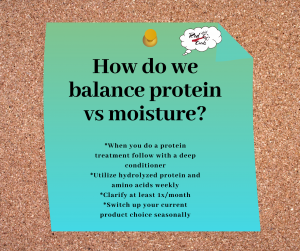 Striking the perfect balance for your hair will take time and trial & error. But here are some tips I have gathered over the years to help keep that perfect balance.
Whenever you do a protein treatment, follow it up with a deep conditioner.
Combine your protein and deep conditioning treatments. Scoop out the amount of deep conditioner you need, put it in a separate container and mix in 1-2 teaspoons of the protein of your choice. Check out our amino acid tutorial (gentle weekly protein) or our Neutral Protein Filler Drops tutorial (weekly gentle protein treatment).
Use hydrolyzed protein instead of heavy/intense protein like gelatin treatment or aphogee treatment. For more information about hydrolyzed protein, check out our "Why Your Hair Needs Protein" article.
Switch up your product choices every season (3-4 months) rotating between moisture-based products and protein-based products
Don't forget to clarify your hair! No sulfates! Only use sulfate-free clarifying shampoos. Most common sulfate-free anionic surfactant to look for on clarifying shampoo labels: Sodium C14-16 Olefin Sulfonate
Utilize steam instead of having to wet your hair every day physically. This helps prevent build-up and raise the scales on the cuticle layer of the hair to allow products to penetrate more effectively.
Deep condition with indirect heat such as a microwavable cap or the Q-Redew Hair Steamer. This encourages the scales on the hair cuticle to raise, allowing the product to penetrate more effectively.
Works Cited
Dias, Maria Fernanda Reis Gavazzoni. "Hair Cosmetics: An Overview." International Journal of Trichology (2015): 2-15. Document.
Milady. "Properties of the Hair and Scalp." Milady. Milady Standard Cosmetology. Boston: CENGAGE LEARNING, 2012. 220-232.