Well hello, again my beautiful and loyal #RedCarpetCurlsRoyalty,
Have you missed me? It's been MONTHS since I've been able to sit at this little desk in my newly renovated bedroom and share my thoughts with you. Gosh, I have so much to catch you all up on! As you all know by now, I stepped away in November to deal with my stage 3 liver fibrosis. Take care of your health, my beautiful people! Please! Your entire body needs the same amount of attention and care we devote to our gorgeously unique naturally textured hair.  I'll be sharing a video update on my medical journey on my youtube channel for anyone who is interested (soon).  Just know for now, if I am sitting here typing and getting ready to tell you about the newest and HOTTEST all-natural products of the summer, then you know I am getting better. Slowly but surely!
But let's get to what this blog post truly is about, The newest set from Inahsi Naturals called Pamper My Curls. 2020 was all about surviving, we didn't pay as much attention to our hair as we needed, couldn't get to our stylists. So 2021 and the Pamper My Curls products are all about getting your hair THRIVING!  I am convinced this set was designed and blessed by the good Lord himself. Seriously, Rhonda (Founder of Inahsi Naturals), this product set is some real DIVINE INSPIRATION here!
The Inahsi Naturals Pamper My Curls collection is one that was five YEARS in the making, you hear that my Queens and Kings, greatness doesn't come overnight. I just want to take the second to thank Rhonda for never giving up on this collection. You have made a silky, moisturized, and frizz-free dream a reality with this amazingly light three-step set.
Now let's get into some of the details that make this collection so flipping bomb!
Step#1: Pamper My Curls All-In-One Leave-In Moisture Mist
If you have fine density hair like me then you know you need weightless moisture. Often times creams and even leave-in conditioners can be too heavy for fine density, wavy, or transitioning hair. That's why we need the magic of this All-In-One-Leave-In Moisture Mist. 
This light-weight oil-free mist will moisturize, nourish, and refresh your curls without weighing them down. The ayurvedic herbal delight of marshmallow root will not only provide slip for pesky knots, but will make your curls soft, supple, and sleek. Lavender, angelica root, and chamomile extract help to soothe a dry itchy scalp.
This power-packed daily leave-in will mystify you with all the wonderful benefits: Repairs the hair from damage due to coloring, heat styling, or weathering. Aids in color retention. Strengthens the hair structure to help fight breakage and split ends.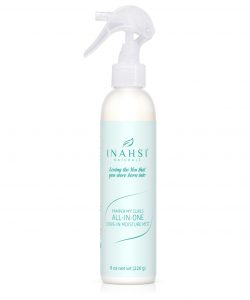 Did I mention the amazing orange lavender fragrance? I mean what could be more relaxing and energizing all at the same time?!
Now you know me by now, the science-y nerd. So, as always, let's take a look at the first five ingredients of the product since we know the first five products make up 80% of the actual formulation. 
Water – the first ingredient of any product should be water since it is what hydrates your hair
Aloe Vera Extract – aloe vera is the next best hydrator for your hair besides water, it also has the ability to seal and thoroughly moisturize the hair strands to prevent frizz. Aloe vera naturally has over 70 nutrients needed by hair and scalp, it also soothes the scalp, reduces dandruff, and even helps unclog hair follicles clogged by excessive scalp oil production. 
Glycerin- colorless and scentless humectant (meaning this ingredient pulls moisture from your environment to lock in that moisture for longer periods of time. 
Panthenol- Panthenol is a byproduct of pantothenic acid (vitamin B-5). It helps strengthen hair, retain moisture, and improves the texture of damaged hair. Panthenol is often the main ingredient in many hair masks and conditioners.
Cetrimonium Chloride- an excellent conditioning agent for hair, with anti-static, anti-frizz, and detangling properties. It also functions as an emulsifier and surfactant, helping boost rinse-off and stabilizes emulsions.
While these are the main five ingredients I just have to mention one hero ingredient in this product that's sooo rare but PHENOMENAL for your hair and scalp. that ingredient is Baobob. 
Baobob oil is high omega-3 fatty acid which is amazing for hair growth and repairing hair. Baobob oil while being a natural plant based oil offers you the benefits of a silicone without the risk. It's a light, non-greasy oil that helps moisturize (seal) and strengthen weak or brittle hair. Similar to a silicone Baobob has the ability to help protect hair from thermal heating damage and the sun from your local environment. It gives hair shine and slip. But don't worry, unlike a silicone you don't need a sulfate free clarifying shampoo to remove it, a regular low-poo or no-poo will do the job!
The product also contains quinoa protein which is a plant based protein which helps with color retention (which is perfect because the summer sun fades out hair color).Quinoa protein also contains 17 amino acids including the 8 essential nutrients needed for hair growth. 
When I used this lightweight spray (on day 2 hair) I slightly wet my hair in the shower and then began to vigorously spray the mist on my hair, taking special consideration to the drier parts of my hair like the ends and back of my head. I did use my Scrunch It Brush (Discount Code: Redcarpetcurls) to make sure the product was evenly distributed and then moved on to step two. 
Step #2: Pamper My Curls Curl Sculpting Glaze Strong Hold Gel
Looking for a protein-free strong hold gel??? Well, look no further! This little gem is actually my favorite product from the line!
This protein-free frizz-fighting natural styling glaze will leave your curls defined, protected, and oh so shiny. The sunflower oil which is rich in ceramides (has the ability to enter the smallest crevices of your hair, penetrating deeper) will help to repair the hair from wear and tear.
This curl sculpting glaze provides a strong hold without leaving your curls flakey or a white residue. It is also great to smooth down edges and help to Instantly define and hold curls in place.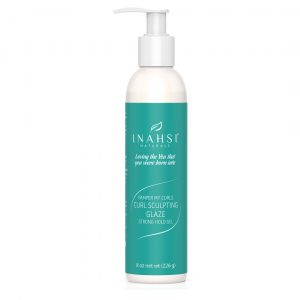 Let's take a look at the first five ingredients of the product, shall we?
Water- view explanation above
VP/VA Copolymer- used primarily in the formulation of hair care products but can also be found in skin and nail products. VP/VA Copolymer helps hair hold its style by inhibiting the hair's ability to absorb moisture.
Hydroxyethylcellulose- It serves as an exceptional thickening agent which improves the appearance and texture of the hair care products by changing the viscosity of the products. enhances the firmness of hair care products. Gives you that soft, smooth, and attractive look.
Aloe Barbadensis (Aloe Vera) Extract- See explanation above
Caprylyl Glycol- a humectant agent, again meaning it hydrates your hair by attracting—and retaining—water. It also has conditioning properties, so it softens the skin and hair
What I loved most about this gel is how much slip it provided me when I was not only raking it through my hair with my fingers but finger coiling as well! After raking it through my hair and doing my finger-coils, I flipped my head over and began to scrunch for dear life. My wavy and curly queens and kings, scrunch all you can for added definition! If you have coiler hair like types 3C and on I suggest praying hands method or taking method or even finger coiling to achieve the more uniform definition you are looking for without sacrificing the length due to shrinkage. 
After scrunching, I diffused my (semi-wet hair: remember I did not fully re-wet my hair for this day 2 refresh) with my Xtava Black Orchid Diffuser and SnozzlePro upside down to achieve more volume. Once my hair was completely dry, I moved on to the third and final step of the set.
I love that the gel can be emulsified so you don't have to worry about build-up
Step #3: Pamper My Curls Hair & Scalp Elixir
Now, anyone that knows me knows I LOVEEEE me a good scalp oil. Daily scalp massages are essential for expediting healthy and fuller hair more quickly. You can always do scalp massages with your plain fingertips, but why do that when just 3-5 drops of this amazing oil gives you soooooo many added benefits?!
This Hair and Scalp Elixir will restore shine to dull lifeless curls, control frizz while the sunflower oil which is rich in ceramides will help repair damaged hair.
Tea tree oil, peppermint, and rosemary will soothe dry itchy scalp, stimulate the scalp to support healthy hair. While the pumpkin seed oil will smooth and strengthen the hair strains for overall healthy hair.
Honestly, I was over the moon to see pumpkin seed oil in this mix! Such a rarity but suchhhh an amazing oil. I used to add it to my pre-poo's when I was transitioning into my curly girl method journey. 
The key to using a bomb oil like this on your scalp (whether you have a dry scalp or an oily scalp), is using 3-5 drops only! I like to spread one drop of oil per fingertip, then rub them together, flip my head over, and massage my scalp making sure my fingers are focusing on the scalp and not the hair causing frizz. If you need a visual example, I did make one using Thatsthatmagic Oil (Discount Code: Redcarpetcurls). View below;
Once I used 3-5 drops of the Pamper My Curls Hair & Scalp Elixir, I took 3 more drops in the palm of my hand, massaged them together, and scrunched out the gel cast. What I was left with was the most beautiful shine and color vitality I have seen in ages! It was just the thing I needed as a pick me up today! I cannot believe these three products are truly THIS incredible. Mind you these are my honest thoughts from just ONE use!
Don't believe in the power of oil? Well, let's take a look at the first five ingredients of the elixir and their benefits just so you finally understand why you need to go and buy this set TODAY!
Vitis vinifera (Grape) Seed Oil- grapeseed oil can help restore your hair's natural shine and vibrancy. Studies show that plant oils like palm oil, Moroccan argan oil, nut oils, and grapeseed oil all contain natural conditioning agents. Some people use them to help fight frizz and restore moisture to the scalp. Grapeseed oil has the added benefit of being one of the most lightweight oils, so it moisturizes and conditions without weighing hair down and making it oily.
Helianthus annuus (Sunflower) Seed Oil- Sealing Oil. Sunflower oil also contains oleic acid, which can stop hair breakage and may make it seem like hair is growing faster (since the ends aren't breaking off). It has anti-inflammatory properties which may help calm dandruff and relieve an itchy scalp
Persea Gratissima (Avocado) Oil- Treating your hair with avocado can moisturize, repair, and strengthen your hair. A 2015 International Journal of Trichology study found that minerals like those in avocado oil can help seal cuticle cells, which can prevent hair from breaking. 
Olea Europaea (Olive) Fruit Oil- primary chemical elements are oleic acid, palmitic acid, and squalene. These are all emollients, which means they have softening qualities.
Ricinus Communis (Castor) Seed Oil- moisturizing and
The anti-inflammatory properties of castor oil make it an excellent option to keep
hair soft and hydrated and help reduce dandruff symptoms.
Queen Monroe's Final Tips and Facts
All three products are coconut oil free
All products are cruelty free
Set  is perfect for all naturally textured hair types
Set can be used for LOC (Liquid, Oil, Cream) Method by using the Mist first, the the elixir, then finally the curl sculpting glaze
The Pamper My Curls set goes great in addition to any other product in the line giving you so many more options and combinations
For protective styles like braids use the mist and oil to best preserve your style as well as keep the hair and scalp healthy
When you use the Elixir as a pre-poo it gives the appearance of fuller hair (please remember you cannot change the density of your hair because that depends on the medulla section of the hair strand, only coarse hair has that extra layer) For thinner density hair like me or wavy hair you will be able to achieve a full and volumized result.
The elixir is perfect to use as a beard oil for the man in your life!
Do you see all that amazingness in just three products?! Trust me this is a collection you CAN'T miss out on and you don't have to because the set just launched TODAY on the Inahsi Naturals Website! So make sure you check it out!
OH! And don't miss a chance to see me on Instagram Live June 2, 2021 with Inahsi Naturals Founder Rhonda Marshall! 5 pm EST on my Instagram: www.instagram.com/redcarpetcurls
If you can't make the live, no worries! I'll be sure to post it right here, below in this review!
 

 

View this post on Instagram

 
Of course, don't forget to save money by using the discount code: redcarpetcurls
Day 2 Refresh 
Instagram Live – June 2, 2021
 

 

View this post on Instagram

 
Day 3 Refresh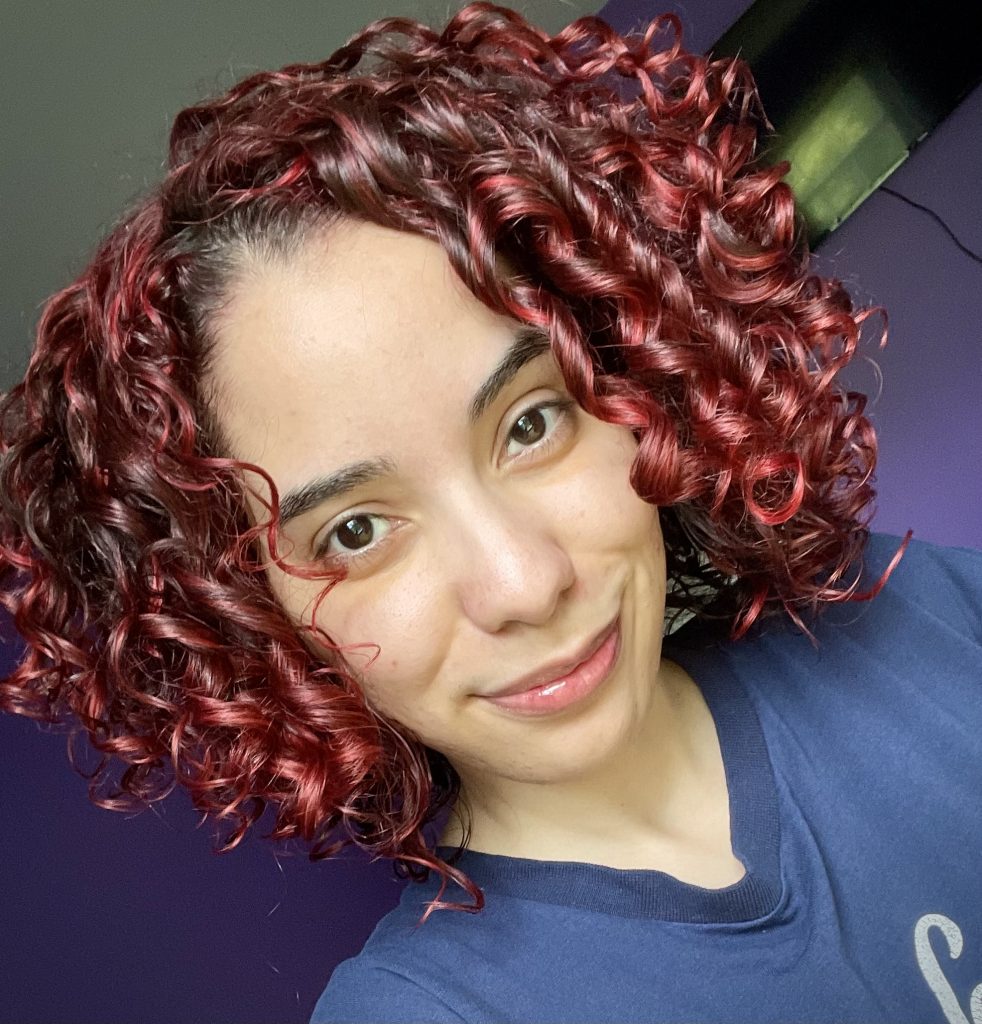 Day 4 Refresh 
 

 

View this post on Instagram