My Beautiful #RedCarpetCurlsRoyalty,
Naturally textured hair is beautiful, its unique, but let's be truthful it can be so finicky! One day you can have amazing curls, the next so blah, and nothing has changed in your routine. It's not in your head, its a real thing, we can nail down a routine but remember we can't re-create the exact same results each and every time. It's the goal, but not always the reality.
Well today, I am going to show you a shampoo and conditioning set that not only clarifies your hair and scalp giving that nice tingly feeling, but also gives your hair a big dose of the moisture it needs to be at it's very best. That set is what I call a hidden gem in the big box stores, the Giovanni Tea Tree Triple Treat Invigorating Shampoo and Conditioner.
Every single time I use this pairing I know my curls are going to be weightless, shiny, and frizz-free every time! How do I know? Because of the ingredients! As I always say, the only thing that should matter when you shop for products are the ingredients. So, let's discuss why…
As I mention in our 'How to Read Ingredient Labels' article, the first five ingredients of any product are what approximately 80% of the product is truly made of. Those first five ingredients are what I am mainly paying for, so, I should know what they do for my hair and scalp. Let's start with the shampoo.
Cleansing is hands down one of the most important parts of not only the Curly Girl Method, but hygiene in general. It is not healthy to go weeks and months without properly cleansing your scalp. You should have a consistent clarifying schedule because this will help keep your scalp at it's healthiest. We all know you cannot have healthy hair without a healthy scalp. A healthy scalp leads to healthy hair growth and retention. To learn more about cleansing and clarifying check out our 'Difference Between Shampoos' article.
Tea Tree Triple Treat Invigorating Shampoo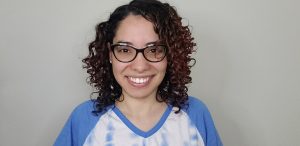 This shampoo is one of those rare gems you can find in big box retailers that's not only Curly Girl Method approved, but it will give you that deep clean feeling we often miss from sulfate-containing shampoos.
One of the number one complaints I hear is, "I can't find any clarifying CGM approved shampoos." I promise you they are there, you just have to know what to look for and this Giovanni set is definitely one you shouldn't sleep on. It is the affordable Holy Grail you are looking for!
I found this set in my local Vitamin Shoppe, but depending on their supplies you should be able to find this set at your local Walmart or Target stores, who knows you might even have some luck at your local ShopRite. After this quarantine is over, take a stroll and see what you find. I've had some major luck at my local Vitamin Shoppe and GNC.
The most important thing to me when looking for a shampoo is those first five ingredients, that's how I decide how I will fit this into my routine. So, let's take a look at the first five ingredients on the label.
 First five ingredients:
Aqua (Purified Water)– A very broad term that consumers often interpret as the purest form of water. Purified water denotes a process by which contaminants and minerals have been removed from a source of water. Tap water for example is considered purified, as it has gone through a water treatment process.
Sodium Cocoamphoacetate-  amphoteric (have both negative and positive charges) organic compound. Used as hair conditioning agent, surfactant, and foam booster . Amphoteric surfactants have antibacterial properties, excellent resistance to hard water, and excellent compatibility with various kinds of surfactants. Therefore, it can be used as shampoo-purpose foaming agents with high safety.
Lauryl Glucoside- a non-ionic sugar- and lipid-based surfactant.  Meaning by itself it is not strong enough to clarify but in conjunction with the other surfactants it's able to give a deep clean. Since this product does contain Sodium Lauryl Glucose Carboxylate as well they both work together to become an anionic pairing meaning this shampoo clarifies the hair.
Sodium Cocoyl Glutamate-mild vegetable-based surfactant (foaming ingredient) derived from from coconut or palm kernel oil and glucose from corn. This ingredient is also used to help soften (remove excess minerals from) hard water.
Sodium Lauryl Glucose Carboxylate-  sugar based surfactant used as an emulsifier and stabilizer in products. Sodium Lauryl Glucose Carboxylate (and) Lauryl Glucoside together are a top quality anionic surfactant blend combining the characteristic mildness with the excellent foaming and sensory properties, making it especially suitable for all kinds of cleansers and sulfate free cleansers, detergents, natural derived shampoo and surfactant blends.
As you can see 4/5 ingredients are surfactants, when used individually they might not be strong enough to clarify the hair, but working together it's strong enough to remove build-up and give you that weightless and clean feeling back to your hair and scalp.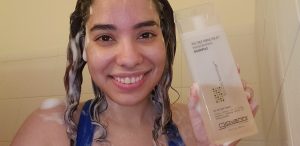 I love how quickly and how much the shampoo foams up the moment it touches your wet hair. The peppermint, rosemary, and sage essential oils found in the product give a wonderful tingly clean feeling when applied to the scalp. When paired with a scalp brush you are going to get the ultimate clean.
Knowing how strong this shampoo helps because I know I don't need to include an apple cider vinegar rinse into my routine that day because the shampoo is strong enough to remove any build-up.
Less is more since the product foams up so quickly, spreading across all of the hair, giving it that deep clean feeling you love. So, this product has actually lasted me well over 7 months now. At least you know you are getting all the bang for your buck.
Giovanni Tea Tree Triple Treat Invigorating Conditioner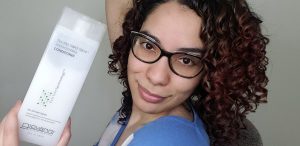 Moisture is by far one of the most important things naturally textured hair needs to truly thrive. There's no if's, and's, or but's about it, naturally textured hair NEEDS moisture to have that beautiful frizz-free shine you are looking for on your wash days. No better product to give it to you than the Giovanni Tea Tree Triple Treat Invigorating Conditioner.
First Five Ingredients:
Aqua (Purified Water)- Refer to definition above
Cetyl Alcohol-   Good "fatty alcohol" known to moisturize the hair. It is derived from vegetable oils such as palm or coconut oil. Serves as a thickening agent and emulsifier, to help keep product ingredients from separating.
Stearyl Alcohol- Another good "fatty alcohol" known to moisturize the hair.  Vegetable derived oil, has emollient properties and also can function as an emulsifier and thickener in products.
Glycerin- also known as glycerol, is a thick, odorless clear liquid derived naturally from plant oils such as palm, soy or coconut oil or synthetically from petroleum. Chemically, glycerin is a water-soluble conditioning sugar alcohol with 3 hydrogen bonding properties, making the substance great as a moisturizer in other products besides just hair care. Glycerin is a humectant, which means it attracts moisture to itself. The hydrogen bonding properties of humectants attract water from the atmosphere bringing moisture to the hair and ultimately improves moisture retention for the hair. As a result, glycerin and other humectants are widely popular in products that promote ridding yourself of dry, thirsty hair. Glycerin is also used as a thickening agent in many products to create the nice fully texture
Panthenol- is a derivative of vitamin B5 (pantothenic acid) and is known as a provitamin. Panthenol is a highly effective humectant, a class of ingredients used in skin and hair care products to promote moisture-retention. It spreads evenly on the surface of hair strands, forming a smooth film on the surface of the cuticle. This film gives enhanced coherence to the reflection of light from the surface of the hair, which imparts significant gloss and shine. The smooth film also provides excellent slip between adjacent strands of hair and detangling properties. Panthenol is capable of penetrating the cuticle and entering the hair shaft as well, where it aids in moisture retention and provides volume.
This conditioner has a very thick consistency, so similar to the shampoo, less is more. I found quarter sized amounts are enough to truly moisturize my hair when I leave it on for 3-5 minutes.
Like any other rinse out conditioner, this conditioner can be used as a leave-in conditioner as well, in smaller amounts of course. Since I have fine (density), 3a/3b, high porosity curls, I like to use pea-sized amounts to ensure I do not weigh down my curls with the conditioner.
Especially considering most days, I like to use a little gel for extra hold. For this particular washday, I used one of my all-time favorites the Hydratherma Naturals Botanical Defining Gel.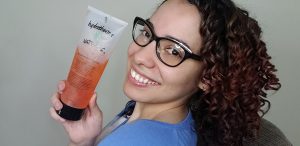 While this gel provides so much shine and great flexible hold, it's a perfect example of why finger coiling with gel is so difficult. You must use products with lots of slip or spray a lot of water. Lucky for me the Giovanni Tea Tree Triple Treat Invigorating Conditioner is so moisturizing it provides TONS of slip. So, after applying my conditioner and gel, I spray extra water and put a small drop of conditioner on my finger tips to add more "slip" to the strands to finger coil. As you can see I was left with beautiful, shiny, moisturized perfection.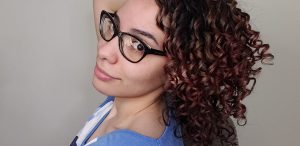 Final Thoughts From Ms. Monroe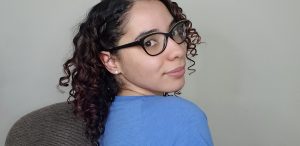 I adore the moisture, shine, and silky-soft feeling I am always left with when I use this set. You have to love a set that's all-natural, 100% vegetarian ingredients, never tested on animals, and doesn't contain any dyes or PEG's!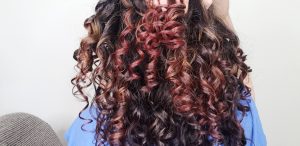 You can find the set on amazon for a little under twenty bucks. Honestly, you can't lose, they are fantastic products! They last a long time depending on how often you wash and condition your hair. So, the next time you are wandering around the Walmart or Target hair product aisle, be on the look out for Giovanni, your curls will love you for it! Did I mention how great the essential oils are for hair growth? Seriously, just go check it out now!