My beautiful #RedCarpetCurlsRoyalty,
I'm back with another Red Carpet Curls Reviews, and today I'm sharing with you my in-depth review on Veracious Curls.
Veracious Curls is a small family-owned CGM (curly girl method) approved, all-natural, plant-based three-step system.
The family-owned and operated company has sourced the highest-quality, all-natural, organic, plant-derived, non-GMO ingredients like organic aloe juice and organic slippery elm. The revolutionary 3-step system cleanses and protects your scalp's natural moisture and PH levels while preventing breakage and frizz to restore dull, brittle hair.
Like any great dream, the company began with a woman, Bernadine, the curly-haired wife, who spent her lifetime learning the ins-and-outs of caring for curly hair both in the salon and in her own home. Finally, with the birth of her own children (including a curly-haired daughter), she felt compelled to develop a product that was safe, healthy, and effective for everyone in the family.
After years of trying just about every product on the market, Bernadine knows what works and what doesn't. She often saw clients, who in the quest to tame wild tresses, used multiple products at once, only making their problems worse: Resulting in dry, frizzy curls, clogged hair follicles, and breakage. Bernadine knew there had to be a simpler, more effective solution. As a mother of 6, she understands the importance of creating completely natural, plant-based products for her family and yours.
"We were very intentional with what we brought to this industry. We wanted clean, safe, honest products that we would want our children to use. Therefore, Veracious Curls was the result."
-Tony Barnes and Bernadine Barnes
Creators and Founders of Veracious Curls
Psalm 115:1
Not to us, O Lord, not to us, but to your name give glory,
for the sake of your steadfast love and your faithfulness!
This little quote can be found on the Veracious Curls About Us page. Honestly, this part of the website is what made the sale for me. This little quote and scripture from the bible showed me something I don't see often when it comes to my work, spirituality, and faith.
I make no secret of the fact that I am a Christian. I don't quite follow rules of religion. I more focus on my one-on-one relationship with the big guy himself. See, when it comes to me, I am an open book. Not just on my curly hair journey but on all my life journeys. I shared with you my year-long workout/weight loss journey where I lost 74 pounds in total (and have kept it off, thank you very much), I am sharing my so far year-and-a-half long skincare journey with you as well. So my spiritual journey is no different. You will often see posts on the Red Carpet Curls Instagram page and my own private Instagram page, where I share my thoughts and emotions along my spiritual journey as well.
As much as this entire life-changing journey started two-and-a-half years ago for me with hair, it evolved to so much more than that. I found my way back to God. I rebuilt my life in a new place to call home, a new church, and a completely new life in general on the foundation of love, the way Jesus taught us. Often, I have struggled with what I should and should not share on the Red Carpet Curls Platform. But, I learned something while on my journey with God. I was lost before coming home, I was dark and empty with no reason to live.  I have a heartbeat now because God didn't give up on me when the rest of the world did. He never let go of me even when I gave up on myself.
There would not be a Red Carpet Curls without Jesus because there wouldn't be a Queen Monroe without him either. I am here because of his grace. I have built Red Carpet Curls from the dirt with no one but Jesus. So, yes, I am going to share my faith and spiritual journey on this platform. Seeing this quote on the Veracious Curls page when I found them so long ago just helped me solve that dilemma.
It is my greatest privilege to help a fellow Chrisitan family not only make their dream come true but helping so many curlies around the world begin to love and appreciate their hair and natural beauty. Because remember God never made a single mistake creating us, so learn to appreciate his greatest masterpiece, yourself!
Here's What You Need to Know About Veracious Curls
100% Curly Girl Method Approved- No sulfates, silicones, parabens, drying alcohols, synthetic waxes, or mineral oil/petroleum
Veracious means truth and honesty
Three step haircare system – Shampoo, Conditioner, Styling Cream
Each product is specifically designed to promote healthy hair & scalp
Conditioner and Styling Cream are Glycerin Free (the cleanser contains glycerin but it is at the end of the list. The first five ingredients are what makes up 80% of the product. So the glycerin is less than 2% of the product. Not enough to cause a reaction)
Vegan
Perfect for children
Non- GMO
Never tested on animals
Surfactans and phthalates free
All orders are shipped within 24 hours of order placement
All orders are Free Shipping
Return Policy (not that you will ever need it) If you are unhappy with the product for any reason please return the product to the following address within 30 days of purchase. Once received the return a full  100% refund will be issued
Veracious Curls All Natural Cleanser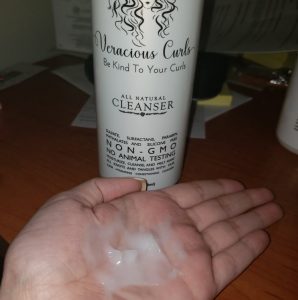 Light peppermint fragrance (Peppermint Leaf Extract is the second ingredient in this cleanser).
This oil-free, Conditioning Cleanser (no-poo consistency- meaning it will not produce suds similar to a co-wash) is designed specifically for curly hair to moisturize, cleanse, and melt away knots and tangles. This creamy cleanser promotes hair strength and growth by maintaining a healthy PH level, preventing dryness and unclogging hair follicles. This product alone will revitalize your scalp with organic fruit extracts while leaving hair soft and manageable.
If you suffer from dandruff or itchy scalp, this cleanser is perfect to not only remove any build up or skin irritants from other products, such as the Itchy M's, it also begins to immediately moisturize your dehydrated ends.
The first ingredient in this cleanser is organic aloe vera juice, so it's no wonder why my hair immediately begins to clump together when I rake the cleanser through the mid-lengths and ends of my hair. Aloe Vera juice contains proteolytic enzymes which repair dead skin cells on the scalp: Promoting hair growth, reduces dandruff, dryness & itchy scalp, adds smoothness & shine and controls frizz.
I love to pair this no-poo with a scalp brush to get that deep clean feeling and help remove all dirt, debris, oil, and dead skin cells off my scalp, so nothing hinders my scalp health and hair growth.
Veracious Curls All Natural Conditioner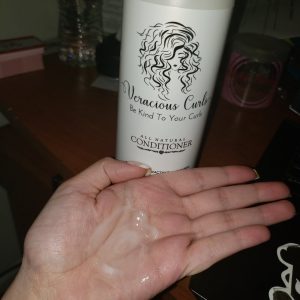 Light citrus/wild orange essential oil fragrance.
This rinse-out conditioner has a runny milk-like consistency. As far as conditioners go, I would definitely say this is more on the lightweight side of the spectrum. But don't let that fool you, it's incredibly moisturizing. So, it kind of goes without saying, but I'll say it anyway as I always do. Less is more with this product!
Enjoy soft tangle-free hair with this super-slip conditioner. With only the best active detangling ingredients in the industry, this must have conditioner also acts as a leave-in conditioner with vanilla and strawberry oils for super soft manageable curls. I love using this conditioner as a leave-in! Whenever I do, I always apply to soaking wet hair, that way the conditioner can seal in all the moisture from the water dripping down my hair.
As you can see from the photo, the consistency is on the thinner side but trust me pea-sized amounts at a time will be the perfect way to build up to your perfect ration every single washday!
The all-natural conditioner is infused with organic slippery elm, which improves strength & elasticity of the hair. It's also known to improve volume, heal dry, dull & damaged hair, soothe the scalp, stimulates hair growth, naturally softens & calms hair.  Did I also mention the conditioner protects color-treated hair? You know I cannot live without my cherry red highlights, and we all know how vibrant your color stays all depends on the upkeep!
Veracious Curls Complete Styling Cream
I've never been much of a fan when it comes to styling creams. I have very fine hair and at the beginning of my journey, every single curl cream left my hair exactly the same; weighed down, frizzy, and lackluster. What was the point? I always found more success with the original combo; leave in conditioner and gel. Later along my journey, I would learn I was using FAR too much of the products and layering too many. Lord, my poor hair.
The Veracious Curls Complete Styling Cream is one of the few curl creams I have tried that I can say truly does work for me. The complete styling creme is more than just a styler; It controls and defines curls, tames frizz, gives volume and softness to curls; all while these natural/organic ingredients add these benefits as well:
Organic Aloe Juice – adds smoothness & shine and controls frizz.
Organic creamed honey – moisturizes & softens the hair. Honey is a natural humectant
Hemp seed butter – develops stronger & healthier hair, natural sunblock, protects color & processed hair.
Less is more with this cream as well. I normally use very small amounts  around the size of the top of an index finger: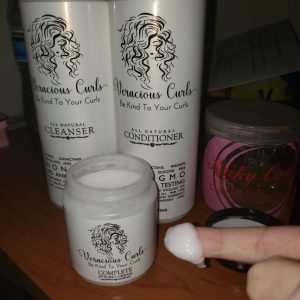 I like to build up my products little by little to make sure I don't overdo it. I often like to pair the styling cream with one of my favorite gels, as you can see from the picture, I chose Kinky Curly Custard. I also love to use Tailored Beauty Perfect Coils Curling Jelly since they share similar consistencies and hold.
Final Words From Red Carpet Curls
So I end this review with a simple question for you all, What is it that you truly desire?
Don't mind me, I am currently on the end of my four season binge of Lucifer on Netflix. If you've seen the show you will totally catch that reference. If you don't watch the show…I mean, what are you waiting for? Seriously, amazing show definitely check it out sometime.
If you desire gorgeous, frizz-free, all-natural curls then Veracious Curls is what you need! Since Red Carpet Curls always has your back, of course, I have a special discount code for you to save you money!
Make sure to use the special discount code: Redcarpetcurls
P.S. If you're wondering what's my hair type (to see if this product line would work for you) I have 3a/3b fine, high porosity curls. But don't let that fool you. All-natural products like these work magic for all hair types. Take it from @lesterjaviermoreno, Veracious Curls newest ambassador, and if you want me to be honest, one of my fav curly hair influencers to follow. I mean his hair is amazing, he and his fiance (who is also a fellow curly queen) are flipping adorable, and he gives creates such truthful inspiring content. I mean definitely, if you haven't already, make sure to check him out too!