My Beautiful #RedCarpetCurlsRoyalty,
Today's in-depth review is on a product line I have been using since August of 2018.  It quickly turned into one of my absolute favorite lines. I have grown obsessed with the moisture and shine this line always provides me. Not to mention, the definition I achieve is always unmatched. I took my time releasing this review because I wanted to use the line numerous times to get a good feel of every product to give you all the details you need to know.
Tailored Beauty is one of the companies that made me realize very early on that all-natural small companies was the only way to go for my curly girl method journey. Many products on the market contained so many fillers that it made me realize how is this any better than pre-CG life? Their all-natural moisturizing products changed my life and hopefully, they will change yours too! Let's get into what you need to know about the company.
What is Tailored Beauty?
Tailored Beauty is a small inexpensive "mom and pops" natural haircare brand. This brand is 100% curly girl method approved. It does not include any:
Sulfates
Silicones
Parabens
Synthetic Waxes
Drying Alcohols
Mineral Oil/Petroleum
The brand provides all natural, moisturizing products to help you achieve your dream curl days.
What is the Tailored Beauty Backstory?
Tailored Beauty like any great invention was the response to a problem. Back in 2011, Tailored Beauty founder and CEO, Keya James, started her natural hair journey. She then made the decision that year to stop using relaxers. Like many of us Keya wanted to focus on retaining her length. So, she began using all-natural products already on the market. She noticed a lot of the products claiming to be all-natural included many many artificial fillers. What's really natural about that? This made her question her entire "healthy hair" journey.
In 2012, Keya decided to make her own whipped shea butter, which is now known as the Everything Butter. She documented this entire process of trial and error on her Youtube Channel. Once she perfected the formula she began giving it to friends and family who all raved about the product. Later that same year, Keya was blessed with her daughter. Throughout the entire pregnancy, she used the Everything Butter on her stomach and once her daughter, Summer, was born, no stretch marks at all!
With the arrival of her daughter, Keya began to realize the true importance of actual all-natural products. When it came to styling her daughter's hair, she only felt comfortable using the products she created. She began including her daughter's all natural routine on her Youtube channel which created a demand for her products.
In 2015, Keya, alongside her husband, took the leap to create Tailored Beauty! Let's all just take a moment and thank God that this amazing woman made that decision. If she hadn't I'd be having some rough looking hair days, haha.
Now, that you know the backstory let's get into some of the details you need to know about Tailored Beauty.
What You Need to Know about Tailored Beauty
All orders are shipped through the United States Postal Service (USPS)
Delivery can take 2-7 business days  (I got mine in about 3 days!)
If you need to contact the company about your order, the email is: Shop@tailoredbeautyproducts.com
If a package is returned to the company (either wrong address or damage) you will receive either a replacement or store credit within 3 days
Tailored Beauty does deliver to Canada!
Tailored Beauty Canadian deliveries are shipped through FedEx and can take up to 7-10 business days for delivery
Free shipping on all domestic orders over $70
All products from the ultimate collection (the collection featured in this review) are 100% curly girl method approved
Now, that you know those major points, let's get into my in-depth review on the products I have used from the Ultimate Collection.
Moisturizing Coconut Creme Shampoo 
https://www.instagram.com/p/Bo4dDoQH60A/
This incredibly moisturizing shampoo is infused with coconut oil which cleanses and strengthens hair without leaving it feeling stripped of moisture. The original curly girl method was all about removing shampoo from your regime since shampoos (especially those with sulfates). Yet, Co-washing alone has never worked for my hair and scalp. My hair needs a sulfate-free shampoo to gently cleanse and remove the weekly buildup of sebum, products, and excess oils. This shampoo is always the perfect solution to clean and moisturized hair. The Coconut Creme Shampoo is formulated with aloe vera juice that moisturizes and restores the hair's natural pH. This cleanser is also derived from natural sources and never contains any curly go no no's such as sulfates, silicones, parabens, synthetic waxes, drying alcohols, and mineral oil/petroleum.
What I love about this shampoo is that it is a natural low poo, meaning upon application it instantly starts to produce foam! The foam, is important, as it functions to spread the detergent over the hair and scalp, but it does not participate in the cleaning. We associate a lather with a deep clean. The theory behind why we associate lather to a deep clean is because, before our curly girl method days, we all used to use shampoos that contained sulfates like Sodium Lauryl Sulfate. Sulfates are known to provide lather(or foam) as a way to spread the mixture around to deeply cleanse the hair. This shampoo produces a lot of foam, and normally that leaves the hair feeling pretty dry, but whenever I rinse the cleanser out of my hair, my curls still clump together so nicely from the amount of moisture left in my tresses,
https://www.instagram.com/p/Btg1R2jFOLB/
Finally! We have come to my absolute hands-down favorite product from this all-natural, curly-girl-method-approved brand, the Coconut Creme Rinse-out Conditioner!
The coconut creme conditioner is one of my favorites because it contains mango butter! Anyone who knows me well knows that this Puerto Rican Queen is obsessed with mangoes! Not only are they delicious they provide so many amazing benefits. Mango butter contains natural emollient properties which help keep this skin moisturized.  So, if you follow this logic applying mango butter or a product that contains mango butter helps the scalp restore and maintain its moisture and promote cell regeneration. Other mango butter benefits include:
Mango butter possesses similar consistency qualities to cocoa butter and shea butter
Mango butter contains high levels of fatty acids making it a much more intensive moisturizer
Mango butter contains high levels of antioxidants and vitamins such as vitamins A.C. and E (which are necessary nutrients for hair growth)
Mango butter is also a natural shield against harmful UV rays, protecting the hair and scalp from sun damage
Mango Butter adds shine to the hair
Mango butter is a perfect sealant for the hair to keep moisture in the hair for longer periods of time.
Mango butter is the perfect alternative to coconut oil (if your hair doesn't like coconut oil)
Mango butter is one of my absolute favorite all-natural ingredients to use in my beauty regime. I even have a recipe for making your Whipped Mango Body Butter! Stay tuned for that article in the DIY section of the website coming later this week!
But back to the amazing Coconut Creme Conditioner! This conditioner will give your hair an ample amount of slip making wash day a breeze. Perfect for all kinky and curly hair types. The blends of coconut oil, olive oil, and mango butter are perfect for replenishing dry hair. The conditioner is derived from natural sources never containing any of the curly girl no no's like sulfates, silicones, parabens, synthetic waxes, drying alcohols, or mineral oil/petroleum.
This conditioner is my favorite product from the entire line because of its versatility! Not only will your hair turn into silk within 3-5 minutes of application as a rinse out conditioner, but this product can also be used as a moisturizing co-wash as well. For those of you who only co-wash this conditioner is my go-to for co-washing. I prefer this conditioner as a co-wash far more than most on the market advertised "Co-washes." This formula always leaves my hair feeling silky soft and clean. Especially when I pair it with my favorite scalp brush to get that deep clean feeling.
This conditioner can also be used for deep moisturizing treatments. If you leave the conditioner on for 10-15 minutes instead of the initial 3-5 minutes as directed for a rinse out conditioner, you will see a gorgeous shine radiate from your clean moisturized tresses.
https://www.instagram.com/p/BqRM8iHlUJT/
The Tailored Beauty Moisturizing Mist was the answer to my refreshing prayers. For the life of me, I couldn't do a single refresh where I was comfortable with the moisture and definition. Most sprays were far too heavy and greasy for me to use. I would end up hating my hair and putting it in a bun. That was before I found this amazing lightweight mist.
This lightweight moisturizing mist is packed with humectants that help keep the hair moisturized for longer periods of time. It's perfect for refreshing your wash and go or simply adding texture back into your hair.
You can use this mist as the "liquid" in the LOC method, or you can simply use it to moisturize before sealing the hair with the Everything Butter.
The bottle is designed to spray a fine mist which is perfect for my fine high porosity 3a/3b curls. The design of the bottle allows me to accurately focus the product on certain areas without oversaturating it. The best part about this moisturizing mist is that it does not leave behind any residue.
https://www.instagram.com/p/BqK-FWcFujR/
This curling jelly has become one of my two holy grail gels. Whenever I do my hair there are only two gels stocked in my closet. Those gels are Kinky Curly Custard and this amazing Perfect Coils Curling Jelly. The reason I only have two gels in my closet is that no other gel on the market has provided me with the shine and more importantly, the hold that this gel and the Kinky Curly Custard provide me with. It's no shock that the only two gels that work for me are both jelly consistency and made with botanical ingredients!
This all-natural gel is formulated with a natural blend of honey(a natural humectant), Jamaican black castor oil, rosemary, horsetail, and other fine botanical ingredients. The jelly consistency is very thick,  so less is more with this product. I always use about 1-3 quarter sized amounts of the jelly for my entire head! That alone shows my confidence in the product. This gel is perfect for:
Defining your texture for wash n goes, twist outs, braid outs, Bantu knot outs, perm rod sets, etc.
It's perfect for defining ALL curl types (one of the many benefits of using all natural products)
Natural botanical blend promotes strong health curls
Detangles as it defines
Long lasting hold and shine without the hard crunchy cast
Locks in moisture for long-lasting curls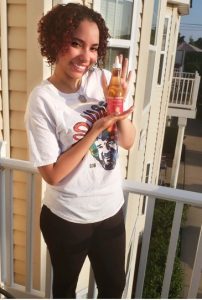 The Grow Thick Oil helps grow longer, stronger, thicker, and healthier hair. This lightweight oil is the perfect answer to dry damaged hair. It's great for keeping your hair moisturized on a daily basis or long term during protective styling. Since this mixture contains both moisturizing and sealing oils, I love to use it for hot oil treatments or simply sealing my ends every day.
You can use this oil as the "oil" in the LOC method.
For me, oil is a necessary part of the healthy hair regime. Nightly scalp massages with about 4-5 drops of this oil are perfect to keep the scalp moisturized and promote circulation to the scalp that will lead to new hair growth.
Let's take a good look at the ingredients of this oil blend to see all the benefits you will get when incorporating this into your routine!
Castor Oil- Well known for it's the ability to thicken and regrow hair. Castor oil treats split ends, fungal problems that can cause hair loss. Castor oil also restores the hair's natural pH.
Sesame Seed Oil- Contains essential fatty acids such as omega-3 and omega-9 that are shown to help aid in hair growth
Avocado Oil- Derived from the dried seeds of the apricot. This oil contains vitamins A, C, E, and Potassium. Protects the hair from everyday damage that causes dryness and breakage.
Jojoba Oil- This oil's properties are similar to hair sebum(the oil your body naturally produces), so it acts to keep your hair tangle free and well-moisturized
Vitamin E Oil- This is a very powerful antioxidant that helps keep a healthy scalp. It fights fungus and bacteria that can cause irritation, infection, and inflammation on the scalp.
Rosemary Oil- One of my personal favorites. Stimulates the hair and promotes hair growth. This oil increases blood circulation and oxygen supply to the scalp. This oil promotes healthy follicles and roots because hair is able to grow when there is a large supply of oxygen.
Jamaican Black Castor Oil Edge Control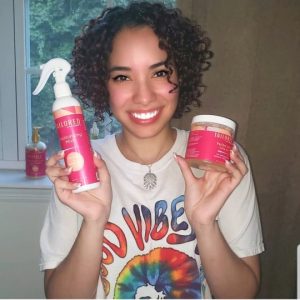 I normally am not a fan of edge controls. Since I have really fine hair, most of the time my edges can be pushed back with either water or conditioner. I normally hate that sticky feeling edge controls use to leave but I have to say this edge control was a pleasant surprise. Not only is the scent fruity and fantastic, but the hold on this edge control is also no joke. Those little baby hair ain't going anywhere. The formula is also very lightweight, from all the times I have used it I have never encountered flaking or build up issues. The edge control contains Jamaican Black Castor Oil which we already know is a fantastic oil to use on the temples to grow back thinning edges. You really can't lose with this all-natural solution!
Final Thoughts and Tips 
What can I say that I haven't already in this review? It was my greatest honor and privilege that Tailored Beauty decided to work with me. For a small, relatively unknown Curly Girl Method educator, this was a dream come true. They were so generous to send me their full-size Ultimate Collection. As you can tell, I have been loving the results of these products since day one, which happened to be August 29, 2018(according to the Red Carpet Curls Instagram)! It's been almost one full year of using these products and they are still the first product line I reach for on washday. I mean they understood and embraced my obsession with mangoes and mango butter? If that is not a sign from Jesus himself, then I don't know what is.
Less is more with these moisturizing products and I hope my Youtube Tutorial (coming later this week) will help you visualize exactly how much to use when I say dime-sized or quarter -sized amounts of product. If you focus on your product application, these products will keep your hair gorgeously moisturized for days! I can normally make it 3-4 days without ever having to refresh. Longevity is a sign of amazing products!
I hope this review left you empowered by the knowledge I have shared with you on not only the products, but the ingredients, and backstory. Tailored Beauty was and is Keya James brainchild and baby. I am so thankful for her bravery in bringing such high-quality products for such inexpensive prices. She had our health and confidence in mind when creating these products and it shows. I don't know about you, but, I am all about supporting fellow amazing Queens. I hope this review helps you come to the decision of trying these amazing products because, from the moment I started using them, I never looked back.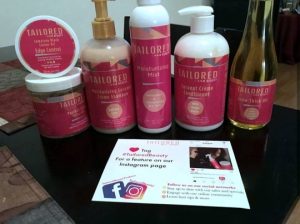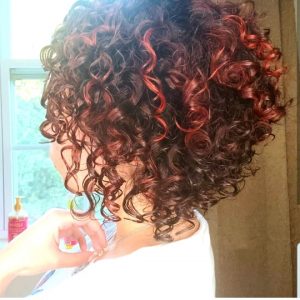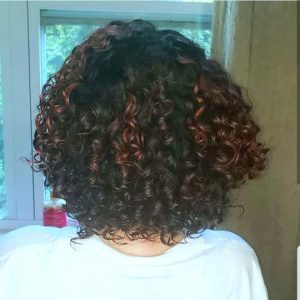 References:
Jash S. K. and Brahmachari G. (2015)Chemical Profile and Health Benefits of Fruit Mango- An Emerging Functional Food An Update  Signpost Open Access J. Org. Biomol. Chem., 3, 01 – 27. Volume 03, Article ID 010316, 27 pages. ISSN: 2321- 4163 http://signpostejournals.com