My Beautiful #RedCarpetCurlsRoyalty,
I am back with a new review that will have you pressing that purchase button before you know it! Of course, I have tried a new Curly Girl Method Approved all-natural line known as Moisture Love! The product line contains five products:
Gentle Embrace Hydration Shampoo (Gentle Cleansing/Low-poo)
Deep Indulgences Replenishing Conditioner (Rinse-out conditioner, can be used as a deep conditioner)
Now & Forever Leave-in Conditioning Serum
Kindred Spirits Moisture & Style Cream
Seal With A Kiss Finishing Oil (Sealing Oil)
As you can see, Moisture Love, was kind enough to send me their entire full-sized set to try out. When I review products for you all, I try to be as detailed and thorough as possible. This requires me to try the products out multiple ways to truly give you my full thoughts and best tips for these products.
If you have naturally textured hair that means you need more moisture, and here is a product line that focuses on just that! Giving your hair the extra hydration it needs!
So, without further adieu, here's everything you need to know about Moisture Love…
What is Moisture Love?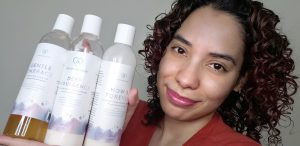 Moisture Love is a curated hair collection singularly focused on one thing: infusing your natural, highly textured hair with the moisture it needs.
And they're on a mission to help women embrace their unique beauty, express their confidence, experience a higher love for themselves with products that make highly textured hair easier to manage and maintain.
Essentially, they want you to fall so deeply in love with your hair that you become your OWN #HairGoals.💙
As natural-haired lovelies, they know that your #1 challenge with managing and maintaining your curls is moisture.
What is Moisture Love's Mission?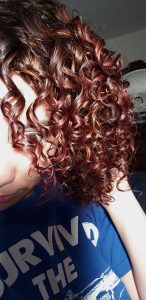 Company founder, Jeannell Darden, started Moisture Love armed with an Industrial Engineering degree, experience working with one of the most well-known beauty brands in the world, and the sheer determination to create products that helped women drop the love/hate relationship with their natural hair.
Using their proprietary Hydralure technology, each Moisture Love product is scientifically formulated to infuse long-lasting, pH-balanced moisture into every single strand of your natural hair.
Lasting moisture means shinier, healthier and more manageable hair over time, making Moisture Love products your complete source for all your textured hair hydration needs… 💙
…and your hair's new hydration infatuation.
Gentle Embrace Hydration Shampoo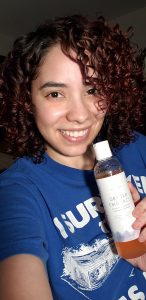 By now you know my reviews are super specific because when i try new products, all that matters to me is the ingredient list. You are paying for ingredients in a product to help you with the most common problem naturally textured hair encounters; frizz. So here are my honest thoughts…
Cool yellow appearance, thin consistency formula, very runny like Aloe Vera Juice.
Ingredients 2,3, and 4 make this a low-poo, meaning it foams up a lot giving a nice, clean and luxurious feeling when applied to the scalp. Foams up instantly, I paired the shampoo with a scalp brush to get a deeper clean. Fragrance was a mystery to me, not very common, the closest I figured was rice bran. Overall, left me with a really nice clean and light feeling without feeling very dry.
First five ingredients:
Deep Indulgences Replenishing Conditioner

I love conditioners that have a much thicker consistency, they almost always prove to be very moisturizing. This conditioner can take the place of booth a deep conditioner and a rinse-out conditioner. You have to love a versatile product, really gives you the most bang for your buck.
To use this product as a deep conditioner, all you have to do is apply the conditioner to the hair and apply a shower cap and some form of indirect heat like the Thermal Hair care Hothead for anywhere between 15-30 minutes.
Otherwise you can just apply the product to soaking hair, after warming it up in your hands, let the conditioner sit for five minutes before beginning to detangle the hair. Rinse the product out or leave a little in if you choose.
Savor the rich and lush replenishers: sage, chamomile, horsetail and nettle. The herbal infusion nourishes and soothes the scalp, reduces breakage and stimulates growth.
Besides the mesmerizing slip and shine, this conditioner provides elasticity, fortitude, and maximum moisture. The oils dive deep to create lustrous curls with effortless detangling. Indulge, replenish and and pamper your curls, coils, kinks and waves.
First five ingredients:
Purified Water- A very broad term that consumers often interpret as the purest form of water. Purified water denotes a process by which contaminants and minerals have been removed from a source of water. Tap water for example is considered purified, as it has gone through a water treatment process.
Horsetail Leaf Extract- Horsetail stems are imbued with ample silica and silicic acids; in fact, it contains the most silica known in the plant kingdom. Silica forms collagen, a protein found in the skin, bones, cartilage, ligaments and connective tissues.The silica content helps strengthen weak, brittle, damaged hair, giving it vitality and shine with regular use. Horsetail has a powerful antiseptic property which means excessive use could further dry out your hair. On the other hand, the astringent herb helps eliminate excessive oiliness for those with oily scalps, and also aids in removing styling product build up. Horsetail assists in nourishing and strengthening hair follicles.
Sage Leaf Extract- antioxidant-rich herb and astringent with antibacterial qualities. If you suffer from dry, itchy scalp and dandruff, sage is an excellent natural remedy. The astringent properties also make it ideal to eliminate buildup from the hair and scalp without drying it out.
Nettle Leaf Extract-Not only does nettle help in combating hair loss, it also helps in hair re-growth. Nettle leaves are rich in silica and sulfur. This helps in making hair shinier and healthier.
Rosemary Leaf Extract–Rosemary works well for skin conditions. That includes your scalp, which is why there are many clarifying shampoos with Rosemary oil. It helps balance natural oils in your scalp. Studies have shown that 2mg of Rosemary leaf extract on a daily basis acts as a formula towards rapid hair growth and re-growth.
Now & Forever Leave-in Conditioning Serum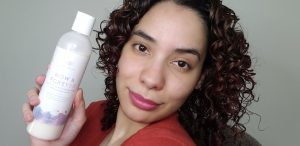 Thinner consistency smells similar to the deep indulgences, which makes sense because the first five ingredients are practically the same. This is actually one of the thinnest consistency leave in's I have ever tried that actually works for my hair. Works great for refreshes if all you need to do is touch up a few spots.  Upon application it your makes hair very smooth and shiny.
This leave-in serum extends your moisture for days beyond application. With avocado and macadamia oils that reduce frizz and promote growth and shine, your curls will be popping! This serum literally melts all the tangles, and infuses moisture deep into the hair shaft. Your strands are prepped and ready for styling!
As I mentioned the first five ingredients are basically identical; distilled water, horsetail leaf extract, sage leaf extract, nettle leaf extract, rosemary leaf extract, all the benefits are exactly the same. The main difference between the products being the "weight" of moisture.
Kindred Spirits Moisture & Style Cream
Like any all-natural butter, less is more, since this product provides lots of shine and moisture.
Did I mention the amazing slip when applied to soaking wet hair?! It has quickly become one of my top three favorite products to finger coil my hair with and the short video above shows you why! Look at that definition and shine!
Think velvety moisturized curls and distinct definition, all in one. With a foundation of Organic Aloe Vera and their Hydralure technology, this cream establishes an optimal environment for your curls to thrive.
All textures can enjoy extended moisture retention, increased manageability and the gift of captivating curls. Feel confident that your hair is hydrated, say goodbye to frizz, and enjoy a few days off from having to manipulate your hair. Together, moisture & style really is fantastic!
First five ingredients:
Aloe Vera Juice- our skin (including the scalp) absorbs water up to 4x faster than regular water. Beside water, Aloe Vera is the next best moisturizer! Aloe Vera seals the scales on the cuticle to give you frizz-free, shiny, hydrated curls.
Shea Butter– Shea butter is also very moisturizing for the hair and scalp. Curly and coarse hair textures benefit from using shea butter as a sealant to keep moisture in their hair and to increase softness.
Cocoa Butter- protects the hair by coating the strands and stopping the loss of protein from the shaft.
Polyglyceryl-6 Distearate– skin conditioning agent, and emollient
Jojoba Oil- actually a liquid wax, also called a wax ester. Its molecular structure is extremely comparable to human skin oil. Anti-fungal, helping to kill of bacterial and fungal infections caused by dirty hair tools, the elements, etc. Jojoba does not interrupt the scalp's natural balance because of its similarities to the oil your skin naturally produces. Moisturizing for skin, sealing for hair.
Seal With A Kiss Finishing Oil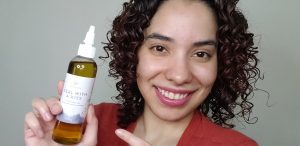 Less is more, the product contains multiple sealing oils so I choose to use only 3-5 drops in the palms of my hands, rub my hands together and scrunch on to the ends of my hair to "seal" my high porosity hair.
The dynamic infusion of marshmallow and horsetail leaf in a proprietary blend of soothing oils is just the fanciful finish that your hair deserves. The polished shine and moisturizing seal will give you and your hair butterflies.
First Five Ingredients:
Infusion of marshmallow – Marshmallow root is great for soothing and relieving your scalp and hair but it's also super slippery so it's great for…you guessed it…slip! Slip is the slipperiness of a product and of course the more slip the better as it will help remove tangles, knots and your hair from coiling around itself.
Horsetail leaf- refer above
Avocado oil-  rich in antioxidants, minerals, essential fatty acids, and more. Avocado oil is small enough on a molecular level to penetrate the hair strands (also known as "moisturizing" the hair) to the deepest layer of the hair known as the cortex. This helps to soften the hair to the deepest layers.
Argan oil-  high in vitamin E, antioxidants, and essential fatty acids. Therefore, argan oil is amazing to use not just on hair, but your skin as well.
Macadamia oil-helps restore moisture to the hair shaft, locks it in, and adds natural protein to the hair. Curly hair that's properly moisturized is easier to untangle and style.