By now loyal readers know I am always on the hunt for the best Curly Girl Method accessories to help me feel my absolute cutest through any stage of my journey.
The first few months of your hair "transition" can be rough on the self-esteem. I just couldn't feel as confident as Influencers while I dealt with constant frizz and lack of curl definition no matter how many routines I tried or even how many hours I dedicated to my hair.
That's when the solution hit me… satin-lined hair accessories! When it comes to satin-accessories the only company I trust as much as NpTressTreats is the amazing Loza Tam! Quality satin-lined hair accessories that will make your confidence SOAR while protecting your hair all at the same time!
Why is satin-lining so important for hair accessories?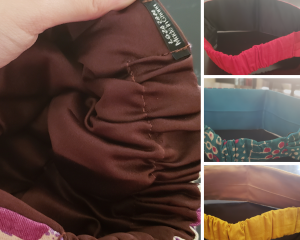 Satin helps to keep your hair moisturized and therefore, frizz-free. If your hair is moisturized there is no frizz.
Cotton fabric is known to absorb the sebum from your scalp and skin, further drying out your already dry hair. The cotton absorbs all the oil, causing the hair to tangle in search of moisture. Not to mention the fragile strands can become stuck on the cotton pillowcase and be pulled out, causing split ends and breakage.
What is Loza Tam?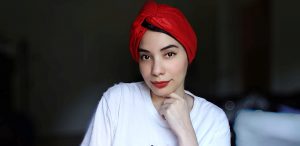 Loza Tam Crimson Red Turban (Size M/L)
Loza Tam is a luxury brand of Breath-taking satin-lined accessories including headbands, headwraps, turbans, and bonnets. Each product is handcrafted by female entrepreneurs in Ghana. Loza Tam hair accessories are perfect for any hair length (short, medium, or long) or hair texture (straight, curly, wavy, or kinky).
What makes Loza Tam so special?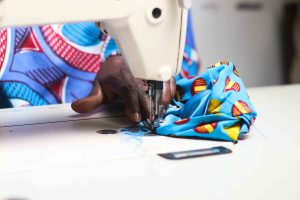 Innovation and Empowerment.
Necessity is the mother of invention, and Loza Tam is no different.  As a natural hair veteran, Tomara Watkins, founder of Loza Tam understands the importance of protecting naturally textured hair with satin. After a headband kept slipping during her yoga class, she began searching for a satin-lined headband to no avail. While on a trip to Ghana, Tomara admired the bold colors and patterns the women wore, and soon realized she could have the headbands she was looking for made there.
Loza Tam's flagship product was the satin-lined headband, one of the best features besides the satin-lining being no silicone strips that would tug at your fragile tresses causing split ends and breakage.
A few months later, Tomara address another concern in the marketplace; pre-tied satin-lined headwraps/turbans. Most headwraps on the market were made of cotton. As we discussed, cotton dehydrates the hair, so for textured hair satin-lining is a must. To fulfill this need Tomara tried to find a way to tie the standard headwrap with a satin-scarf underneath. Anyone who has tried manually styling a headwrap can attest to how frustrating the learning process can be. That's when she blessed the natural hair community again with satin-lined headwraps and turbans.
Loza Tam works with highly-skilled, women entrepreneurs in Ghana to produce their products because they "want to do our part to help close gender gaps. We believe in empowering women economically to provide for themselves and their families. That's something we're extremely proud of."
 I will always choose to support companies that believe in supporting others and making this world a better place, and I hope after reading this you will too.
My Personal Experience and Review of Loza Tam Products
My introduction to Loza Tam products began in November of 2019, Tomara reached out to me to tell me how much she loved this website and hoped I would be interested in trying one of the products. After thoroughly stalking the Loza Tam website and social media pages (your girl does her homework on products), I told her I would love to try the products.
You can't buy a review from me; I must genuinely love your product to put a spotlight on it. That is why once I receive any product, I use it many times to see if it's a one-hit-wonder or a new holy grail.
From the moment I tried the Kelly Green turban, I fell in love.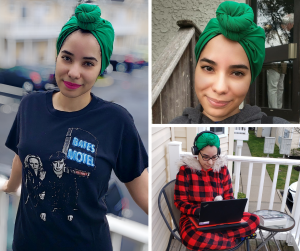 Tomara also sent the Denim Blue pre-tied satin-lined turban too, and needless to say, it blew me away too!
Seriously, Loza Tam is like the missing piece of my soul! I have always adored the look of headwraps but could never figure out how to achieve the look I wanted. Loza Tam solved that problem for me.
My morning routine became so quick and effortless.
Before the Pandemic, worrying about hair and makeup was too time-consuming for someone as minimalistic as me. Loza Tam cut that time down dramatically!
The splash of color and vibrance puts that extra pep in my step to walk into any room with my head held high!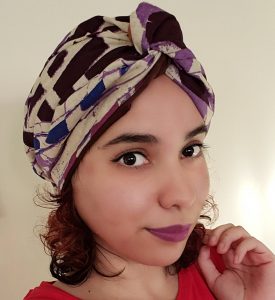 Rasheeda Dutch Wax satin-lined turban (Size S/M)
The elastic secures the headwrap or turban into place without any fear of it falling off. They are so comfy; I even sleep in them! Perfect replacement for my Grace Eleyae Slap Caps whose elastic bands stretch after a few washes, which is why most days I wake up without my slap cap. When I sleep with my headwraps or turbans from Loza Tam, I know they are staying securely on my head.
Besides the amazing designs, what truly wowed me about this company was customer service and attention to detail. I had so many qualms about wearing headwraps as I could never figure out how to style them. Loza Tam instantly sent me video tutorial links after purchases to help me feel my most confident when using their products. That kind of attention to detail and service just made me feel that much more respected and appreciated as a consumer.
That earned my trust, which isn't an easy thing to get from me, and it was the superior quality of their products that earned my loyalty.
Headbands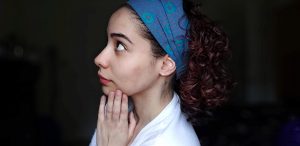 Samy Teal Double Sided Headband (Width 3in)
Loza Tam currently offers 30 different options for headbands. I am not going to lie; I have been making my way through them all. I racked up about five different ones so far, with the intention to buy many more! I love how versatile these headbands are.
The headbands come in two different size options: 3inches wide or 7 inches wide, perfect for thick and coarse naturally textured hair.
I love using the bands to spruce up an otherwise not so "hot" hair day. Perfect for upgrading a high bun or keeping your hair out of your face while you work out at the gym. Yes, my fellow sisters, we can finally look cute while working out! #Motivation
Each band is lined in satin to prevent friction between the strands and material. The satin helps actively prevent frizz, locking in that moisture inevitably increasing your length retention.
Pre-tied Headwraps & Turbans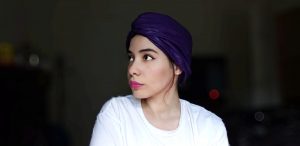 Deep Purple Turban (Size S/M)
The pre-tied, satin-lined headwraps and turbans have become a daily staple for me. When I wake up in the mornings, especially through this coronavirus pandemic, I know my routine will be simple and flawless thanks to Loza Tam.
Morning routine:
I steam my hair with my Q-redew
A 5-minute scalp massage using Thatsthatmagic
Finally, slip on and adjust one of my satin-lined Loza Tam products.
Right now, with so much fear of the Coronavirus spreading, I feel so much safer knowing when I leave my apartment, my hair is completely covered and protected. Not only from the coronavirus (since it can spread to hair) but our environment. The winter dry winds and summer humidity and direct sun is often the cause of hair damage. The less I expose my hair to the environment, the longer it will stay moisturized and protected, and the longer it will grow. #WinWin
Final Thoughts on Loza Tam and How to Order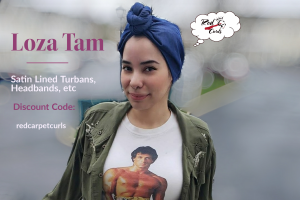 If you can't tell by now, I am so obsessed with Loza Tam products I became a Brand Ambassador (Discount code: Redcarpetcurls)! How could I not?!  Even created my own drawer for all their products.
On a personal note, I want to thank Loza Tam, specifically Tomara, for reaching out to me. Your products changed my life for the better.
Even something as simple as filming video tutorials.  Insecurity will always be there, my perfectionism will as well. I struggled for months, trying to film the perfect informational videos to give you all the CGM info you need. Soon my insecurities and bad hair days began to weigh on me and my confidence. From the moment Loza Tam products entered my home last year, I have even noticed the change in my confidence.
I went from worrying if it was okay to wear one, to feeling incomplete without the best part of my day.
My hair is my crown, the source of my confidence and individuality. I never got into accessories much, but Loza Tam made it necessary! To express my individuality, unique confidence, and beauty.
Thank you Tomara, for taking the risk and creating this company, because now your products have helped me embrace not only my hair but begin to radically fall completely and undeniably in love with my unique Beauty.
If you have been inspired by this review and would like to check out and purchase Loza Tam products, make sure to save money by using our special discount code: Redcarpetcurls