My Beautiful #RedCarpetCurlsRoyalty,
Today's review is on a very light weight conditioner that can be better utilized as a leave in for wavy and curly hair. Coily and Kinky hair, check out some other reviews I have on the site, as I think this conditioner is going to be FAR too light for hair that needs more moisture. Check out Tailored Beauty, Bourn Beautiful Naturals, and Alodia Haircare.
This conditioner is formulated and marketed for "Normal" hair which normally means naturally straight hair that is pretty ideal porosity-wise. That means they don't need as much moisture as curly hair does.
Just because the product is marketed for one hair type doesn't mean it will not work on any other. For example, I use Tailored beauty products, which are normally marketed for naturally textured hair which often is showcased through models with type 4 hair. Just because I have type 3 curls doesn't mean those products wouldn't work for me. To the contrary they are a brand that works the best for my hair, all you have to do is adjust the amount of product you are adding to your hair.
The Curly Girl Method is versatile and amazing you just have to know what to look for when choosing products. But let's get more into this specific product review…
What is the John Masters Organics' Conditioner For Normal Hair with Citrus & Neroli?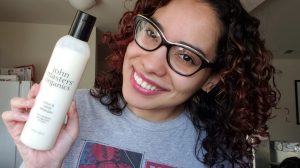 John Masters Organics' light-weight, silicone-free Conditioner for Normal Hair with Citrus & Neroli provides the right amount of hydration to hair without weighing it down. This natural formula has an invigorating citrus scent and detangles and softens strands for beautiful, shiny, healthy-looking hair.
It's marked as a rinse-out conditioner but since it is SOO light, I would recommend using it as a leave-in conditioner in smaller quantities.
What Are Some of the Featured Ingredients in the Conditioner?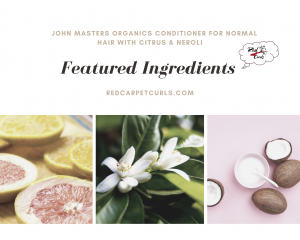 Grapefruit Peel Oil – helps fight tangling and frizz by smoothing hair strands
Neroli Flower Oil – helps maintain shine by smoothing and helping to repair split ends
Coconut Oil – contains high levels of Lauric Acid which has slow infusion ability for long-term moisturization
What are Some of the Benefits of this conditioner?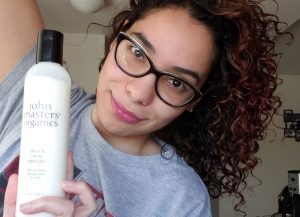 Provides an infusion of light-weight hydration.A
Helps to detangle, smooth and soften strands.
Helps increase hair's ability to bind and retain moisture.
Properties 70% or more organic content
Silicone-free
Not tested on animals
What are the First Five Ingredients in this Product?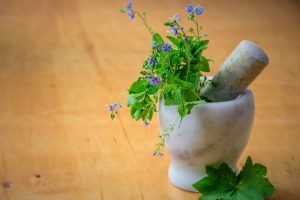 Photo Credit: Pexels[/caption]
Why am I going over the first five ingredients of the product having already covered the featured ingredients? Because the featured ingredient does not mean it is the what the product is MOSTLY made out of. The first FIVE ingredients is what approximately 80% if the product is actually made of, that's why I'm making it a point to go over these specific ingredients, since these are what you are actually paying for.
Aloe Vera Leaf Juice – Aloe is the next best hydration for your skin after water. The skin is able to absorb aloe up to 4x faster than water. Aloe vera works to moisturize and seal in that newfound moisture.
Water – The best hydrating substance for the body, let alone hair and skin. Water= Moisture
Behentrimonium Methosulfate– non-sulfate, derived from rapeseed oil. Prized for its effective detangling abilities, it's able to penetrate the hair shaft making it an excellent moisturizer and conditioner, while remaining gentle on the hair and skin, without coating the scalp or causing buildup.
Cetearyl Alcohol- a mixture of fatty alcohols, consisting predominantly of cetyl and stearyl alcohols and is classified as a fatty alcohol. Considered a moisturizing alcohol.
Panthenol- Pro vitamin of B5, naturally-occurring, Panthenol helps to detangle, shine and moisturize your curls. It's also great at helping the hair retain moisture.
Queen Monroe's Personal Thoughts…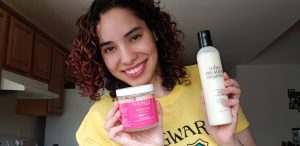 What I loved about this conditioner was how light-weight it truly was! I first used it in a wash day routine, and didn't even notice it had a scent, that's how light it was. It took me re-styling the next day with only water and this conditioner to smell the citrus scent. This can be perfect for those that do not like strong fragrances in their products.
I would suggest using this product for finger coils, but since it doesn't provide any hold use the product accordingly. Use it indoors for a refresh, use it for after shower hydration, essentially use it in situations where a little bit of frizz isn't an issue. Remember frizz gives you volume.
If you are looking for more definition, I would suggest pairing this product with a gel. My favorite combo thus far with this conditioner has been with the Tailored Beauty Perfect Coils Curling Jelly. This pairing gave me beautiful shine and definition!
Don't believe me? Just take a look for yourself!
Beautiful shine and definition without having to utilize any finger coils!
Sometimes, the unintended CGM finds are the most exciting! I found this in my local Vitamin Shoppe and have just fallen in love. As much as we love our expensive CGM products, they aren't always affordable with our bills and families. An all-natural, inexpensive, big box store find was just the win I needed for those days where I just want a one-two combo and done!
Definitely check out the conditioner for yourself, it's another great option to keep around! Remember, CGM doesn't have to be complicated or expensive!