What is the Xtava Black Orchid?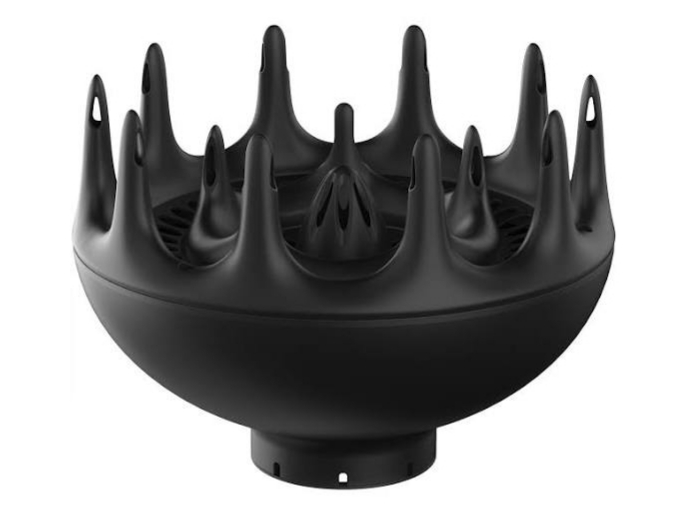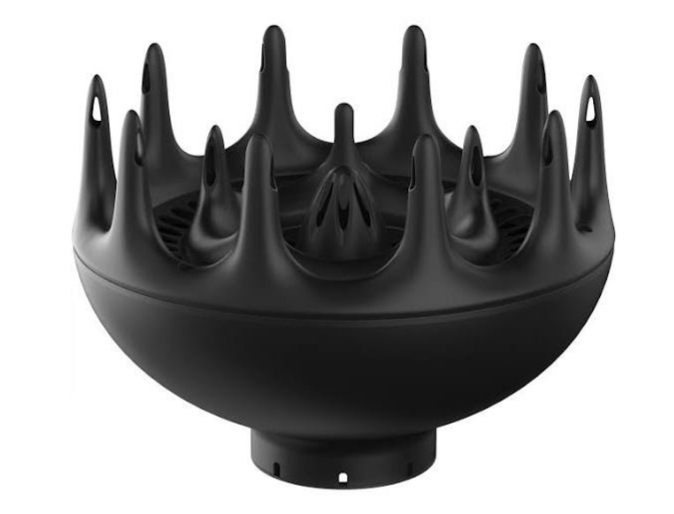 A diffuser attachment is a must when drying naturally textured hair. A diffuser is a bowl-looking attachment you add to the end of your dryer to help evenly distribute the airflow to assist in frizz-free final results.
The Xtava Black Orchid Diffuser is bigger than most comparable options currently on the market. It has tiny holes in the prongs to help distribute air quickly and efficiently through the hair to allow for faster drying times. The large bowl allows for quicker drying time for even the thickest of manes. This diffuser gives maximum definition to every texture from waves to coils.
Since the diffuser is much larger, in regards to width than normal ones on the market, (Xtava black orchid width: 1.8inch diameter) finding dryers to fit the diffuser without having to take out the little ring inside the diffuser is tricky.
Xtava Black Orchid Nozzle Measure = 6-inch circumference
Please note that the Xtava Black Orchid Diffuser is not a universal diffuser. A quick trick to help adjust the diffuser a bit more to your current dryer is taking the internal ring out of the diffuser, allowing it to open up more and accommodate a larger variety of dryers.
Here is a list of dryers I have compiled that fit the Xtava Black Orchid Diffuser:
Amika Powercloud
Xtava Allure
Xtava Peony
Xtava Pro 2200W Professional Ionic Hair Dryer
ConairPRO SilverBird Turbo (Available at Sally's Beauty)
Rusk Speed Freak 2000
Baby Bliss Pro TT Tourmaline Titanium 3000
Hot Tools Ulta
Beautural Professional 1874W Hair Dryer
Infinity Pro Conair Mini Pro Plus
Conair Professional Nano Silver
Ion Whisper Quiet Lite
Conair Infinity Pro 3Q
Hot Tools Orange Tourmaline 2100 Turbo Ionic Dryer
Pro Beauty Tools Stylist Recommended 1875W Ionic
Ba Byliss Pro Ceramix Xtreme
GVP (Generic Value Product) Pro 1800
Andis Pro Dry
Bio Ionic GoldPro Speed Dryer
Xtava Hair Dryer Recall:
As a quick safety side note for you all, it's my duty to inform you that on Thursday, August 16, 2018, Xtava sent out mass emails to their customers warning of a recall. Some of the recalled hair dryers also have a label underneath the back of the unit bearing the following SKU/model numbers: XTV010001, XTV010001N, XTV010002, or XTV010002N. The Xtava Allure was also one of the dryers recalled. If you purchased any of these dryers from Xtava's website or Amazon before August 16th, 2018 please contact Xtava to make sure your dryer was not one of the affected dryers.
If you believe you own one of the affected dryers please visit this link to register the dryer and send for a free replacement.
Final Tip

Since discovering the SnozzlePro, I just had to share it with you all! The SnozzlePro Universal Hair Dryer Nozzle Adapter is made of 100% industrial strength silicone, SnozzlePro's patented design gives your diffuser and concentrator the fit and grip it needs to stay put while protecting your hands from hot attachments. It's honestly amazing, keeps my Xtava Black Orchid in place, never moves or falls over. Truly makes fitting your diffuser to any dryer an absolute dream! It's perfect for when I am traveling. The Xtava normally doesn't fit on the hotel dryers, but the SnozzlePro bridges that gap and makes haircare on the road easy as can be!
Have any more questions? Don't hesitate to email me to get those answers: queenmonroe@redcarpetcurls.com
Updated June 30, 2022