What is the Curly Girl Method?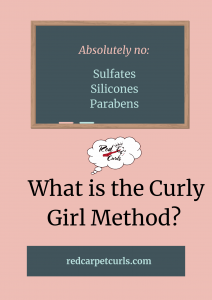 The curly girl method is a set of guidelines on the proper maintenance of naturally textured hair.
Naturally textured hair is all hair that is not straight (wavy, curly, coily, kinky).
With this method, you will learn to stop damaging habits such as using direct heat styling tools and using products containing potentially harmful ingredients like sulfates, silicones, and parabens, to improve the overall health and definition of your natural texture.
Why do we need a specific set of guidelines to care for naturally textured hair?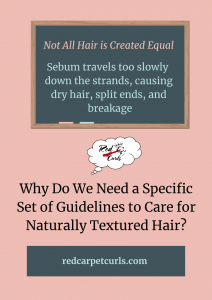 Not all hair is created equal.
Most hair salons and even hair education are focused on straight hair. Straight hair is pretty straightforward to care for because of the science of the human scalp.
Everyone's scalp creates a natural conditioning oil called sebum. Sebum is produced to moisturize the skin. The sebaceous glands produce the sebum to condition not only the scalp but the hair.
When someone has straight hair, the sebum is able to quickly travel down the hair shaft all the way to the ends because there are no creases or twirls in the hair shaft to derail the progress of the oil down the hair strand.
Naturally textured hair (wavy, curly, coily) has many different twirls and creases in the hair strand. This will slow down the speed by which the oil travels down the hair strand. This will result in dry hair, in even worse cases, this will lead to split ends and breakage.
Are There Different Versions of the Curly Girl Method?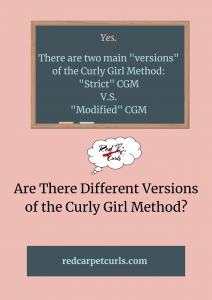 Yes, there are two main "versions" of the Curly Girl Method
The original Curly Girl Method (also known as strict cgm/ no-poo method), was introduced in the handbook by Lorraine Massey.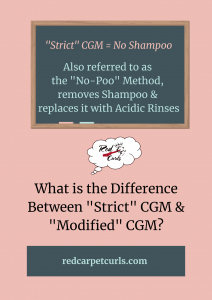 The method calls for removing all forms of shampoo completely, including sulfate-free shampoos. Instead, Massey suggests the use of co-washing instead. Co-washing is the act of using conditioner to cleanse your hair and scalp instead of using a shampoo.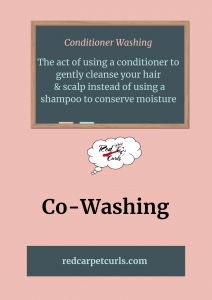 The theory behind this method is most on-the-market conditioners are formulated with very mild surfactants allowing the conditioner to cleanse. Since conditioners eventually build-up because they are not strong enough to clarify, the original method suggests using acidic rinses to clarify, like an Apple Cider Vinegar Rinse.
The original method also prohibits the use of styling tools such as brushes or combs. With the original curly girl method, you use your fingers to detangle your hair and apply the products. Although, I prefer detangling with steam.
Steam moisturizes the hair without wetting it and weighing it down, essentially melting tangles away as seen in the video above. Not to mention steam helps increase hair growth and retention!
The other "version" of the Curly Girl Method is known as "Modified" CGM.
Modified CGM is essentially the CGM but with more "flexibility." Modified Curly Girl Method allows the use of shampoos, combs/brushes, and chemical treatments like highlights are allowed too.
Some people who follow a modified routine like to include the use of water-soluble silicones like PEG-12 Dimethicone because it does not have to be clarified out of your hair, it comes out with water.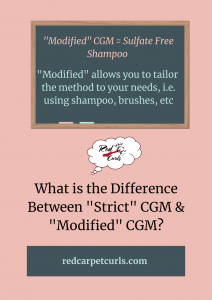 Essentially, modified cgm is customizing the method to your specific preferences. For example, I follow a modified CGM routine. I incorporate shampoo in my regime as well as my highlights being done every few months. But I do not like to use water-soluble silicones, it's all about preferences.
I will never advise people to develop the habit of co-washing only. Co-washing only is not a proper form of cleansing since conditioners build-up. If you need more information behind the science of co-washing to understand why you should never exclusively co-wash, please click here.
Modified CGM can also include avoiding other potentially harmful ingredients such as Synthetic Waxes(emulsified waxes or natural waxes are fine), Drying Alcohols, and Mineral Oil/Petroleum.
To read more about why you should avoid these types of ingredients, please click here.
What are the concrete "rules" to follow the Curly Girl Method? 
Once you decide which "version" of CGM you choose to follow, the rules will pretty much look the same. The most significant difference being the cleansing stage.
According to Lorraine Massey (the creator of Devacurl and author of Curly Girl Method Handbook), there are two basic "rules" to the method.
Absolutely no direct heat  (i.e. straightening irons, curling irons, etc)or Chemical services (bleaching, perming, straightening, etc)
Avoiding potentially harmful ingredients such as sulfates, silicones, parabens, drying alcohols, synthetic waxes, and mineral oil/petroleum.
That's pretty much the basics you need to understand about the Curly Girl Method. The CGM Crash Course video above goes into more detail if you need it, as well as the open-access peer-reviewed journal article hyperlinked below, which provides the science behind some of the concepts discussed in this article.
If you feel ready to start the Curly Girl Method, please click here.
References:
Cline, Abrigail, et al. "No Sulfates, No Parabens, and the 'No-Poo' Method: A New Patient Perspective on Common Shampoo Ingredients." Www.CUTIS.com, Jan. 2018.