My Beautiful #RedCarpetCurlsRoyalty,
The Queen is back today with another hidden gem review. One of the most irritating moments for me during the day is finding a hairstyle for the day that is cute, won't pull or damage my hair, and keeps the hair out of my eyes while I work on my writing career and new content for the Red Carpet Curls website.
Most days I would use cheap bobby pins to pin my hair back while I worked, but let me tell ya, did not look cute on camera at all. Like how am I supposed to gain your trust with my beauty advice if it looks like I don't even take my own advice! It was quite the dilemma, until one night, while I was scrolling through Instagram and the answer to my prayers, popped up on my screen, Zazzy Bandz.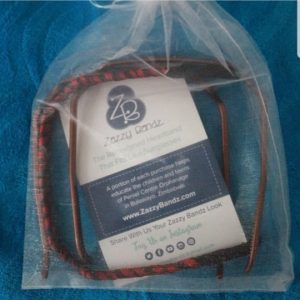 What is a Zazzy Band?
Zazzy Bandz are square shaped headbands that allows every curly queen and king to keep the volume of their naturally textured hair while keeping the hair out of your face!
Who Created Zazzy Bands?
The Zazzy Bandz company was created and is run by:
Janet Laster Purkey, M.D – Creator and Designer of ZazzyBandz
Melissa – Head of Digital Marketing (website, social media, etc)
Janet has been an Internal Medicine Physician for over 25 years and an amazing mother of three children, all of whom are adults already. Moms really are the superheroes of the world. As a doctor, I am sure she never expected her life to take such a dramatic turn into the curly hair field but I just have to say I cannot thank her and the lord enough for the fact that she did. Otherwise, I wouldn't have my favorite hair accessory!
Necessity is the mother of invention, so they say, and the story of Zazzy Bands is no different. The company began a few years ago when Janet decided to let her bangs grow out. While working with patients and filling out patient charts and prescriptions, Janet soon realized she needed a solution to keep her hair out of her face as she worked. But, not just any solution. She is a professional so her solution had to be stylish and professional. I mean hey, do you want your doctor coming near you to listen to your heartbeat with unorthodox and ineffective hair accessories bothering you as your trying to go on with your appointment? Yeah, me either.
One of the biggest problems Janet faced while in office, was the struggle and interference of hair accessories. Like many of us, Janet wears glasses and soon discovered the problem we all loathe, the headband clashing with the legs of the glasses. Both together, on top of each other, just doesn't work for anyone! That is when the beautiful doctor created the first prototype of the Zazzy Bandz. Not long after creating the new and redesigned headband, Janet shared her idea with her friend Laura Barker. With Laura's legal background, they decided to partner up to patent, produce and market the Zazzy Bandz.
Melissa is the head of digital marketing for Zazzy Bandz. She works closely with Janet since she is the creator of the Zazzy Bandz and also in charge of packaging (which as you can see from the cover photo is absolutely adorable! Melissa has a degree in Graphic Design and like any true entrepreneur, she learned everything else she knows on her own. Psstt… Melissa! (Looks around) I totally did too! Went to college and graduated with a Bachelor's Degree in Film and Creative Writing and just happened to stumble into the hair world and just taught myself. Brilliant minds think alike huh?
What makes  Zazzy Bandz so different from every other headband?
The Zazzy Bandz is the last headband a curly queen will ever need. Normal headbands have these rough "teeth"  or comb-like ridges that pull hair back into a flat shape to make it look "nice and neat." That's fine for straight hair but for naturally-textured hair, normal headbands can't be a pain, quite literally. Even before I started the Curly Girl Method, I absolutely hated regular headbands! After about two hours, my head was hurting from how tight it would fit over my hair. Not to mention, if I forgot to put in contact lenses that day, I was completely screwed. I had to pick between having a headband on to keep the hair out of my face or choose my glasses to make sure I don't run into a poll or anything. I really am blind as a bat. See, this arrangement didn't work for me. I would try to put my glasses over the headband but it would wobble and come apart.  It was impossible!
Luckily for me, Janet Laster, the creator, and designer of Zazzy Bandz, along with God, heard my curly prayers. With its unique shape, Zazzy Bandz provides lift for naturally-textured hair which helps avoid the headaches normally associated with most headbands. Not to mention the design is so unique. This headband goes on exactly the way you would put on your everyday glasses or sunglasses. Slip it into place, and just push back. This will create a nice lift as you gently settle your hair into its style. That's it! It's as simple as can be!
What does Zazzy Bandz have to offer?
The company offers two models of headbands that are available in many varied designs and patterns: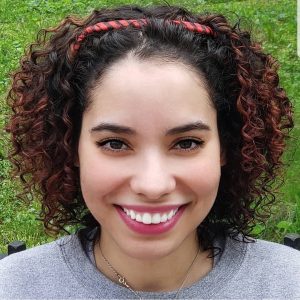 Original Zazzy Bandz– These are perfect for normal to high volume hair (hair that is on the thicker side like patterns 3b and up). It's patented design allows for undisturbed control of your hairstyle without interfering with glasses. The square headband fits onto the head like sunglasses and provides style with soft corners. The slates on the bottom curves are gone, so no more snags. The original Zazzy Bandz are available in five new blending colors.
New! Zazzy Bandz Slim– Provides an ergonomic slim design for those with unique hair needs. Perfect for those who's hair with fine or thin hair like me! My hair is fine, 3a/3b high porosity curls. Since my hair is so fine, the original size Copper Zazzy Bandz was a bit too loose for me, so the slim fit perfectly. Perfect for thinner textures like wavy or curly hair Since the original Zazzy Bandz can be a bit too "snug or loose" for some, this new design can cater to all those the original Bandz did not work for. All original Zazzy Bandz designs are available in slim.
Queen Monroe's Review on Zazzy Bandz
Since Melissa and Janet were gracious enough to send me three Zazzy Bandz, I got the wonderful opportunity to tries these bad boys out for a few weeks and here are my thoughts on each individual band:
Zazzy Bandz Original – Buffalo Plaid – First of all, from the moment I saw the pattern I absolutely fell in love with it!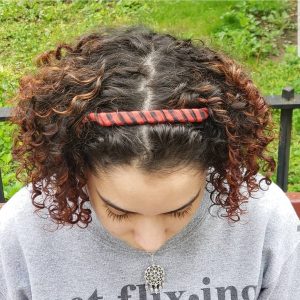 The bright pattern was cute and a bit bulky in the feeling which helped it stay on all day. It wasn't tight or even uncomfortably hugging my head the way normal headbands do. Since the square shape allows more room I could feel my hair lifting up as I pushed it back into place. I first tried this buffalo plaid design out on Day 4 hair, If you are interested in those wash n go details, you can find them on my Instagram post by clicking here. Since I have more volume and frizz after day 3 I needed something cute to liven up what would have been a rather ordinary hair day. As you can see from the two photos I have shared in this review, I fell in love immediately. As the day kept going, I even forgot I had my Zazzy Bandz still on! It's that comfortable and spacious.
Zazzy Bandz Original- Copper – From first glance, this Band had a much smoother surface than the Buffalo Plaid.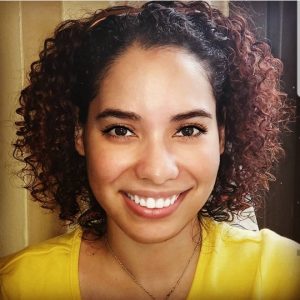 Since this surface was a lot more smooth than the material used for the Buffalo Plaid, the bandz kept slipping out of place the day I took this photo. As discussed before my hair is very thin, so, it seems without the material, this one wasn't the best fit for me. Even though my hair is poppin in this photo! You see that volume! I was able to work without my hair in my eyes and keep the volume. Even though it kept slipping out of place every once in a while, the Bandz still got the job done and I was headache-less all day. That's why I knew the slim design would be my home run… which it was.
Zazzy Bandz Slim – Copper- From the initial visual comparison, the slim design is definitely noticeable.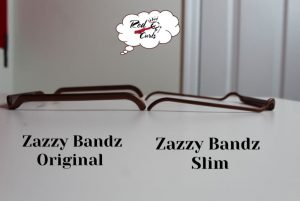 The ergonomic design accounts for the thinner density of fine hair. The surface of the Slim Copper Zazzy Bandz is exactly the same of the original just it doesn't move out of place for my hair. It was the perfect size to keep my hair out of place all day long, keeping me focused, productive, and stylish.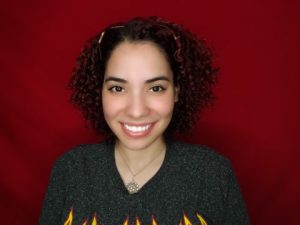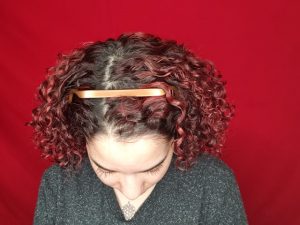 What makes Zazzy Bandz Different for the Queen of Red Carpet Curls?
For me, this was a no-brainer. When looking for small curly hair related companies, the most important thing to me is their mission (message). A founder's intentions for the company sets the tone. My goal with Red Carpet Curls was to create an educational platform that focused on the curly girl method, but the foundations of my platform are the same as my spiritual beliefs. I run Red Carpet Curls with the guidance of the Holy Spirit. When building this platform, I asked God to help me connect with other like-minded souls. So, I could support my fellow brothers and sisters, help people by educating, and most important spread the Love of Jesus the way he intended us all to do. When you build something with God, no man could ever destroy it. So, I continue building this platform on my Chrisitan Ideals and I can't tell you how happy I was to find out Zazzy Bandz shared my same personal and professional mission.
"Our business concept for Zazzy Bandz grows from our Christian Faith. We are committed to supporting the ministry and philanthropic missions through this opportunity. We believe Zazzy Bandz will help women achieve the effortless style and lift for any occasion. We anticipate helping more causes as our business thrives."
The moment I read this quote on the about section of their website, I knew Zazzy Bandz was a company I wanted to get behind. Because here is a company focusing on helping others and leaving this world in better shape than they found it. Here was a company who shares my Chrisitan ideals and my passion for helping every queen around the world unlock her true self-love, beauty, and potential.
With each and every purchase from Zazzy Bandz, we can help support the children and those who love and care for them at Peniel Centre Orphanage in Bulawayo, Zimbabwe.  A portion of each purchase is donated to the children and those that care for them at Peniel Centre Orphanage.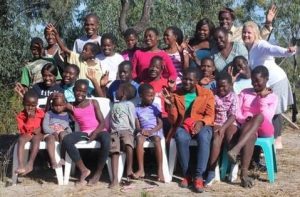 Peniel Caregivers provide not only physical, spiritual, and emotional nourishment but also education, high school and above. They are successful in helping prepare these children to serve others as we all should to make this world a better place. You can read more about the orphanage and Zazzy Bandz involvement on their blog by clicking here.
Locally, in East Tennessee, Zazzy Bandz has also teamed up with A Hand Up for Women.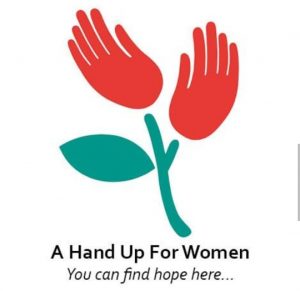 This amazing non-profit organization provides a true helping hand for our fellow Queens, teaching them skills and enabling them to improve their circumstances financially, personally, and spiritually.
That is why Zazzy Bandz truly appreciates every single purchase because when we all come together and spread love, we can help so many of our fellow sisters and brothers in this world. You don't change the world massively all at once. You change the world by helping one person at a time. Because when you change someone's life, you have changed not only their world but the world of all those in contact with that person.
Final Words for the Queen of Red Carpet Curls
As you can see, I truly am passionate about helping and serving others. I always have been and I truly believe my servant's heart is a gift from the big guy above, and like any gift he wants me to exercise it to glorify him. It makes me so proud and joyful to see so many other companies like Zazzy Bandz using their platforms to make a change in this world. To spread love in this world. That's what matters most.
This is why I focus Red Carpet Curls on reviewing and publicizing small mom and pop brands like Zazzy Bandz. Big companies like Deva Curl rake in so much money every year but what good is being produced from that besides money? For me, money doesn't matter intention does, the action does. That is why I spend so much time giving such detailed reviews on these companies.
Remember every product and company was once a fellow queen's dream. We need to support each other because that is how we will truly change the world together.
I hope you all check out Zazzy Bandz and try them out! I absolutely cannot live without mine now and I know you will feel the same!