Your first curly haircut is a big deal! It's your final BIG  commitment to your natural hair journey! It's exciting but it can also feel overwhelming and nerve-racking.
We get attached to length, even if it's as dead as a doornail. We have all been there, you don't want to cut too much off, you sit in the chair, and let the stylist do "what they do." The next thing you know you're walking home ready to cry and you're already making posts in the Facebook groups asking for the quickest hair growth tips, or worse, you only cut your hair 1-2x a year!
Well, no more! Remember you are the client, it is what you want, and you have the right to feel comfortable and in charge when you sit in that salon chair. Here are three questions every single person should before letting a stylist pick up a pair of sheers. These questions will ensure you have the right person dealing with your hair…
1) Will You Cut My Hair Wet or Dry?
This is by far the most important question you should ask your stylist. Every curly hairstylist worth their salt, knows you MUST cut naturally textured hair (wavy, curly, coily, or kinky hair) DRY.
Why?
When you cut hair dry, both you and the hairstylist are able to see how the curl will spring up. You don't cut your hair to wear it wet, you cut it, so it looks good in its natural state.
When you cut hair wet, you are not accounting for the spring factor associated with naturally textured hair.
Naturally, textured hair will have bounce and body, naturally straight hair does not have that. So, while traditional haircuts (in wet state and cutting in a straight line at the bottom) doesn't work for textured hair. Once the hair is dry, curls spring up even higher, making you realize you cut too much hair.
If you are following the Curly Girl Method, this will sculpt each curl in its natural state to show you how the finished product will look before ever wetting, washing, and styling your hair.
If your stylist says they only cut hair wet, then that is not an experienced textured hairstylist, and you have the right to get up and walk out of the salon. Cutting textured hair in its wet state is a classic "rookie" move.
Always cut your hair dry!
2) How Long Have You Been Cutting Naturally Textured Hair?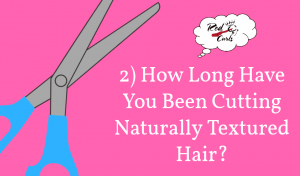 Just like any service you need to be done, you want the person with the most experience. More experience means more skill and knowledge. 
This is not to say newer stylists don't know what they are doing. It's just a stylist with 20 years' experience that has seen and dealt with more than a newer stylist might have.
My very first Devacut was done by a newer stylist, she had just a few years experience, and since I was new in my journey, I didn't know any better. I wasn't asked many questions, she just did her thing and I sat there. I listened to the laundry list of products she wanted to sell to me and I left feeling uncomfortable and unsatisfied. I left really disappointed with the look of my curls.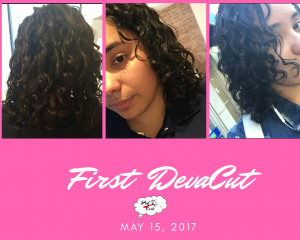 One thing to remember about your first haircut is that in most cases, the hair is damaged, weak, and thin-looking. Your hair will not come out looking completely healthy and perfect it is going to take time. But you should at least walk out feeling relatively confident about what your next steps for upkeep are when you leave that salon and head back home.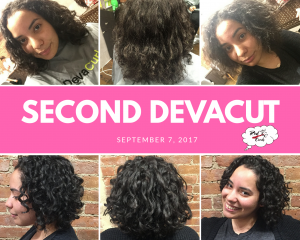 I didn't experience that comfort and confidence until I met my current hairstylist Joseph Boro at Curlson5th right here in Manhattan New York. It wasn't until I sat in his chair, he handed me a glass of wine, explained to me the importance of shaping the curls, cutting it dry, styling, and even how to sleep with my curls and refresh in the morning. He is the only one I allow to touch my hair, let alone cut and highlight it.
When you sit in that chair, you aren't paying for just products and service, you are paying for the skill level of that particular specified stylist.
3) What Products Will You Be Using On My Hair?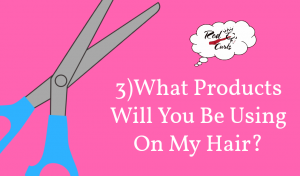 This question is especially important for Curly Girl Method followers. All products must be free of sulfates, silicones, and parabens.
If you are not specifically following the Curly Girl Method, rather just starting your own natural hair journey, you have the option to bring your own products.
It is your hair, you are the client, what you say goes, you do not have to settle for whatever they are using in that particular salon. 
For example, when I go to the salon, I know they will style my hair using Bemycurl products, which are all-natural and Curly Girl Method approved. If I did not like these products, then I would just pack my favorites with me and request those be used instead of their products. The stylist won't argue, in the end, you are saving them product by bringing your own.
This can also be a great moment to ask what kind of sheers will be used to cut the hair. The professional term for the scissors is called haircutting shears. The blade is long to allow the hairstylist more control when cutting and sculpting curls.