My Beautiful #RedCarpetCurlsRoyalty,
I don't know about you but I have a love-hate relationship with my Xtava Black Orchid Diffuser and my Super Turbo By BabyBlissPro hairdryer. I love the combination, when it works, because I have the volume I want without sacrificing the definition I need to get through my day.
But read my words carefully…When it works.
Meaning, many times, this combination just doesn't work! This is a struggle I have dealt with for years now. I even tried to solve the problem myself by researching and creating a list of dryers we know works with the Xtava Black Orchid diffuser.
You might say I've gone above and beyond for my quest for perfect volume and definition. But one night I paid a price just too damn high…
After a late wash n go, I decided, in my exhaustion to diffuse my hair dry, so I could get to bed faster. My mother always told me when you try to look for shortcuts the job will always be longer or more aggravating, and in good ol mami fashion, once again she was correct.
With my head tilted over, I laid my hair in the diffuser to dry. When I went to adjust my position, the diffuser wasn't securely fastened to the drier, and it tipped over and dropped directly on my toes. My mother always did warn me about walking around my house barefoot. My Lord, did I pay an awful price that night. The profanities that flew out of my mouth at that moment were not my most royal hour.
I've seen the hacks online, using duck tape, buying a metal ring to fit it, I've even seen using rubber specifically manufactured for bike wheels as a way to securely fasten this diffuser to our dryers. I just thought, there had to be a simpler way… a simpler product, and there is! The SnozzlePro Universal Nozzle Adapter!
What is the SnozzlePro Universal Nozzle Adapter?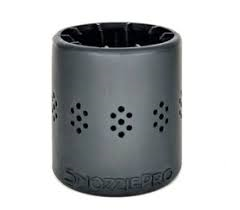 The SnozzlePro is a universal nozzle adapter for hair dryer attachments. The SnozzlePro Universal Nozzle Adapter is the first hair dryer attachment of its kind. Made of 100% industrial strength silicone, the SnozzlePro's patent-pending design keeps concentrators and diffusers securely attached to your hairdryer by giving them the fit and grip they need to stay put. Plus, SnozzlePro also helps protect hands from burns on hot attachments. So simple and easy to use, you'll wonder why someone didn't come up with the idea sooner!
What are some of the features of SnozzlePro?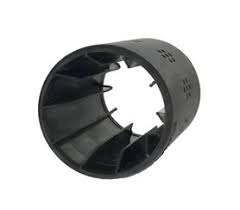 Universal Fit – Creates a universal fit on most full-size hairdryers with a nozzle diameter measuring 1.5″ to 2.25″. Perfect for salon, home or travel.
Eliminates Pop-Offs – Concentrators and hair diffusers stay securely attached while styling.
Heat Safe Up to 450° F – Helps protect hands from burns on hot attachments.
Super Easy to Use – Connect one end of the SnozzlePro to your attachment and snug the other end over your hairdryer. That's it!
100% Industrial Strength Silicone – Extremely durable and comfortable to the touch.
Patent-Pending Design – Flexible, multi-ribbed interior gives attachments a superior fit and extra-grippy grip! ADAPTER ONLY: Attachments not included.
How do you use the SnozzlePro?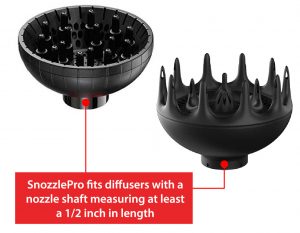 Honestly, it's pretty simple!
The  SnozzlePro attaches directly to the nozzle of your concentrator or diffuser and then grips on to the end of your hairdryer. They even have a video tutorial for us visual learners!
1. Hold the SnozzlePro in one hand.
2. With the other hand, place the edge of the nozzle attachment into one end of the SnozzlePro.
3. Lift the SnozzlePro up and over the nozzle.
How much is the SnozzlePro and where can I purchase it?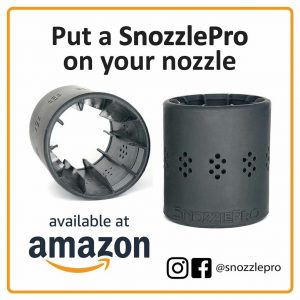 You can currently find the SnozzlePro for $14.99 on their official website as well as Amazon!
Does the SnozzlePro ship internationally? What are the costs?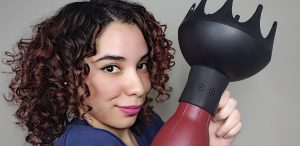 Below you will find the shipping information if you choose to order the SnozzlePro directly from their website:
Shipping covers up to two SnozzlePros. Orders ship out quickly, within 1-2 business days via USPS. Your shipment will be confirmed by email once your order is processed.
Shipping within the U.S. is $3.95
Canada shipping is $11.95
International shipping starts at $13.95
Other Locations: See below
To determine the cost for shipping internationally, place your item in the cart and initiate your purchase with a complete mailing address. Your total price will be calculated at checkout. If your country is not listed, please send us a message and we will look into shipping quotes for you.
OTHER LOCATIONS:
AUSTRALIA: This Little Curl Birkdale, QLD
UNITED KINGDOM: Naturalistic Products Birmingham, UK
COMING SOON! CANADA: Curl Specialist Kingston, ON
Does the SnozzlePro only work with the Xtava Black Orchid Diffuser?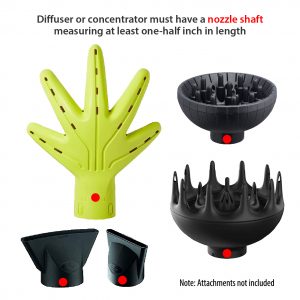 No, while the SnozzlePro works AMAZINGLY with the Xtava Black Orchid Diffuser, it is not the only diffuser it works with. We mention the Xtava specifically because many of us in the curly community have suffered looking for ANY dryer to fit this dang mystical diffuser.
The SnozzlePro works with many other driers, unfortunately, this does not include the Dyson SuperSonic Hairdryer.
SnozzlePro fits most full-size hairdryers with a nozzle diameter measuring 1.5 inches to 2.25 inches. Please measure the diameter of your hairdryer nozzle before ordering or SnozzlePro if you need assistance.
What is Queen Monroe's Personal Thought/Review on the SnozzlePro?
Honestly, I adore the SnozzlePro! I've had it for a few weeks now and have used it a handful of times. Genuinely, I am beyond impressed at the fact that the silicone truly secures the dryer allowing you to move the hairdryer as much as you need without ever coming apart. I have to make the effort to pull(or should I say tug because that bad boy really holds on) the silicone nozzle off my dryer if I want to take it apart.  It's the perfect addition to my routine to step my curl game up! I am beyond thankful the creator Valerie Guglielmo sent me one to test out! I am absolutely in love and will NEVER  diffuse without it!
So do yourself the favor and order your SnozzlePro today! Trust me, you won't be able to live without it!