Today's in-depth review is all about a fantastic small all-natural beauty brand called Woman to Woman Naturals. Woman To Woman Naturals is a beauty brand that embraces and encourages a healthy and natural lifestyle. All of their products are made from the purest, and best quality is naturally occurring ingredients, including organic Monoi oil, organic Coconut oil, Vitamin E, other essential oils and beneficial vitamins for hair and skin.
Woman to Woman Naturals shares my passion for supporting my fellow queens. What made the "sale" for me was this statement on their website, "We strongly believe in empowering and encouraging every woman to be the very best that she can be." Call me a sentimental customer, but I love knowing the people I entrust my haircare to those that care about other customers around the world and myself.
Woman to Woman Naturals products include hair cleansers, hair conditioners, leave in conditioners, natural soaps, oils and bath bombs made with the most natural ingredients.
Woman To Woman Naturals is located in Baltimore, Maryland and all their products are proudly made in the USA.
Today's review is focused on precisely one collection from the brand, The Gorgeous Collection.
Gorgeous Collection Hair Cleanser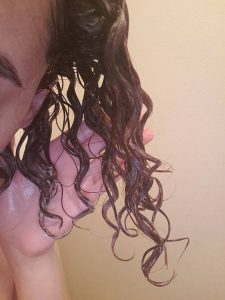 The Gorgeous Collection Cleanser is one of my favorite shampoos to use. I know whenever I use it, I am going to get a very deep clean feeling which helps me start over with the next wash and go. This all-natural cleanser works to removes build-up and cleanses all hair types by infusing elderflower, red clover, aloe vera and chamomile among other natural ingredients.
From the moment you open the bottle, you are met with a pleasant soft floral scent. When paired with a great scalp brush, this sulfate-free cleanser leaves a squeaky clean feeling on the scalp. This cleanser suds up a lot, so it can be considered a low-poo(any sulfate free shampoo that creates suds as it cleans.) When first applied to hair, it moisturizes the hair which encourages clumping as the photo above shows. This makes it easier to finger-detangle hair if you did not already pre-poo your hair. As you rinse the shampoo out, the hair starts to feel much drier which can create tangles, which is the perfect canvas for the moisturizing conditioner.
Cleanser Full Ingredients List: Deionized Water, Alkyl Polyglucosides, Sodium Cocoamphoacetate, Aloe Barbadensis Leaf Juice (Aloe Vera), Cannabis Sativa Seed Oil (Hemp Oil), Sodium Chloride, Vegetable Glycerine, Panthenol (Pro Vitamin B5), Salix Alba Bark Extract (White Willow), Chamomilla Recutita (Matricaria) Flower Extract (Chamomile), Pomegranate extract, Organic Monoi Oil, Trifolium Pratense (Red Clover) Flower Extract, Sambucus Nigra (Elder) Flower Extract, Caprylyl Glycol, Leucidal (Radish Root).
Gorgeous Collection Conditioner
One thing I love about all natural products is their versatility! Not only can this rinse out conditioner be used as a daily conditioner, but it can also be used as a deep conditioner!
 Daily leave in: apply conditioner to wet or damp hair and style as normal
Weekly Deep Conditioner: apply conditioner to scalp and hair and leave on for thirty minutes with a shower cap. If possible add heat such as a salon dryer, a thermal heating cap, or a hair steamer. If these options aren't available, you can use a regular shower cap with a plastic shopping bag around your head or even applying a hot towel over the shower cap. The idea is to insulate the natural body heat to your scalp to help better nourish the hair and follicles.
Rinse out conditioner: Use a generous amount leave on for 2-5 minutes and rinse out
Cowash: I love using this conditioner as a co-wash with a scalp brush. Apply a generous amount while using the scalp brush to get a deep clean. Finger detangle or use a wide tooth comb, rinse as usual.
Since I normally deep condition on wash day, I don't really have a purpose for the rinse out conditioner…on wash day that is. I use it on refresh days to co-wash and apply this as it is heavier hydration than the leave in conditioner. One of my favorite pairings for styling is using this conditioner with the Kinky Curly Custard.
Conditioner Full Ingredients List: Aloe barbadensis (Aloe Vera) Leaf Juice, Propanediol (Corn), Vegetable Glycerin, Salix alba (White Willow) Bark Extract, Hibiscus sabdariffa (Hibiscus) Flower Extract, Panax ginseng (Ginseng) Root Extract, Ilex raraguariensis (Yerba Mate) Leaf Extract, Serenoa repens (Saw Palmetto) Berry Extract, Pomegranate extract, Organic Monoi oil, Glyceryl Monostearate SE, Panthenol (ProVitamin B5), Persea Americana (Avocado) Fruit Oil, Prunus armeniaca (Apricot) Kernel Oil, Calophyllum inophylum (Tamanu) Seed Oil, Ubiquinone (CoQ10), Hydrolyzed Quinoa Protein.
Gorgeous Collection Leave-In Conditioner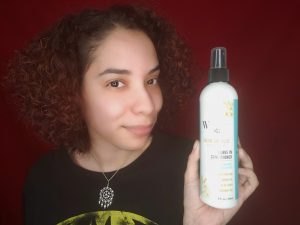 One thing I noticed after a few uses, was the fact that this spray leave-in conditioner is very light. You will need to section your hair and pay close attention to how much your hair needs. I do not use combs or brushes to help me apply products. I use clips to section my hair and use my fingers to rake the product through.
While the product comes out as a  mist, once you start applying it, you will need a good amount, but I wouldn't worry about going overboard with it. Once applied to the hair, the leave in is a dream to rake in. The slip from the aloe vera juice allows the product to spread quickly and evenly throughout my hair.
I adore the instant shine that comes once the product is raked in. Once I start spraying the leave-in conditioner onto my curls, instantly they begin to thrive from the hydration. It begins to curl all on its own without me having to scrunch! That's the mark of a GREAT all-natural product.
If I were to make one suggestion when it comes to the use of this product, I would suggest switching the formula out of the original bottle and move it into a florisol bottle or other spray bottles that can help you apply the conditioner a bit easier than the current bottle allows you to. I notice my hands get slippery and it's difficult to hold the bottle and direct it to the spots you need it.
Gorgeous Collection Leave-In Conditioner Full Ingredients List: Aloe Barbadensis (Organic Aloe) Leaf Juice, Organic Monoi Oil, Castor Oil, Stearalkonium Chloride, Tocopherol (Vitamin E), Phenoxyethanol, Glycerin, Hydrolyzed Wheat Protein, Panthenol (Pro-Vitamin B5), Limnanthes Alba (Meadowfoam) Seed Oil, Salix Alba (Organic White Willow) Bark Extract, Rosmarinus Officinalis (Rosemary) Leaf Extract, Azadirachta Indica (Neem) Seed Oil, Organic Coconut Oil.
Works Cited
Baber R, Clifton Bligh P, Fulcher G, and et al. The effect of an isoflavone extract (PO81) on serum lipids, forearm bone density and endometrial thickness in postmenopausal women [Abstract]. Proceedings of the North American Menopause Society (New York, 1999).
Janamejaya K. Srivastava, Eswar Shakar, and Sanjay Gupta. Chamomile: A herbal medicine of the past with a bright future. Molecular Medicine Reports. Cleveland: Case Western Reserve University, 2010. Document.
QADIR, M. IMRAN. "Medicinal and Cosmetological Importance of Aloe vera." International Journal of Natural Therapy (2009): 21-26. Document.
WebMD. RED CLOVER. 2019. Website. 21 March 2019.