This is my favorite mask to make every week (or more like every few weeks from how crazy life can get). It's really simple and quick to make (which is perfect for someone like me) and it's super effective. Now, I do want to warn, like any DIY remedy, you will not see results IMMEDIATELY. Natural remedies do not work like that, it takes time to achieve the desired effect. I have been doing this mask for over a year, which is why I feel so confident sharing this recipe today.
Let's get to know our main ingredients a bit, so you can understand why they work so well.
Turmeric
Natural antioxidant ( when a molecule in your body loses an electron it turns into a free radical. Antioxidant molecules engage and essentially wrangles the dangerous free radical and give it an electron, effectively neutralizing it.
Anti-inflammatory (substance or treatment that effectively reduces any redness, puffiness, or swelling)
Home remedy for eczema, psoriasis, dry skin, dark circles, and wrinkles.
Contains Curcumin ( a bright yellow chemical produced by some plants. It is the principal curcuminoid of turmeric, a member of the ginger family, Zingiberaceae.) Curcumin has shown significant anti-inflammatory properties.
Excellent Exfoliating agent
Natural antiseptic (meaning it helps effectively rid the skin of bacteria that can spread and cause acne breakouts)
Protects from anti-aging and sun damage (Research presented at the American Academy of Dermatology (AAD) 68th Annual Meeting shows that a moisturizing cream containing turmeric had the ability to improve the appearance of fine lines and brown spots caused by sun damage.
Soothes dry skin ( turmeric naturally speeds up the process of removing dead skin cells to reveal healthy and soft skin, and protects the skin cells from further damage)
Naturally removes stretch marks on the body
Honey
Natural anti-bacterial (great for acne prone skin)
Natural exfoliator (The organic acid in honey like gluconic acid accelerates shedding dead skin cells just like a scrub but without mechanical rubbing)
anti-inflammatory
A natural humectant (draws moisture from the environment into the skin)
Helps fade acne scars
Now that we know the benefits of the mask, let's get into recipes and final notes.
This is the mask I normally make. Please remember there is no set measurement for these ingredients since it varies per person. Try to keep your formula consistency think otherwise it will drip over your clothes and stain them.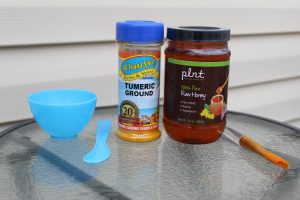 Ingredients:
1 tablespoon turmeric
2 tablespoons raw organic honey (please remember raw, unpasteurized  honey is best because you need the health bacteria only available in pure honey)
A few drops of essential oil of choice (this is an optional step)
Directions:
Mix the two main ingredients together in a facial bowl
Add your 5-6 drops of essential oil (I prefer lemon because I do these masks at night lemon is the perfect addition to help brighten your acne scars and even skin tone)
Mix well
Cleanse face with a cleanser appropriate for your skin type
Apply to face with an application brush (this allows you to apply a thin even layer, without contaminating the mixture or your skin with any bacteria on your fingertips or below your fingernails)
Leave mask on for 20-30 minutes
Rinse thoroughly with warm water (Remember any remaining turmeric on your face will stain your towel)
Follow with your normal facial routine (Ex. toner, serum, moisturizer, eye gel)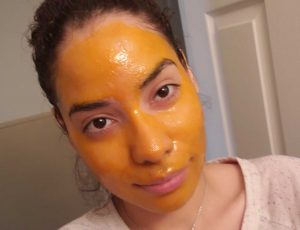 Final Tips From Red Carpet Curls:
This mask will give the best results if used twice a week
You can always customize this recipe for your liking (Ex. acne-prone skin can benefit from adding 1/2 a teaspoon of ACV into the mixture)
If you are going to use lemon essential oil in your mask to brighten your skin please make sure to do this mask at night (Citrus essential oils like lemon are potential  photosensitizers, this is a process where a given chemical absorbs ultraviolet light and initiates a reaction, typically on the skin)
When using this mask for the first time, my best suggestion is using it at night because turmeric can temporarily stain pale skin a slight hue of yellow (this goes away overnight, by morning you see beautiful, radiant, clear, even skin tone)
Works Cited Bruno Burlando, Laura Cornara. "Honey in Dermatology and Skincare: A Review." Journal of Cosmetic Dermatology (2013): 306-313. Document. K. P. Sampath Kumar, Debjit Bhowmik, Chiranjib, Biswajit, M.R.Chandira. "Medicinal Uses and Health Benefits of Honey: An Overview ." Journal of Chemical and Pharmaceutical Research (2010): 385-395. Document. Labban, Louay. "Medicinal and Pharmacological Properties of Turmeric (Curcuma longa): A review ." International Journal of Pharmacy and Biomedical Sciences (2014): 17-23. Document. Maheshwari, Rajesh L. ThangapazhamAnuj SharmaRadha K. "BENEFICIAL ROLE OF CURCUMIN IN SKIN DISEASES." ADVANCES IN EXPERIMENTAL MEDICINE AND BIOLOGY (2007): 343-357. Document. Preeti Rathaur, Waseem Raja, P.W. Ramteke, Suchit A. John. "TURMERIC: THE GOLDEN SPICE OF LIFE." International Journal of Pharmaceutical Sciences and Research (2012): 1987-1994. Document. Surbhi, Dr. 8 Benefits of Honey on Skin: Know From Dermatologist. 19 September 2018. Document. 17 March 2019.