My Beautiful #RedCarpetCurlsRoyalty,
The Curly Girl Method is a SUGGESTED guideline on how to care for your natural texture in order to improve hair's health and manageability. Therefore we strongly recommend you avoid these ingredients.  Here in Red Carpet Curls, we work to give you all the information you need to make a well-informed decision for YOUR specific hair needs. Therefore at the end of the day, it's all about what you feel comfortable within your hair. But, please remember if you chose to keep any of these ingredients in your hair regime you are prone to a slower healing process and a harder time managing frizz.
Therefore to guide you the right way on your journey, please make sure you have read these articles before continuing with this one:
What is the Curly Girl Method?
How to Start the Curly Girl Method?
Once you have read these, you will have the proper foundation, to understand the lists below. Now that you know what the method is, here is a complete list of every ingredient to avoid while practicing the #curlygirlmethod.
Silicones: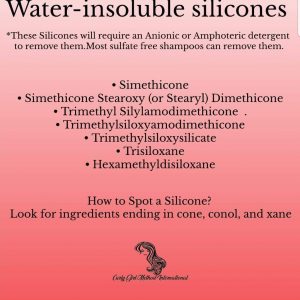 Silicones are often added to hair products because of their ability to coat the hair in an invisible thin film helping to calm frizz. Silicones provide great slip to products to improve hair manageability. They help seal in moisture from your wash and also serve as a heat protectant (although if you are on the #curlygirlmethod you don't have to ever worry about finding heat protectants since you never use above medium heat on a hairdryer with a diffuser). Companies love adding silicones as a cheap alternative to help fight a frizzy hair day.
All the benefits of silicones are exactly the reasons why we curly girls avoid silicones. If you use silicones in your hair regime, the silicones essentially wrap around the hair follicles and strands to seal it so no external environmental factors like humidity come in contact with the hair strands causing them to frizz. By sealing out external environments, you are also sealing in whatever state your hair is in. So over time, every time you use these products you will essentially just be sealing in dry hair. Silicones do not allow the hair follicle to properly receive nutrients, water, and even air! This, over time, will cause the hair growth to slow or otherwise completely come to a stop. It can even be the cause of hair loss!
Full List to Avoid (use this when shopping for products in the store): 
• Amodimethicone • Aminopropyl triethoxysilane • Behenoxy Dimethicone Cetearyl methicone • Bis-Amino PEG/PPG-41/3 Aminoethyl PG-Propyl Dimethicone • Bis-Aminopropyl Dimethicone • Bis-Cetearyl Amodimethicone • Bis-isobutyl Peg/Ppg-20/35/Amodimethicone Copolymer • Bis-Phenylpropyl Dimethicone • Bis-Hydroxy/Methoxy Amodimethicone • Cetyl Dimethicone • Cetyl PEG/PPG-15/15 Butyl Ether Dimethicone • Cyclomethicone • Cyclopentasiloxane • Cyclopentasiloxane and C30-45 Alkyl Cetearyl Dimethicone Crosspolymer Cyclohexasiloxane • Dimethicone/Vinyldimethicone Crosspolymer • Dimethicone • Divynildimethicone/Dimethicone Copolymer • Dimethicone Propyl PG-Betaine • Dimethiconol • Dimethiconol meadowfoamate • Di-Isostearoyl Trimethylolpropane Siloxy Silicate • Dimethicone • Diphenyl Dimethicone • Disiloxane • Trimethylsiloxysilicate • PCA Dimethicone • Phenyl Trimethicone • Phenylpropyldimethylsiloxysilicate • Polysilicone-18 Cetyl Phosphate • Silicone Quaternium-16 • Silicone Quaternium-18 • Silicone Quaternium-22 – • Silicone Resin Spheres • Simethicone • Simethicone Stearoxy (or Stearyl) Dimethicone • Trimethyl Silylamodimethicone • Trimethylsiloxyamodimethicone • Trimethylsiloxysilicate • Trisiloxane • Hexamethyldisiloxane
Sulfates: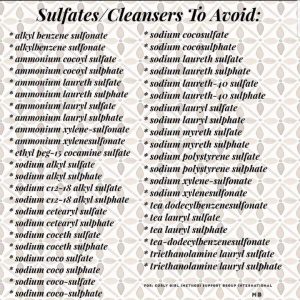 Sulfates are extremely harsh and drying detergents. Often you can find examples like Sodium Laureth Sulfate or Sodium Lauryl Sulfate in common everyday cleaning materials like your Dawn dishwashing soap. If you have ever washed a pot in your kitchen after dinner, then you know how strong sulfates truly are. Sulfates are the main ingredient responsible for removing dirt and oil by producing suds and cleansing the surface applied to. That is why you are able to scrub a pot with Dawn.
As you can imagine our hair is much more fragile than a pot or dish in a kitchen. Our hair is similar to a plant in the sense that it is a living organism and requires water, nutrients, and proper TLC to grow and produce. Sulfates strip hair of all its natural oil (Sebum) which makes it impossible for hair to flourish. Our scalp produces oil to naturally condition our scalp. Conditioners, oils, and other products are all meant to be added as a way to moisturize and seal in moisture since our curl structure doesn't allow the oils to flow all the way down the strands and moisture from our roots to the ends of our hair. Frequent use of sulfates dries hair out. Dry hair is weak and often leads to breakage, this will make retaining hair length impossible.
Example Sulfates to Avoid:
Alkyl Benzene Sulfonate
Ammonium or Sodium Xylenesulfonate
Ethyl PEG-15 Cocamine Sulfate
Sodium C14-16 Olefin Sulfonate
TEA-Dodecylbenzenesulfonate
Sodium Cocoyl Sarcosinate
Sodium Laureth, Myreth, or Lauryl Sulfate
Ammonium Laureth or Lauryl Sulfate
Sodium Lauryl Sulfoacetate
Dioctyl Sodium Sulfosuccinate
Sodium Xylenesulfonate
Parabens: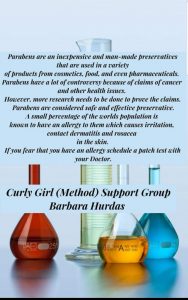 This is the one ingredient that I will say has the most controversy. I want to say now since our team has encountered so much push back when it comes to this ingredient on labels. While parabens are not exactly toxic and fatal, substantial exposure to them has been linked in medical studies to cancer.
Parabens are water-soluble chemicals often added to products as a preservative to extend shelf-life in stores.  Parabens are added to almost all common beauty products including makeup, lotions, hair products, skin products, etc.  Natural products often have a very short shelf-life, which is why they add parabens as a cheap way to keep the formula from developing bacteria while still on the shelf. This is why normally our hair products are good for about a year before we have to replace them. A 2004 scientific study/paper entitled Concentrations of Parabens in Human Breast Tumours by Darbre et al was published. This study showed the presence of parabens in breast cancer tissue. While the study doesn't conclude if the parabens caused it the fact that they are there is what causes concern. Another study found that 99% of Americans had some form of parabens in their urine. While we do not yet know if exposure to parabens directly cause cancer we know they share the same space and help contribute. Parabens have weak estrogen-like properties, which enable parabens to mimic the activity of the hormone estrogen in the body's cells, and while estrogenic activity is associated with certain forms of breast cancer, parabens have been found present in breast tumors.
Example Parabens to Avoid: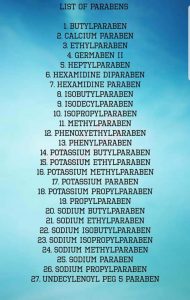 Drying Alcohol:
Similar to parabens, drying alcohols like Isopropyl Alcohol don't seem like such a big baddie ingredient, but they can be. Drying alcohols are exactly what they imply, they dry out your hair when used frequently. Often products like hairsprays contain drying alcohols. Think about the damage this way. You do all the work of wash day, pre-poo, shampoo, protein treatment, deep conditioning, and styling. All of that work to mess it up with hairspray at the very end, or a styling product that contains the alcohol. That drying alcohol, after consistent use, will simply suck the moisture out of strands. The hair, as a result, ends up dry, dull, and frizz. In extreme cases, the hair will be so dry it will lead to breakage.
Since drying alcohols can be the worst thing invented for the hair since a Keratin treatment, most newbies try to stay away from ALL alcohols, but that is just craziness. Just like there are differences between oils to use in your hair, there are differences in alcohols! There are good, fatty, moisturizing alcohols such as Cetearyl alcohol and Cetyl alcohol. These moisturizing alcohols are often considered emollients since they have a lubricating property to them. If you don't know the difference between which alcohols are drying or moisturizing, please click here for that article.
Examples of Drying Alcohols:
Denatured alcohol
Ethanol
Isopropanol
Isopropyl alcohol (also called IPA)
Propanol
Propyl alcohol
SD alcohol 40
Synthetic Waxes:
Waxes are added to hair products because they are similar to hair butter. Their main purpose is to seal in the moisture provided by a hair butter or any other styling product. The main difference between waxes and oils are their structures. Waxes have a structure that makes it very hydrophobic (basically meaning it hates water). Applying synthetic waxes to hair makes it impossible to moisturize hair again until you wash all the wax out with a harsh sulfate-containing shampoo, also known as the final wash.
While synthetic waxes can throw off your entire routine, that doesn't mean all waxes are bad! There are waxes that naturally occur in the environment. Natural waxes include beeswax, jojoba wax, hemp wax, etc. Waxes are derived from: Animals – e.g. beeswax, lanolin (from sheep), Plants – e.g. jojoba wax, hemp wax, castor wax, rice bran wax, and Petroleum – e.g. paraffin wax, petroleum jelly
Petroleum/ Mineral Oil:
Mineral Oil/Petroleum has been used for decades as a cheap option to seal moisture in the hair. For years it has been marketed as a cheap solution to treating scalp issues such as dandruff. Unfortunately, it just isn't true. Mineral oil does not moisturize the scalp or hair. It serves as an impenetrable barrier to keep moisture locked into the hair. Mineral oil does not penetrate the hair strand, it simply coats it with a barrier similar to silicone, to keep moisture in hair for longer periods of time. The problem with this is like silicone, the barrier makes it impossible to add more moisture to the hair. The barrier ends up clogging the hair follicle which can hinder hair growth because the mineral oil won't allow vital nutrients to enter the follicle. Without nutrients or new moisture growth will stop and hair strength and elasticity will diminish.  Mineral oil must be removed with a final wash.