Naturally-textured hair is dry by nature; that's why preserving as much moisture as possible is the key to hair growth and length retention. Pre-poo is the perfect way to protect the scalp's natural oil and retain the much-needed moisture in your delicate tresses.
What is Pre-Poo?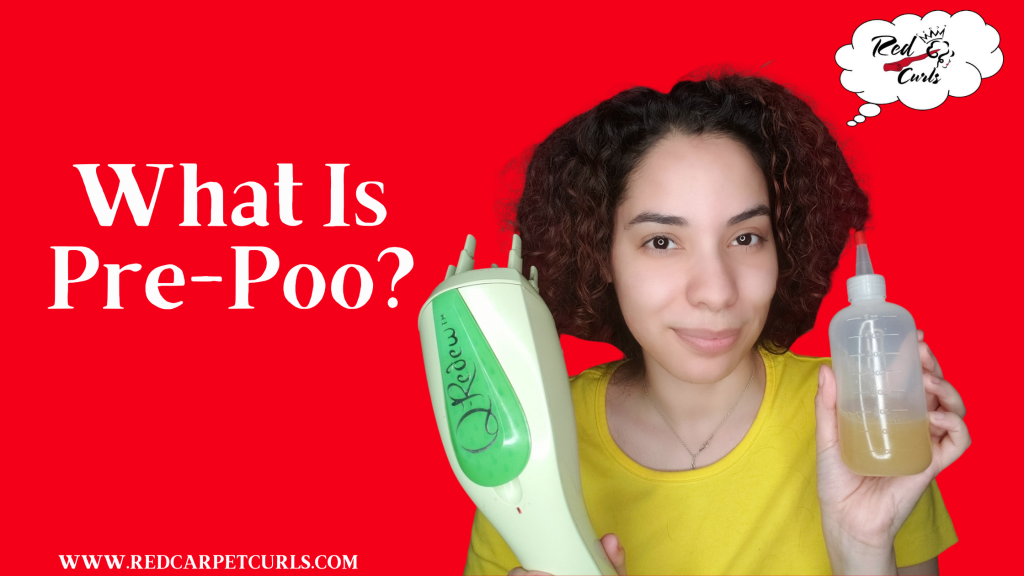 Pre-poo is short for pre-shampoo treatment.
Pre-poo is a treatment done before the practice of shampooing, to prepare the delicate hair for the very stripping act of the shampoo.
What is the Function of Pre-Poo?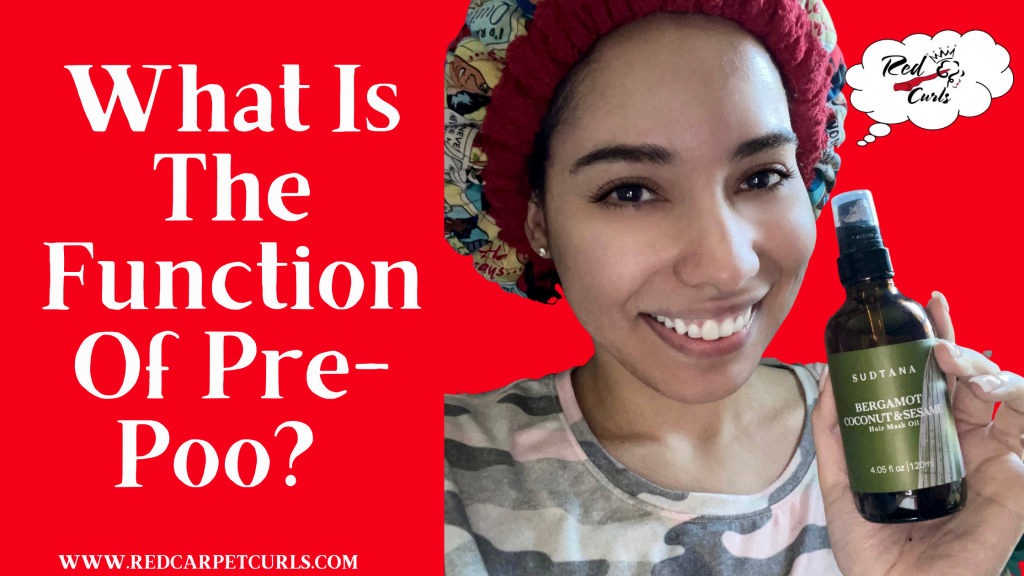 The main purpose of a pre-poo is to protect the scalp's natural oil (sebum) from being washed away with the shampoo. Sulfate-free shampoos are meant to clarify the hair.
Clarifying shampoos contain Anionic surfactants, which are detergents strong enough to remove all build-up including silicone, products, and even perspiration build-up.
Clarifying shampoos are incredibly strong, for this reason, they should not be used too often, as they can dry textured hair out even more!  Shampoo can cleanse too deeply leaving the scalp dry, tight, and flaky.
The pre-poo will create a barrier to protect the scalp's natural oil. After rinsing out the pre-poo with a shampoo, you will have that nice clean scalp feeling while still having your scalp's natural sebum intact.
To learn more about the different shampoo options and their functions (including recommendations) please click here.
What Are Some Benefits of Pre-Poo?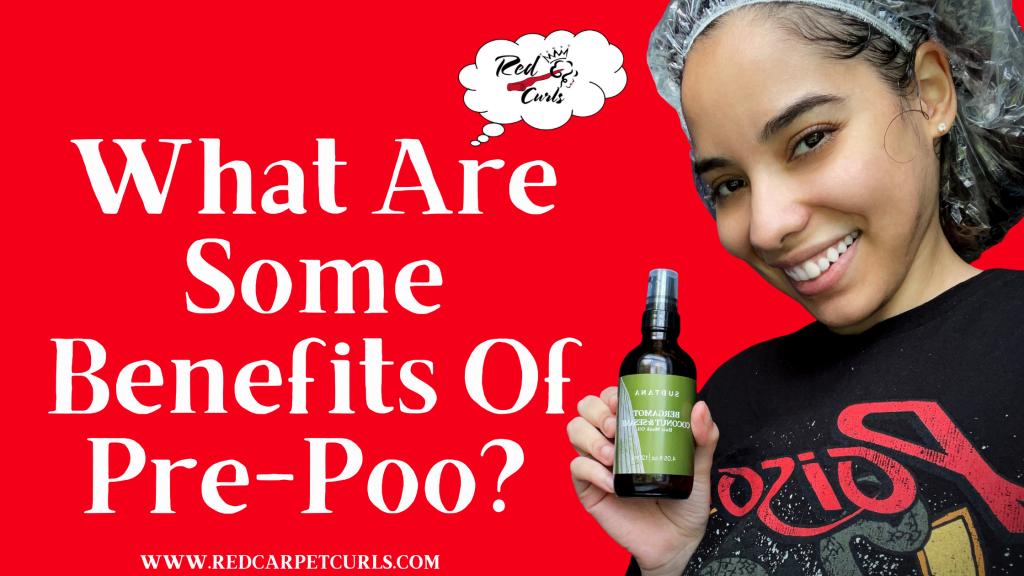 Increased Shine
Hydrated scalp and hair will lead to less flaking and dandruff
Quicker hair growth
Lots of body and bounce
Increased elasticity
Primes hair for manipulation
Preserves moisture and hair color
Softens hair, therefore, improving manageability and health
How to Pre-Poo?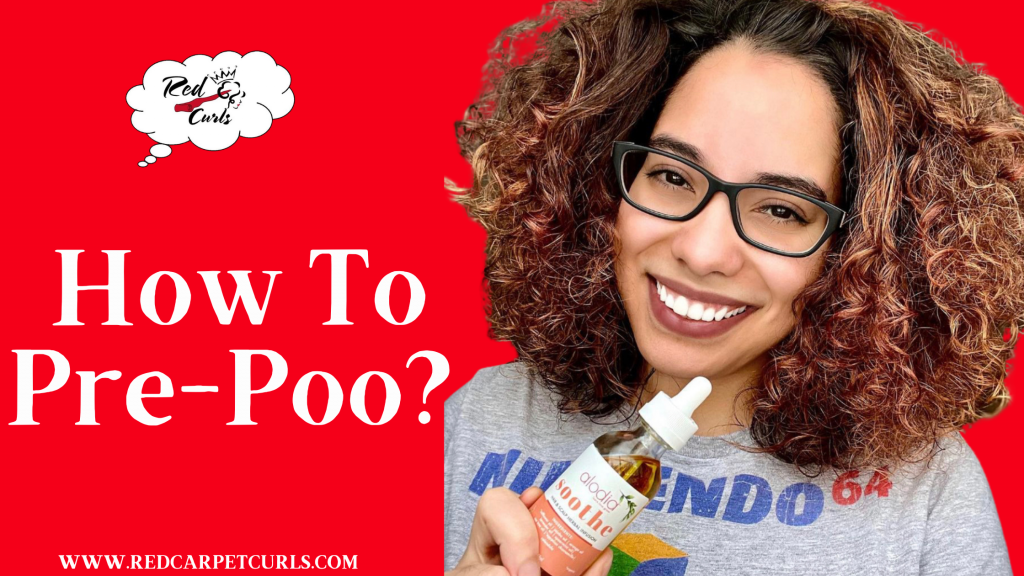 Traditionally, pre-poo is done with oil. You can use any oil of your choice. I am addicted to oil blends like Righteous Roots or my all-time favorite oil blend Thatsthatmagic (Discount code: redcarpetcurls). Although Tailored Beauty makes a fantastic oil blend as well.
Alodia Haircare has definitely stolen and secured a special place in my heart and pre-poo routine with their Nourish & Grow Healthy Hair and Scalp Oil! I absolutely love the slight tingly feeling that oil leaves on the scalp as if your hair follicles are all of a sudden awakened! Especially paired with the Q-Redew Hair Steamer!
 

 

 

View this post on Instagram

 

 
Below I have embedded how I like to do my oil pre-poo using Thatsthatmagic, this is basically the same thing as a hot oil treatment (just add a heating cap to make it a hot oil treatment).
As you can see in the video, you essentially cover your scalp and hair with the oil of your choice. Cover it with either a plastic cap, shopping bag, etc to insulate the heat your scalp produces. Allow at least 15 minutes for the oil to penetrate. Since oil does not hydrate the hair, you can pre-poo overnight (with oil) without fear of risking hygral fatigue (hair cuticle is damaged due to excessive moisture entering and exiting the hair cuticle).
Check out one of my most luxurious pre-poo sessions featuring Sudtana! Your hair will thank you:
Another way to pre-poo is by using a conditioner instead of oil in this process. Everything is essentially the same, except for the duration. Since conditioner deposits moisture in the hair, the heat your scalp produces basically acts as a timer. It heats up the conditioner, activating the benefits of the conditioner much more quickly. That is why you should rinse the conditioner pre-poo out after 30- 60 minutes MAX. The longer you keep it on, the more you risk over-moisturizing your hair.
You can also use pure aloe vera gel as a pre-poo. The same rules apply to using a conditioner. Duration is much shorter. Aloe vera is an effective hydrator, the only other substance able to hydrate the hair like water but actually have the ability to seal in that new moisture.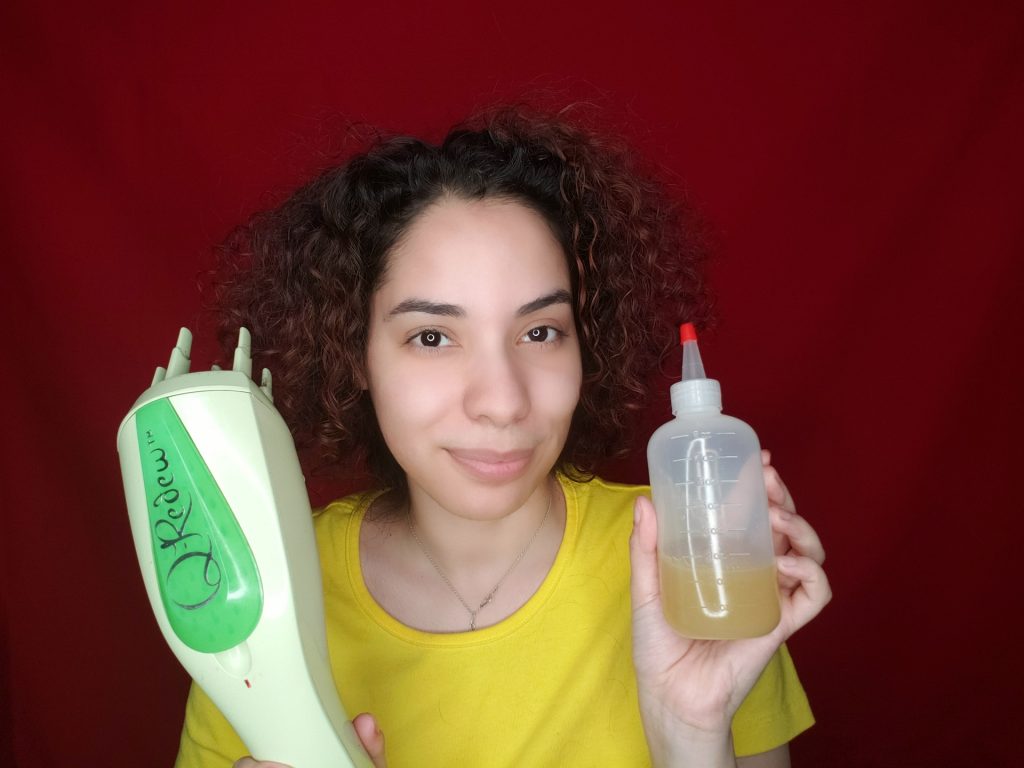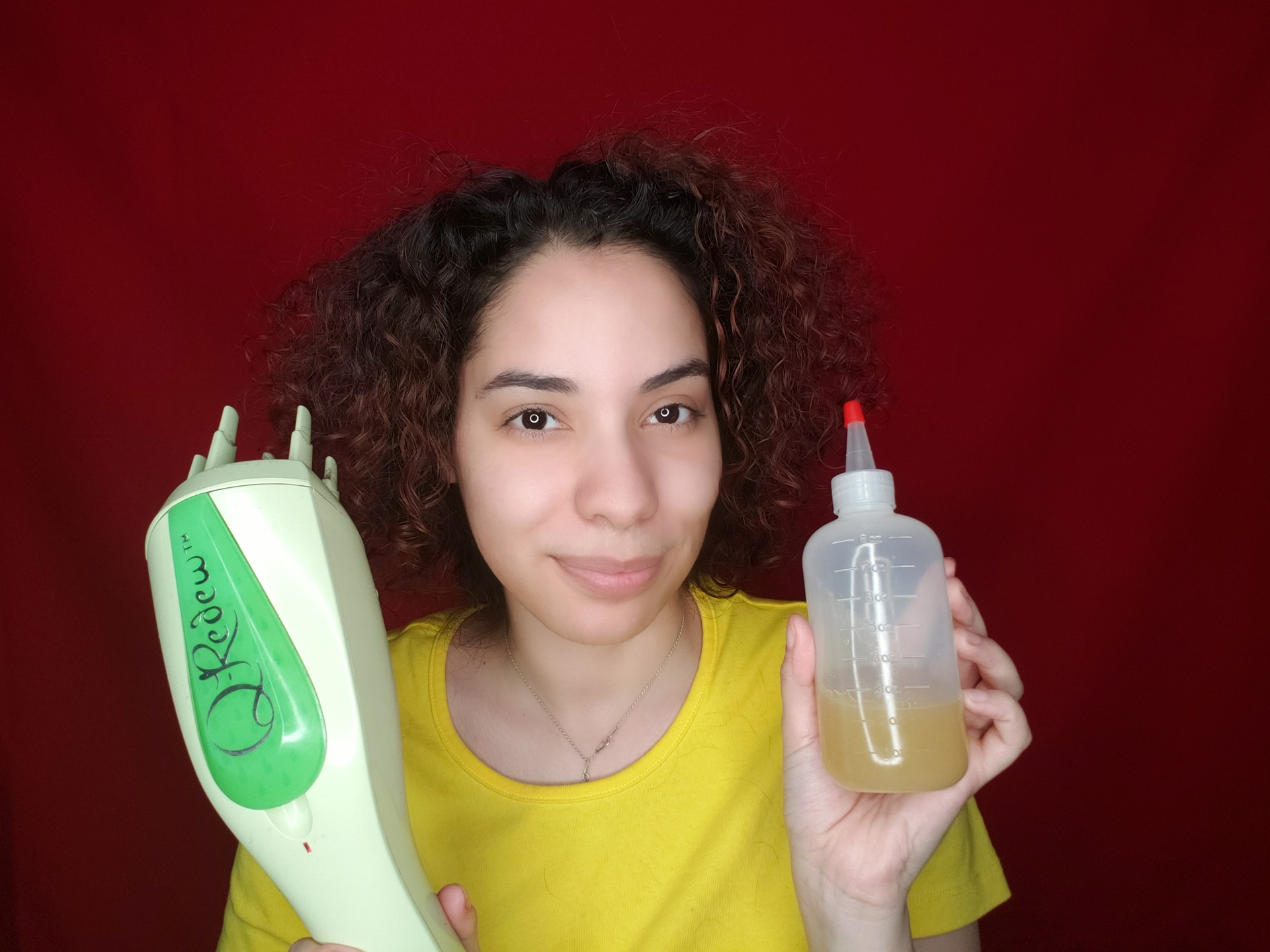 Below I have embedded my Youtube tutorial on how I like to prepare my aloe vera pre-poo. If I have the time, I always choose aloe vera as my pre-poo option because aloe contains over 50 different minerals and nutrients the hair needs to grow and repair itself. Again, do not leave on for longer than 1 hour.
How often should I pre-poo?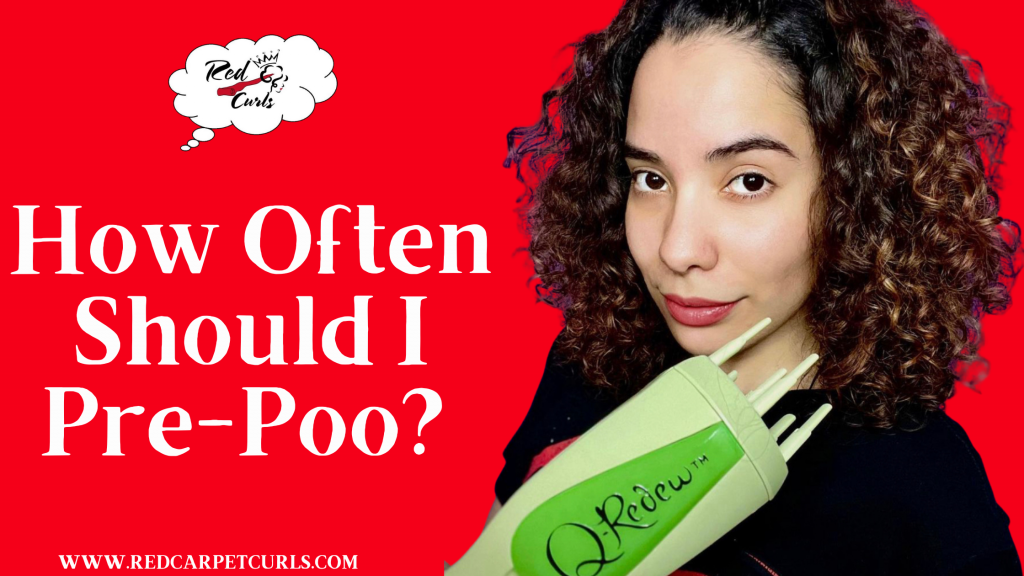 Although you should pre-poo every single time you use a clarifying shampoo no matter what time of year, pre-poos are especially helpful in the winter months.
Since there is no humidity in the air (water in the air) there is nothing to moisturize your hair. In fact, winter months have some of the driest and harshest air, which eventually sucks the moisture out of your hair. Adding this simple step to your washday will save you lots of time on restyling and rewashing. It will extend the life of your wash and go!
Rule of thumb pre-poo before you shampoo, may that be once a week or once a month. Pre-poo takes at least 15 minutes to allow the substance to penetrate the hair. Remember oil can be left on overnight. It will not cause Hygral Fatigue (oil pre-poo). Adding heat such as sitting under a dryer or using a microwavable cap, or even a hair steamer helps the substance (oil, aloe, conditioner, etc.)  penetrate.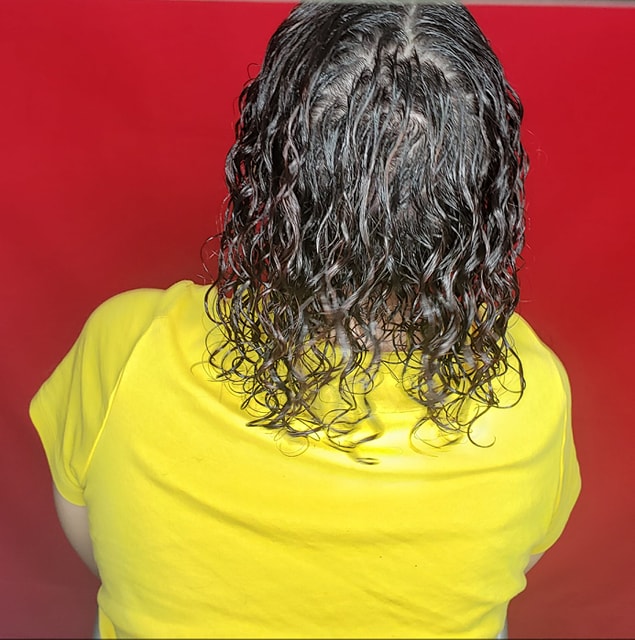 References:
A.S. Rele, R.B. Mohile. "Effect of Mineral Oil, Sunflower Oil, and Coconut Oil on Prevention of Hair Damage." Journal of Cosmetic Science (2003): 175-192.
curlynikki.com. The Art of the Pre-Poo…and How to Master It. 20 August 2015. 28 February 2019.
—. Why You Should Add Pre-Pooing to Your Routine. 28 June 2013. 28 February 2019.
Kenneth. Pre-Poo: How to Make the Best of Your Pre-pooing Routine. 31 December 2017. 28 February 2019.
MATILDEBENGTSSON. "All-day hair manageability for textured hair types." A revision of the current anti-frizz technologies and suggestions for the future. Gothenburg: Chalmers University of Technology, 2016.
Mielle Organics. Benefits of a Pre Poo. 31 August 2017. 28 February 2019.
NaturallyCurly. 5 Reasons You Should Pre-Poo. 29 May 2018. 28 February 2019.
Science-y Hair Blog. Oil Pre-Shampoo or Pre-Wash (And how to make it work for YOUR hair). 20 March 2014. 28 February 2019.
Strickland, Aishia. 6 COMMON SHAMPOO MISTAKES NATURALS MAKE. 4 January 2016. 28 February 2019.
Trials n Tresses. 6 Inches In 6 Months Hair Growth Challenge Week #4 Pre Poo. 17 April 2017. 28 February 2019.
Updated June 21, 2022