My Beautiful #RedCarpetCurlsRoyalty,
The Queen is back with a brand new in-depth review on the all-natural and curly girl method approved haircare brand, Dollar Curl Club. I have used this brand on and off for over a year and always find myself coming back to these amazingly moisturizing products. I can't stay away from the products because the quality shows in a wash and go. This line is one of the only lines I can use on my fine 3a/3b high porosity curls, with the confidence of knowing my wash and go will last at least 5-7 days without a single refresh! That is the true test of QUALITY products!
Here is my in-depth review of the products I have used and loved time and time again. Trust me, you can't go wrong with this product line! They had me at worldwide shipping and every product starting at $1!
They kept me because of their amazing quality product and customer support. I am a life-long supporter of this amazing brand and I hope after reading this review you will be too!
What is Dollar Curl Club?
Dollar Curl Club is an all natural haircare brand for naturally textured (wavy, curly, coily, kinky) hair. Their goal is to provide you with quality products with all natural ingredients for low prices! Dollar Curl Club's mission is, and will always be, to make top quality hair care affordable for everyone. Built on the premise of disrupting the traditional way of doing business in the hair care industry, Dollar Curl Club hopes to become the "go-to" brand you've been looking for; a brand that provides an affordable, fun and simple shopping experience for all.
What Makes Dollar Curl Club Different?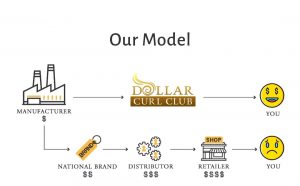 Dollar Curl Club bypasses traditional distribution channels and implemented a direct-to-consumer approach. By cutting out the middlemen, retail markups, and the high cost of getting into retail stores, we are able to offer better products, better pricing, and overall better experience.
That means all natural ingredients, quality products at AFFORDABLE prices. So, you don't have to go broke with Devacurl or Ouidad when looking for all natural approaches. Now, Dollar Curl Club has figured out the expedited pipeline to get curly girl method approved, all natural products in your hands not only faster but cheaper!
What are some key points to know about Dollar Curl Club?
All products are made in the USA
Products ship worldwide
All products start at $1
You can set the products to be delivered to you by subscription (1x a month, etc)
Since the products are all natural, they are very moisturizing so less is more
60-day money back guarantee- simply reach out to us at Hello@DollarCurlClub.com or login to your account and select Returns
You need all natural ingredients to get your curls to flourish, not just get through the day
This brand has given me wash and go's that have lasted up to 10 days without a refresh!
Want an in-depth break down of the individual products? No problem, here is a review on the products I have used from the line.
Manetain Gold Collection Hydrating Gentle Cleanse Shampoo
Very hydrating. The moisturizing shampoo is meant to remove build up without removing the scalps natural oils. What I love about this shampoo is the fact that it is considered a low poo because it quickly creates suds to help give hair a deep clean feeling, but it is not at all stripping. I always put this shampoo to the test. For me, a good gentle cleansing shampoo should remove my pre-poo without a second or third wash. I need it done the first time, this is why I use a scalp brush to make sure all the oil or aloe vera mixture pre-poo is out of my hair. This shampoo is different though. From the moment I start applying it to my scalp and hair the moisture begins to make its way down my tresses and allow my curl clumps to begin to form. After my normal 3-5 minutes of massaging my scalp with my fingertips and scalp brush, I rinse out with warm water. From the moment it's out of your hair you still feel moisturized hair, no rough or dry feelings normally associated with shampoo!
Manetain Gold Collection Repairing Mask
This repairing mask is formulated with Green Tea & Olive Oil to replenish and restore hair. It eliminates tangles leaving hair soft and moisturized, providing your curls with much-needed hydration and manageability. Infused with essential vitamins, this rich formula penetrates deeply to repair, soothe and smooth damaged hair.
This mask quickly became one of my all-time favorites. It is so thick and moisturizing so don't go overboard! The minutes I begin to rake quarter-sized amounts of the mask at a time into my hair, I notice the dramatic transformation almost instantly. My hair is normally very rough and dry by washday since I skip so many days of maintenance since life gets crazy, I have to make sure I step up my deep conditioning game on wash day.
I always make sure to deep condition once a week for 30 minutes, and honestly, 30 minutes is all you need with this mask. It starts working the moment it touches the hair. I love to boost this treatment by adding 5 drops of the Dollar Curl Club Nourishing Herbal Oil and 1 teaspoon of my Bragg's Liquid Amino Acids to make this a gentle weekly protein treatment. Amino acids are protein building blocks, they are essentially smaller pieces of protein that were broken off from the original big piece of protein. Since they are so small they are able to penetrate the cortex (innermost layer) of the hair, in order to strengthen and condition from within the strand. This is perfect for my fine 3a/3b high porosity curls once a week. That is the way I avoid protein overload by using bigger protein treatments like Devacurl Deep Sea Repair or Aphogee 2 step protein treatment.  This repairing mask is the perfect base to add the amino acids to and a bit of the oil to not only moisturize and strengthen my hair but seal in that moisture as well.
Manetain Gold Collection Hydrating Detangling Conditioner
I am relatively new to the rinse out conditioner game. I was one of those people that felt like deep conditioning was enough, so, I would skip this step and go straight into my styling products. I later discovered in a journal article the true significance of a conditioner. While deep conditioners are formulated with ingredients that have the ability to penetrate the cortex of the hair, rinse out conditioners are much lighter versions of deep conditioners that can be used daily to help moisturize the cuticle (outer most layer) of the hair. This helps to seal the cuticle, to prevent dull and frizzy hair. So, you get the difference there? Deep conditioners are intense treatments that are formulated with penetrating and moisturizing ingredients to repair the innermost layer of your hair, while rinse out daily conditioner is very light and moisturizing. They are often formulated with penetrating ingredients as well just in much smaller quantities because the focus is conditioning the outer most layer of the hair.  See…and all this time I had been skipping this step. Shame on me. Never again!
Manetain Hydrating Detangling Conditioner promises to leave your hair feeling soft and tangle-free, and trust me it absolutely delivers on these promises!  This rinse-out conditioner is infused with mango butter and Vitamin E to nourish, grow and hydrate your curls. I love mango butter! Let me tell you, the moment I started applying it to my hair I smelled the deliciousness of that mango, I was in paradise! The slip of this conditioner is fantastic, I can definitely see using pea-sized amounts of this conditioner as a leave-in conditioner.
Once rinsed out, my hair is always left soft as silk and as shiny as my future awards will be. Haha, a Queen's gotta dream, right?
Manetain Gold Collection Leave-In Conditioner
This leave-In conditioner is designed to moisturize, protect and strengthen your curls. It provides curl definition along with improving the curl pattern in unmanageable areas. There are very few leave-in conditioners I find heavy enough yet simultaneously light enough to improve the curl definition of my hair but this conditioner is definitely on my top 3 list! I know whenever I pair this leave-in conditioner with my  Tailored Beauty Curling Jelly, I am going to get a PHENOMENAL hair day. Don't believe me? Check out the photo on my about page and the photo on the home page both hairstyles were done with this amazing leave-in conditioner and the tailored beauty curling jelly.
I use pea-sized amounts of conditioner at a time, no more than 4-5 pea sized amounts since I have fine hair (but you can definitely alter this to your preference). I like to rake this product into sections of my hair before applying the gel. Styling always takes me less than 10 minutes from shower to sink. It's a true testament to the moisturizing ability of all natural ingredients.
Manetain Gold Collection Cowash Cleansing Conditioner
Very thick consistency takes some movement to distribute and scrub the scalp. Very moisturizing, once raked through the ends of my hair they begin to clump. When paired with a scalp brush, scalp and hair are left feeling clean without being stripped, and the hair is left as smooth as silk. Less is more with this product, otherwise, it will build upon the scalp making it a bit difficult to massage across the scalp and not in just one spot. This co-wash removes product build-up and impurities as it deeply conditions and moisturizes hair from root to tip.
Manetain Gold Collection Curl Defining Cream
This curl defining cream has become one of my go-to's when I want to part from my leave in for a special wash and go. Curl defining creams are actually my favorite product to use when I am finger coiling my hair for special occasions (because let's face it, I am just way too lazy to finger coil for every wash and go). This curl defining cream provides the ultimate in curl definition and nourishment for your curls, coils, and waves. Formulated with moisture, rich natural oils, and butter, this is the ultimate solution for delivering long-lasting control and definition without weighing hair down.
I love to use this cream on refresh days or to extend my complete Dollar Curl Club wash and go. For example, as I write this review, I just finished using this cream and the Tailored Beauty jelly after using the cowash and repairing hair mask on my DAY 7 hair! This is why I always stress all natural products and brands my beautiful queen. I am never able to achieve day 7 and on curls when I use products full of fillers like Cantu or Devacurl.
I like to apply the cream to small sections of my hair. Curl definition is always best when you apply your products to soaking wet hair. So when I am applying the product to a section, I make sure to spray it with water until it is dripping before applying pea sized amounts of the curl defining cream. Since the cream is heavy less is definitely more with this product. Applying it to soaking wet hair helps you use even less, which is helpful for wavy and fine haired Queens like me (3a/3b high porosity fine hair).
I know whenever my hair needs a bit of TLC, or I am in that awkward spot where curl definition is slowly disappearing because my hair has grown out of its shape, I know Dollar Curl Club always has my back with frizz free, beautifully defined curls.