My Beautiful #RedCarpetCurls Royalty,
To those of you who are long time fans of the blog, welcome back! I've missed you!
If you are new to my blog, first thing's first, welcome home. This blog focuses on Natural Hair Care. Here you will find resources on what the Curly Girl Method is, how to begin your natural hair routine, and so much more.
Of course, If I am giving you the science behind products, it just makes sense to give you in-depth scientific information on the amazing products I have come across in my seven year natural hair journey that I know can be beneficial for you too! So, make sure to subscribe to my email list for more gems like this review.
That brings us to today's review of an all-natural curly girl method approved product line called My Curly Way.
After 30 years of camouflaging and damaging her curly hair, Founder, Orian Paz, decided it was time to embrace her natural texture. If you are reading this product review, then that means you are ready too.
Along her journey, Orian created her own online community called Metultalot, which focuses on creating a safe space to embrace all textures. The community has grown to over 100,000 people over the course of its six year existence!
Like many of us, Orian searched high and low for the perfect products that would deliver healthy, shiny, and defined curls. Unfortunately, like many of us, she just couldn't find her holy grail.
After years of research in the hair care community, Orian quit her day job in high-tech and focused all her time and energy over the next two years into creating useful products.
What are useful products you may ask?
This means after countless formula tests on naturally textured haired men and women (and of course approval from the Ministry of Health), Orian created a product line that is designed to leave your hair (wavy, curly, or coily) defined, moisturized, healthy and full of life.
Because of this determined and healthy haired boss, we are now all able to enjoy beautiful, simple, frizz-free hair routines!
Now, without further ado, let's jump into my full, honest, thorough, and most importantly science-based review on this four product line.
Curl On Curl Defining Leave-In Conditioner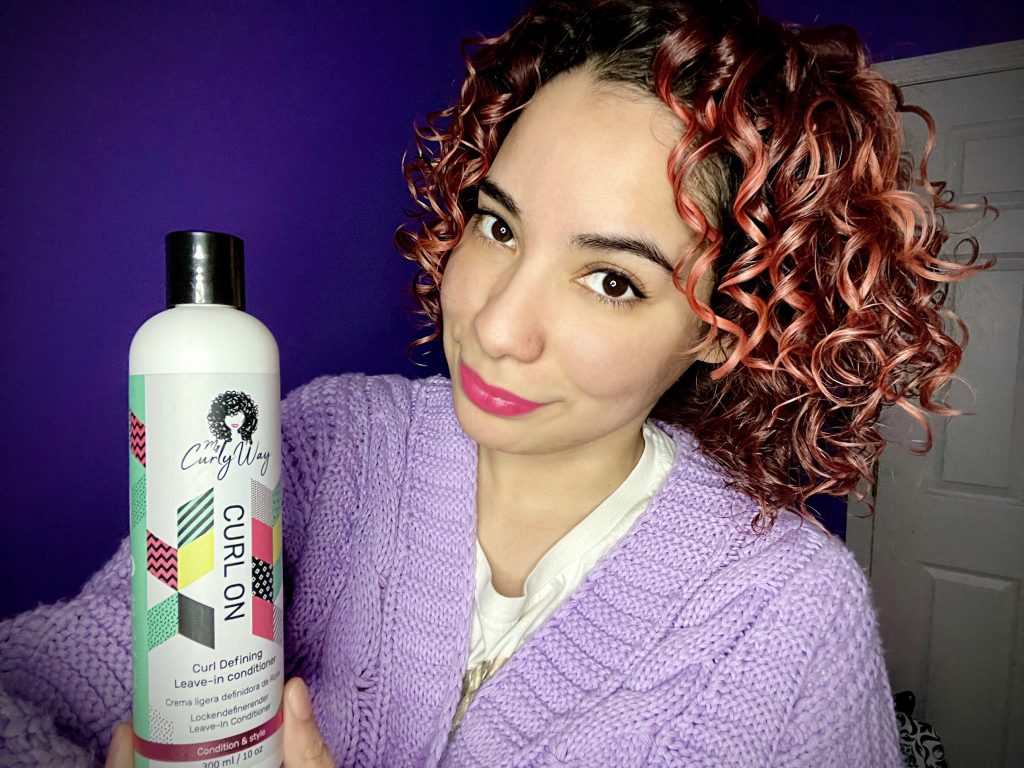 The breakout star (in my humble opinion) of this incredible product line is the first product ever created in this line!

The Curl On Curl Defining Leave-In conditioner is packed with all-natural ingredients like Vitamin B5 and Jojoba Oil which work to not only moisturize but repair and protect your hair. This over time will lead to healthier, stronger, smoother hair.
I always describe the leave-in conditioner as a primer. The same way you have a primer for your skin to prepare it for makeup, a leave-in conditioner prepares the hair for frizz-free definition from your other stylers.
The thick moisturizing consistency of the product is perfect for all hair types. For those with fine/thin hair like mine, less is more. Start with pea-sized amounts per section to help build a proper (not weighed down or greasy) foundation of moisture and frizz free definition. If you have thick, coarse, or long hair, you can adjust how much product you need, start with a nickel-sized amount to find how much product works for you.
Beside the lovely light floral scent, I love this leave-in conditioner because of how soft and defined this product leaves my hair with each and every use. That is because it is enriched with natural ingredients, flower, and plant extracts that leave the hair soft and shiny.
Since the deep conditioner provides so much moisture you really don't need to be heavy handed with this product. When you apply the leave-in to soaking wet hair there is a lot of slip, it immediately transforms hair into beautiful frizz-free clumps. The extra slip allows for effortless styling especially when it comes to finger coils or twist outs. This product will define, soften, and protect the hair.
As a day 2+ refresher it is amazing, such long lasting moisture. Thanks to refreshing my Q-Redew Hair Steamer daily, these moisturized and defined curls lasted to day 4. I'm pretty sure I could have gotten to day 6-7 with refreshing.
First Five Ingredients:
Aqua

– see above description

Stearyl Alcohol

– According to

TightlyCurly.com

, "Functions as a lubricant, thickener, and emollient. This is a "Backbone" ingredient, which means it usually makes up the bulk of the product and acts as a carrier for the other ingredients. It's less greasy than plant or mineral oils, so it conditions with a velvety feel, without making hair greasy. Also used to keep products from separating Similar to Cetyl alcohol. It's often blended with Cetyl alcohol, and then it's known as Cetearyl alcohol."

Panthenol (Provitamin B5)

– provitamin, derivative of vitamin B5. According to

CurlyNikki.com

, "Panthenol is not only a humectant, but is also a useful moisturizer and emollient. It spreads evenly on the surface of hair strands, forming a smooth film on the surface of the cuticle. This film gives enhanced coherence to the reflection of light from the surface of the hair, which imparts significant gloss and shine. The smooth film also provides excellent slip between adjacent strands of hair and detangling properties. Panthenol is capable of penetrating the cuticle and entering the hair shaft as well, where it aids in moisture retention and provides volume.

Simmondsia Chinensis Seed Oil (Jojoba Seed Oil)

– jojoba oil is the only oil similar to Sebum. Therefore it is able to penetrate into the scalp, keeping the scalp moisturized and preventing dandruff. When applied to the hair, jojoba oil sits on top of the strand acting as another barrier of protection, sealing in moisture. Jojoba is rich in vitamins and minerals that nourish hair, including vitamin C, B vitamins, vitamin E, copper, and zinc. Because it strengthens hair, it is also thought that jojoba oil can prevent hair loss and promote hair thickness.

Behentrimonium Chloride

– see above description
CurlStrong Strong Hold Gel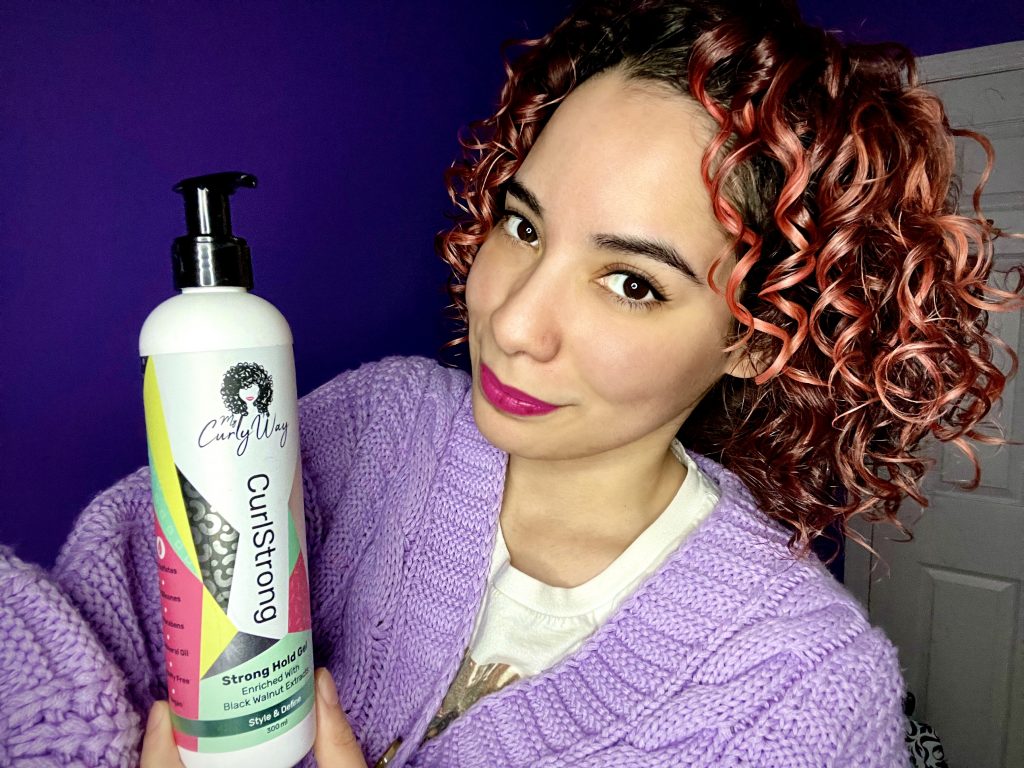 I don't know about you, but I can never resist an all-natural strong hold gel!
The CurlStrong Strong Hold Gel is enriched with black walnut extracts which is known to boost shine and promotes hair growth. This gel allows you to sculpt and style well-defined long-lasting curls, creating the ultimate shield for your curl pattern, even in humid weather. It enables you to enjoy frizz-less curls with minimal effort.
The formula is thin/runny, clear, and has lots of slip. Because of the runny consistency, the gel effortlessly glazes over the leave-in conditioner, locking in the moisture and keeping frizz at bay. This gel softens, defines, and protects naturally textured hair.
This product is definitely a strong hold gel. My defined /moisturized curls lasted 4 days and could have gone longer. This was during the beginning of February when the air was dry, cold, and unforgiving. For this much moisture to last in that kind of environment, I know this is definitely something that will come in handy during the humid summer months.
It is great as a single refresher for days 2+. Since the leave-in conditioner provides so much moisture, this gel is perfect to refresh, add extra hold, or re-style certain parts of your hair on refresh days.
First Five Ingredients:
Aqua

– see description above

VP/DMAPA Acrylates Copolymer

– Film-forming and fixative (holds hair in place). According to

Curlsandbeautydiary.com

, "is one of the best film-formers. But it absorbs water readily, thus making it tricky in humid weather. PVA (Polyvinyl Acetate) resists absorption of water but not as great as PVP in film-forming. PVP/VA copolymer or just VP/VA copolymer is a hybrid of the above 2 – Best of both worlds."

PVP

– According to Tightlycurly.com, "Used as a fixative, to hold hair together, to keep a product from separating. PVP has the consistency of egg whites and is best used in gels, mousses, and hairsprays (because their purpose is to keep your hair in place."

Hydroxypropyl Methylcellulose

– According to

TightlyCurly.com

, often used as a thickening agent, keeps product from separating into its oil and water components.

Panthenol (Provitamin B5)

– read description above
Curly Spa Cucumber Deep Conditioner For Fresh Curls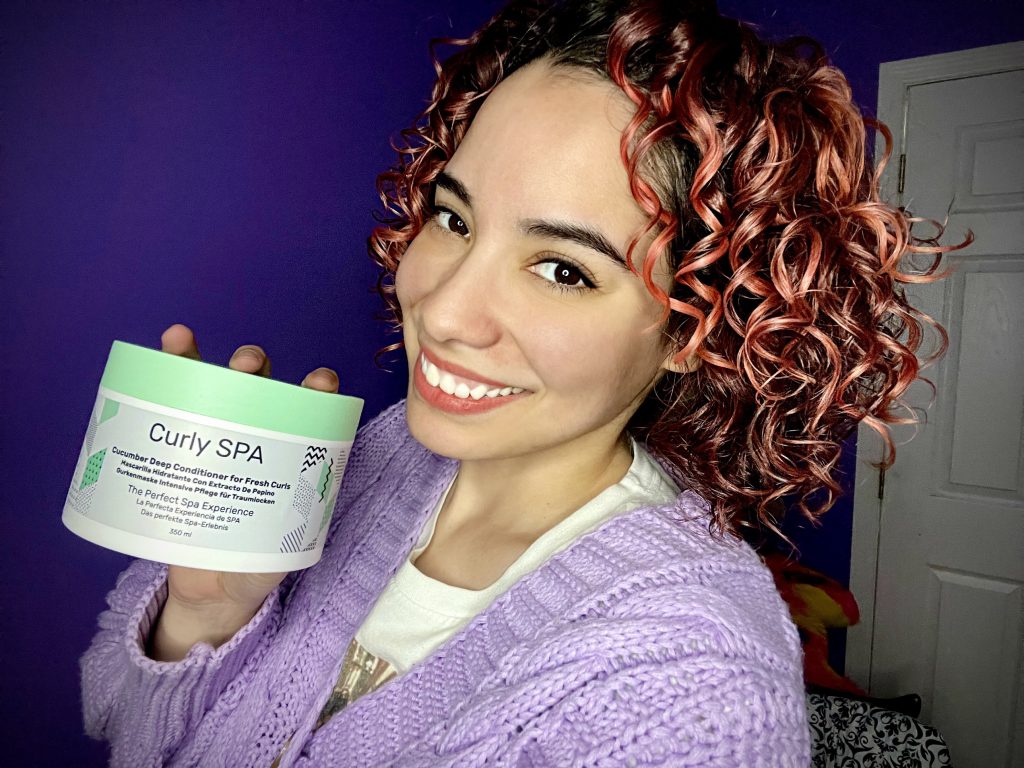 This moisturizing deep conditioner is marketed as your weekly spa treatments and I couldn't agree more! With each use, this deep conditioner delivers fresh, healthy, and shiny curls. Enriched with cucumber extract and vitamins for the perfect spa experiment.
Thanks to cucumber being the second ingredient, this formula has a luxuriously light and clean scent.
When you scoop some of the Curly Spa Cucumber Deep Conditioner out of the bottle, you will see its a very thick white moisturizing formula. The texture of the formula reminded me a lot of coconut oil, just thicker. As you can imagine lots of slip when applied to soaking wet hair. Tried it on extremely dry and tangled hair. Within 30-45 seconds of the product being applied to the hair, the hair slowly started to soften and untangle. I did use a detangling brush to help distribute the product from root to tip.
Whenever you deep condition your hair, always focus the products on the ends of your hair first. This is because the ends of your hair are the furthest away from the scalp's moisture and therefore the driest and most susceptible to split ends and breakage.
I like to leave my deep conditioners in for 30 minutes. The label does specify time limits based on the health of your hair, which I find to be super helpful.
If you have damaged hair, leave the product on for 25-30 minutes max.
If you are in a rush or just using it to detangle your hair, leave the product in for 5-10 minutes. I personally always recommend letting your deep conditioning products sit for at least 15 mins.
That is how long it takes the product to fully penetrate the strands, and after 30 minutes (scientifically), the hair gets all the moisture it needs and the product is no longer going to add any more benefit. Leaving your deep conditioners on overnight can lead to a weak Cuticle (outermost) layer, leading to over moisturizing your hair. Also known as Hygral Fatigue. You can learn more about the science of deep conditioning by clicking here.
For the first five minutes this deep conditioner sat in my hair, I used my Q-Redew Hair Steamer to allow the formula to penetrate more quickly and effectively enhancing the benefits of the deep conditioner.
I then put on a plastic cap and microwavable cap from Thermal Hair Care for the remaining 25 minutes. Once I rinsed the conditioner out of my hair, I immediately noticed how silky smooth and weightlessly moisturized my hair strands felt. Definitely replenishes any moisture lost from the shampoo.
The second time I tried this deep conditioner, my hair was still a bit dry but better detangled. This time I was able to focus the product application on my strands. First ensuring I cover the ends of my hair, and slowly moving my way up the hair shaft to ensure the strands are properly coated.
Since this product is so thick, less is definitely more. Instead of using my Q-redew Hair Steamer, this time, I used my Thermal Hair Care Hot Head for the entire 30 minute session to allow the product to really penetrate the hair strands, moisturizing them and thus softening and protecting them.
If you have damaged, parched, or high porosity hair, this deep conditioner is definitely one to keep on hand during those brutal winter and summer months. This deep conditioner moisturizes hair at its deepest levels improving its health and increasing shine and softness.
Upon application, the sections of my hair covered in the deep conditioner, quickly clumped together revealing beautiful moisture absorption. The sections not yet covered were dry and stringy compared to the beautiful clumps forming from the all-natural and moisturizing ingredients.
Adding some kind of indirect heat is an especially useful tip for those with low porosity hair. Since this is a moisture based deep conditioner, adding heat allows the scales on the cuticle layer to finally lift and allow new moisture into the hair. You can learn more about porosity and tips by clicking here.
First Five Ingredients:
Aqua

– see description above

Cucumis Sativus Fruit Extract

– According to

YesHairNow.com

, it is a plant antioxidant with hair and skin soothing and moisture binding properties

Cetyl Alcohol

– Good fatty alcohol. According to NaturallyCurly.com, this ingredient can help to condition our hair and make it soft and manageable."

Behentrimonium Chloride

– According to

NaturallyCurly.com

, "behentrimonium chloride is a cleaning/conditioning agent that will detangle, fight static, and soften strands. This plant-based surfactant deposits on the hair to provide potent conditioning effects with its waxy texture, which makes it ideal for defrizzing and emulsifying."

Cetrimonium Chloride

– According to

NaturallyCurly.com

, "This cationic compound and conditioning agent is mainly used to prevent static and buildup in hair. It cleanses and eliminates odor by preventing the growth of microorganisms and enabling water to mix with dirt and rinse away. If found in conditioner, then you probably have a great co-wash. It can also be found in hair dye, shampoos, conditioners, styling gels, mousse, and detanglers."
Clearly Curly Gentle Curly Hair Shampoo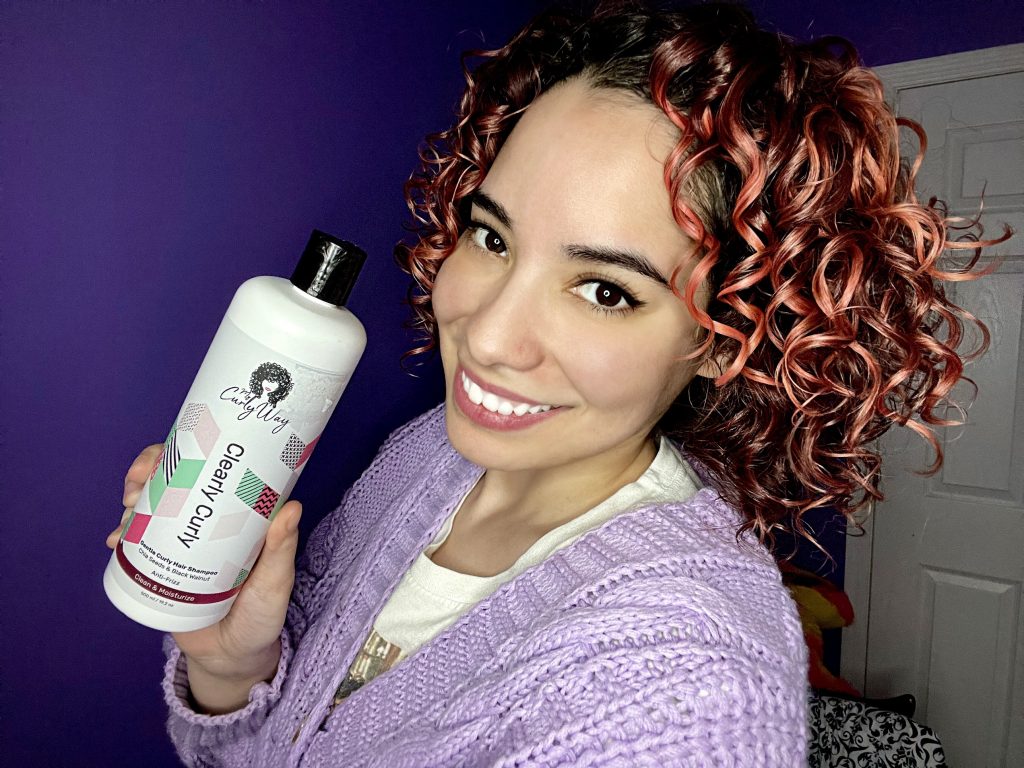 One of the reasons I use a product a handful of times before reviewing it is because of little misunderstood gems like this shampoo.
The first time I tried the Clearly Curly Gentle Curly Hair Shampoo I applied the shampoo to my wet hair to mixed first impressions. I did start this wash day with extremely dry, brittle, and tangled hair. My scalp was incredibly dry and itchy, it was in need of a gentle moisturizing shampoo.
Upon my first application, I realized how truly thick the formula was. I began massaging the product into my roots when I noticed it wasn't foaming up much. I thought, okay, maybe this is a no-poo (a cleanser that does not produce foam – learn more about shampoos by clicking here). I applied more product and saw more foam quickly realizing it was in fact a low-poo (a cleanser that produces foam). I did have a lot of trouble trying to detangle my hair the first time with this product. My hair felt so dry and tangled I thought, well maybe this product just isn't for my hair type.
It wasn't until my second use I realized where I made my mistake, I needed to apply more water, not product. Again, I approached this washday with just dry hair. My second wash was four days after my initial washday. So, my hair was a bit more moisturized because the leave-in conditioner and gel are so moisturizing. The softness and moisture lasted. I had much more curl definition still intact, thanks to the hard hold gel and using steam to refresh.
When I applied the shampoo the second time, I applied the same amount of product (about a quarter sized amount) and began to work the product into my roots. This time when I applied more water while I massaged the product in and this produced a lot more foam. When the foam spread, this time, I was able to run the product down my hair and detangle my strands. With the product still in my hair, my scalp and hair strands felt clean but moisturized.
Upon rinsing out the cleanser, the strands do feel a little dry, but it is the perfect canvas to test the moisturizing power of the deep conditioner.
First Five Ingredients: