Well Hello There My Beautiful #RedCarpetCurlsRoyalty,
So you are looking for information on how to care for Low Porosity Hair, well, let me just tell you, you've come to the right web page!
Low Porosity Hair is often looked at as nearly impossible to moisturize and manage. But, I am here to tell you that is a huge lie!
With these tips, you'll go out there and show the world why it's so important to know the science behind your haircare routine. If you're serious about results, by the end of this article you will be a pro!
Let's get into the basics…
If you have seen my Porosity Series on my Youtube channel or my blog post on 7 Tips For High Porosity Hair, then you already know when discussing porosity we have to discuss the structure of the hair strand. Otherwise, how can you understand which challenges your hair faces and how to remedy them?
Low Porosity is characterized by the Cuticle layer's behavior. Our hair strands are comprised of layers, when it comes to porosity, we are more concerned with the outermost layer, known as the Cuticle. This layer contains overlapping scales that look a lot like shingles on a roof. Ideally, these scales are supposed to lift and lower on their own. The scales lift to allow moisture in and lower to seal in that moisture. 
The challenge Low Porosity Hair faces is the fact that the scales on the cuticle are a bit stubborn when it comes to lifting to allow new moisture into the hair strand. 
Many times low porosity hair is a bit more challenging to moisturize for this reason. Washday may turn out great, but as the days continue, the scales on the cuticle will not lift allowing the now dehydrated hair to be moisturized with new moisture. Oftentimes, this leads to build-up occurring while the hair is still "sealed." 
It's not impossible to moisturize and maintain, you just need the right tips.
Follow these seven tips (and subscribe for more) and have the hair of your dreams sooner than you think, and certainly sooner than me! Hey, it took years to cultivate these tips and science! My ignorance is your blessing! Use it wisely…
Incorporate Steam Into Your Routine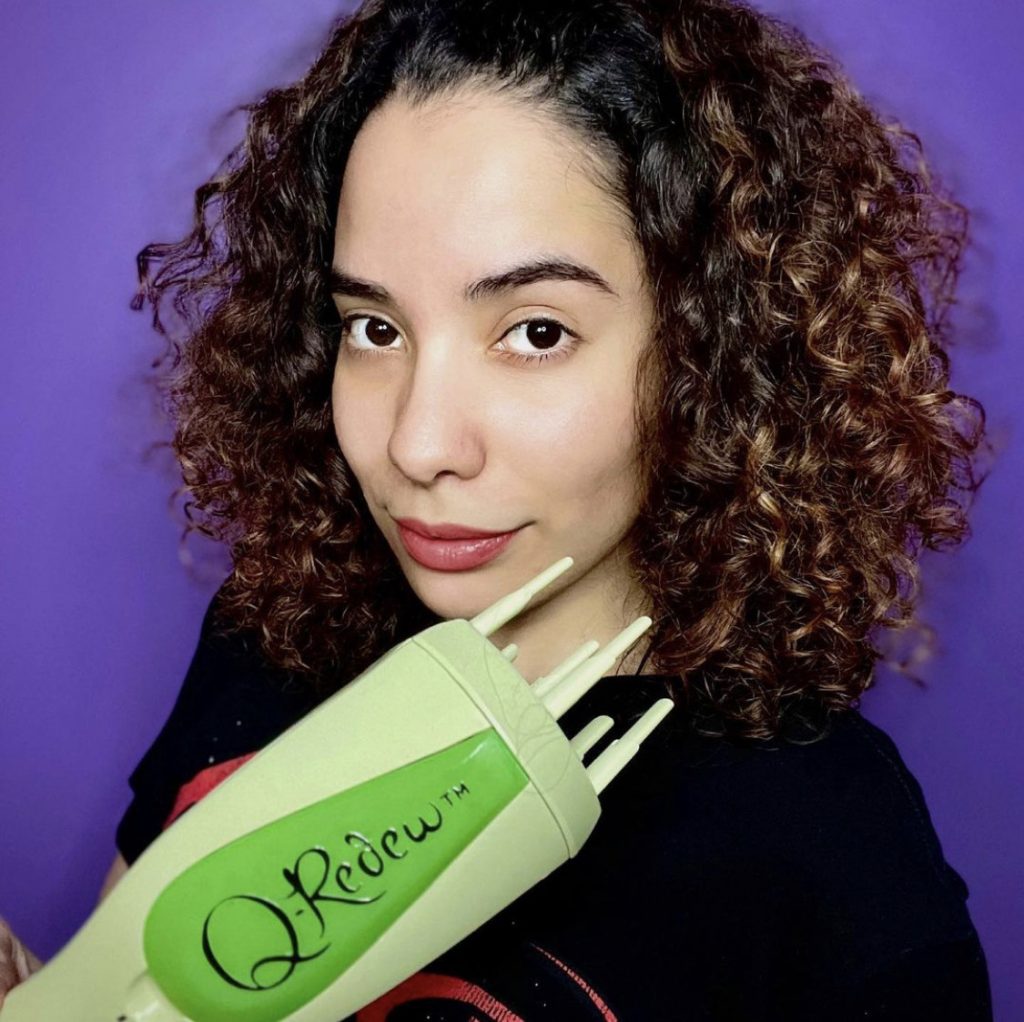 There is a reason I've placed this tip as number one, it's by far, in my humble opinion, the most important tip for Low Porosity Hair.
Low Porosity hair is not "impossible" to moisturize, it just needs a little extra help, and that's where safe heat comes into play.
Steam is water in warm vapor form, and when it comes to Low Porosity Hair, this is going to be the tool to prove once-and-for-all Low Porosity is not "harder to deal with" or "unmanageable." You just need to learn how to listen to your hair.
When it comes to breaking down the science of steam in regards to Low Porosity haircare, I can't put it any better than Beatrice Ntengeri from lovingkinkycurls.com, "Steam works well at hydrating low porosity hair because the moisture droplets are in a vapor state and have more energy than when in a liquid state. When compared to water at room temperature they move faster and more freely making it quicker and easier for moisture to penetrate your hair strand. Also, steam hydrates better than water in a normal liquid state because its surface tension is reduced to close to zero. Surface tension is the property of the surface of a liquid to resist external force due to the cohesive nature of the water molecules. Surface tension makes it harder for water molecules to penetrate your hair's cuticle. Surface tension together with water resistance in low porosity hair makes it even harder for hair to absorb moisture. With a low surface tension, the water molecules become free to make their way into the limited spaces your low porosity hair has and get it hydrated."
That is why I always recommend the Q-Redew Hair Steamer…to everyone really, but it's especially useful for Low Porosity Hair.
 Steam is essentially water in warm vapor form. The moist heat helps penetrate and deliver extra hydration to your hair while simultaneously softening and moisturizing the hair strands. The moist heat also helps "open"/lift the hair follicles, delivering more moisture. This will encourage faster and stronger hair growth. Not to mention, helps keep the scalp moisturized, keeping dandruff away. 
If you choose to start your washday with steam, it softens the hair and adds moisture helping release the tangles and prep your hair for the next step whether it be a pre-poo or straight into your shampoo. 
When you apply steam to any conditioning treatment you help the product work more effectively and more quickly. 
For example, if your hair has some damage, and you've been religiously using a protein-based deep conditioner, the heat is going to help that protein penetrate and repair your hair more quickly. If it is a moisture-based deep conditioner (perfect for those winter months) then the steam helps that moisture penetrate effectively and quickly.
You can check out how I deep condition with the Q-redew handheld hair steamer and deep conditioning masque below:
 

 

 

View this post on Instagram

 

 
When it comes to refreshing or restyling, Steam is one of the best tips for low porosity hair, using steam preps the hair to take any new product (like your leave-in conditioner, steaming your hair before you apply the leave-in or after you apply it allows the leave-in to work much more effectively)  you will add or simply re-active the products you used the day prior. 
Steam gives a nice boost of moisture, paired with a conditioner it makes for an easy and effortless refresh.
You can check out an example of my 10-minute refresh sessions using the Q-redew below: 
View this post on Instagram
The faster your hair repairs itself, the less maintenance it is going to be because it can now retain its moisture successfully. 
Until you have reached healthier hair goals, steam is an INVALUABLE tool to help assist your strands in the meantime! Once you have achieved your healthy hair goals, steam helps you ensure health and length retention.  Not to mention, the shine and bounce are always an amazing bonus. 
If you cannot fit the Q-redew into your budget right now (you can do a payment plan with afterpay!), then you cannot go wrong with the steam from your daily shower. 
I never recommend using a clothing steamer because it operates at higher temperatures than the Q-redew hair steamer – which is designed specifically for naturally textured hair.
Use Humectants 
Use products that contain humectants to help draw moisture from the environment into your hair. Remember to alternate products throughout the seasons as humectants can be troublesome in the winter if there is no moisture in the air. This will only allow the hair to frizz in an attempt to reach into the atmosphere looking for moisture. Humectants will help draw moisture from the environment and help keep them in hair for longer periods of time so you do not have to constantly rewash hair to moisturize it. If you want to learn more about humectants in-depth, please click here.
Clarify Hair
Since low porosity hair often has trouble letting the scales rise to let moisture in, co-washing might not be your best friend all the time.  Make sure to clarify at least once a month with a sulfate-free shampoo to give your hair a break from those products that weighed it down. Bentonite clay and acv fantastic clarifiers supplement your routine as well. They even help define curls! I would recommend using a low poo (a sulfate-free shampoo that suds up similar to the shampoos we used to use before the curly girl method) between co-washing and clarifying for gentle cleansing. Clarifying is like stripping everything out of the hair to start over and should be done at least once a month. Low poos provide gentle cleansing that can be done on a weekly basis.
Utilize Protein
Protein will help in the gaps in porous hair, while simultaneously, strengthening low porosity hair. This prevents hair loss from the exposure of excessive drying low porosity hair often encounters. Larger proteins will create a film around the hair which will trap moisture into the hair. Smaller proteins will also settle into hair trapping moisture. For those of you who are protein sensitive remember you still need some sort of protein once every 4-6 weeks. So smaller proteins like silk amino acids might be best. Experiment with different kinds of proteins. When looking for products in protein products here's a little tip that can save you so much aggravation. When looking at protein labels, if you see what we consider a "bigger" or more "heavy-duty" protein such as silk protein or collagen make sure they are at the end of the ingredients list. The bigger the protein, the more powerful, and since many low porosity ladies struggle with protein sensitivity, using a product with a big protein in the first few ingredients of the product label can prove to be disastrous. On the other end of the spectrum, if you find a product label with smaller proteins like amino acids or hydrolyzed proteins, make sure those are in the first couple of ingredients of the list. The first five ingredients in any product label make up roughly 80%  of the product. Amino acids are considered protein building blocks, they are essentially smaller pieces of protein that can penetrate the cortex( innermost layer ) of the hair. This will help low porosity hair that struggles with using the bigger proteins. Often the bigger proteins cannot penetrate the hair strand so the protein stays on top of the already tightly closed cuticle. If the protein doesn't penetrate it cannot help repair the hair from within. So, remember, when choosing a protein product:
Big proteins (click here for the protein article if you are unsure which is big or small) belong toward the end of the list because they will contain the least amount of it
Small Proteins (hydrolyzed proteins and amino acids) belong within the first few ingredients on the product label because they will contain most of them
The first five ingredients of any product label make up roughly 80% of that product
Sleep on satin or silk.
This is more a tip for all hair types, yet especially important for low porosity hair. Regular cotton pillowcases and bedsheets suck the moisture out of hair and can break your hair strands from friction when sleeping at night. Make sure to value that newfound moisture and protect it at all costs! Low porosity hair already has so much trouble retaining moisture make sure to preserve it with satin or silk accessories such as satin-lined caps/ bonnets, pillowcases, and scrunchies.
Pre-poo
Another universal tip (you have to love the versatility of natural options). Pre-poo, especially with steam, will help moisture penetrate into the strand to protect the scalp's natural oils from being washed away from the shampoo. Pre-poo will help regulate moisture retention levels and soften the hair for easier styling. It will help keep dandruff at bay during the rough summer and winter months, which in the long term will help with hair growth.
Use specific oils that would work best with your porosity.
Not all oils are going to give you the ideal intended result. Some oils can be counter-productive. Believe it or not, there is a difference between certain types of oil. There are moisturizing oils and sealing oils. So make sure to use the right ones! For deep conditioning treatments, scalp massages, hot oil treatments, etc., you want moisturizing oils. For scrunching out the gel cast you want sealing oils.