Welcome back to your haircare heaven my beautiful #RedCarpetCurlsRoyalty,
Everyone loves finding a new product or collection that their hair absolutely loves. Even more than that, everyone loves to share all they can about those "AMAZING/BOMB" products.
And I'm here to tell you…I am no different, haha!
Today, I want to share with you the newest collection from my favorite Ride or Die Brand, Inahsi Naturals! If you've been a long-time subscriber of mine (across all platforms, Facebook Group, Youtube Channel, Podcast, Instagram, Pinterest), then you know I absolutely adore Inahsi Naturals products and it's the number one suggestion I always make. I love that they create products catered toward naturally textured hair (all hair that has some texture – waves, curls, coils, etc), but specifically, these products are formulated using Trichology (the science of hair and scalp) to ensure no matter the texture, this brand has a product for you!
If you checked out my review on their Pamper My Curls Collection, then you already know that I suggest that brand to anyone that has fine density hair because the leave-in mist is so unbelievably light and the gel is hard-hold giving longer-lasting hold throughout your wash and go. Let me not forget the slip is unmatched when it comes to Inahsi Naturals Products.
If you haven't already, you can check out my Inahsi Naturals Pamper My Curls Collection Styling Tutorial on my Instagram Reels:
View this post on Instagram
Oh! Don't forget you can always save money purchasing Inahsi Naturals Products when you use the discount code:
REDCARPETCURLS
Define & Shine Mango Papaya Curl Defining Custard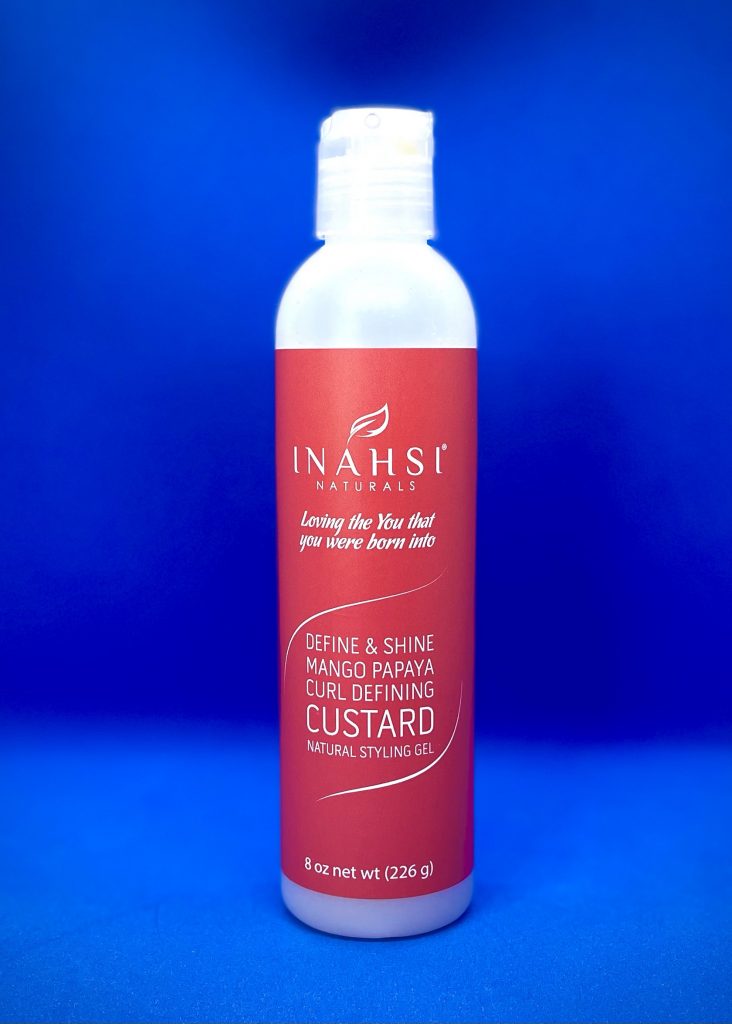 This Coconut oil-free styling custard will leave your curls moisturized, defined, and oh and the shine is out of this world. The panthenol along with the rich oils of avocado and sunflower seed oil help to strengthen and repair the hair.
The hydrolyzed oats will condition, moisturize, and deliver a beautiful shine to your curls. This gluten-free curl-defining custard provides a light to medium hold without leaving your curls flakey or a white residue.
This is honestly one of my favorite products to use during the wintertime, this custard just contains sooo much slip! The consistency is a bit on the thicker side, but when you start with pea-sized amounts to create a solid foundation of moisture on each section of the hair. In my opinion, it's a perfect middle ground between a heavier leave-in conditioner and a curl defining cream. I absolutely love using this as a primer for any hairstyle I'm doing
First Five Ingredient Breakdown:
Aqua (Purified Water)-

water should always be the first ingredient in your moisturizing product. Hair is like a plant so water hydrates the hair.
VP/VA Copolymer-

According to

Naturallycurly.com

, "Polymers are

often the source of "hold"

in styling products such as hair gels and hairsprays. These polymers

deposit onto the

surface of the hair and cause hairs to be attracted to one another through capillary forces.

The polymers then dry to form clear films that are strong and hold the hairs together until the film is either removed via washing or the film is broken due to mechanical forces on the hair (combing)."
Hydroxyethylcellulose-

often used as an emulsifier because it thickens the formula. According to

Anveya.com

, it's a

"

key ingredient in major hair gels and serums as Hydroxyethyl Cellulose gives a better hold to your hair making it soft and smooth, without making it greasy and flaky."
Hydrolyzed Oat Protein-

According to

Conditioning Agents of Hair and Skin

, "

Hydrolyzed oat protein can also provide substantivity, shine, split-end repair, and a protective barrier to hair."

(Neudahl)

. Hydrolyzed protein is the only type of protein that you should be using on the hair. It is broken down in size to be able to penetrate deeper layers of the hair, repairing the hair from the inside out. This is also why hydrolyzed protein is great for color retention.

Persea Gratissima (Avocado) Oil-

According to a journal article in the

International Journal of Trichology

, oils that contain saturated and monosaturated fats like avocado oil can penetrate more easily and deeply than other oils. If the oil can penetrate then it easily softens the strand.
Define & Shine Volumizing Styling Foam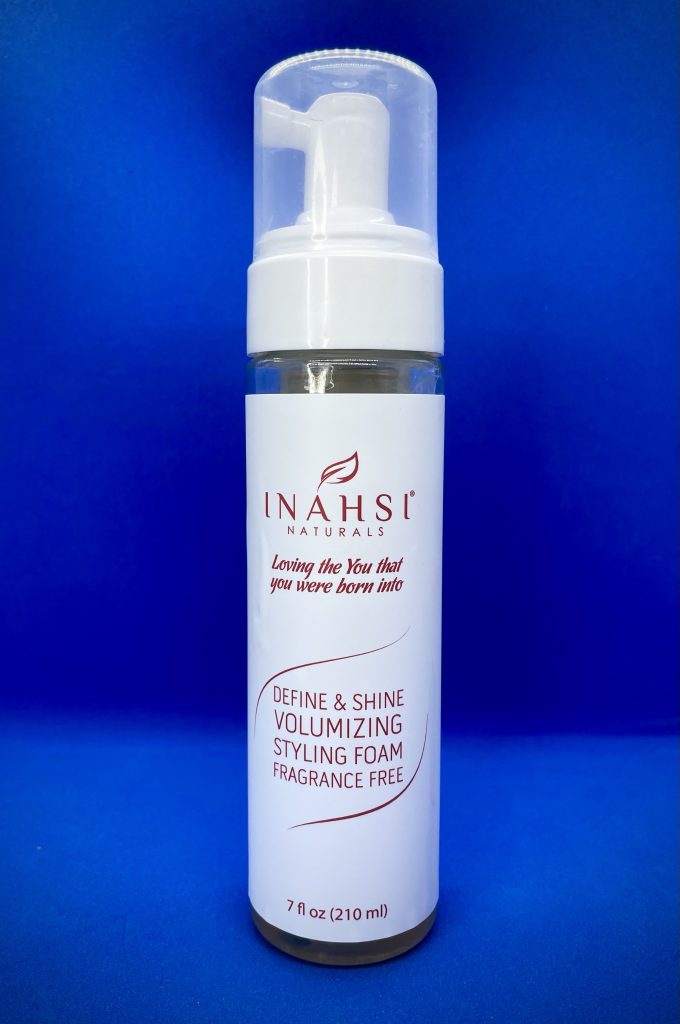 This fragrance-free frizz-fighting natural styling foam will leave your curls defined, voluminous, and oh so shiny.
The rice protein will help to repair the hair from wear and tear while restoring shine and plumping curls to give soft voluminous curls.
The baobab provides care from the damaging effects of heat, UV, and environmental exposure.
This styling foam provides a soft to medium hold without leaving your curls flakey or a white residue.
It also can be used to smooth fly-aways and help to instantly define and hold curls in place.
This foam has made me a believer of foam for fine density hair! I loveee the plump and bounce I see from my curls after using the foam.
It's especially useful for refresh days!
First Five Ingredient Breakdown:
VP/VA Copolymer –

See above description
Aloe Barbadensis (Aloe Vera) Extract

–

Aloe vera consists of over 90% water,

99-99.5% water to be exact

,

which is why it's an amazing moisturizing ingredient! It hydrates and moisturizes the hair & scalp.

A

loe vera contains 75 potentially active vitamins and nutrients which will repair hair, encourage hair growth, shine, and length retention.
Coco-Glucoside –

"Coco-glucoside is an ingredient used to help improve the cleansing abilities of a product. It is a mixture of fatty alcohol derived from coconut and glucose. Generally, coco-glucoside is derived from coconuts but can also be made synthetically. It acts as a great conditioner and emulsifier.
Caprylyl Glycol –

"A gentle, plant-based, non-toxic preservative that also has skin and hair conditioning and humectant properties."
Define & Shine Liquid Styling Gel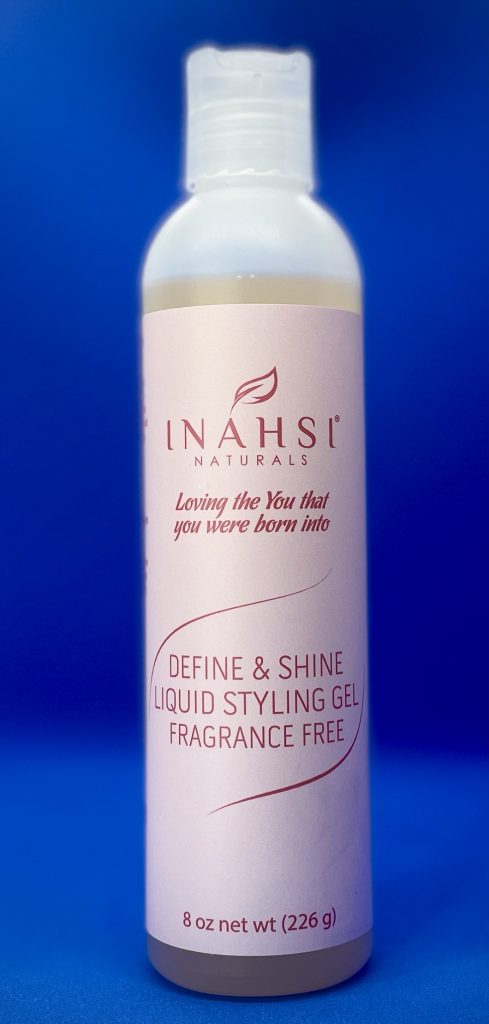 This lightweight fragrance-free liquid styling gel is just what your curls crave.
This liquid styling gel will define your curls while adding shine and bounce to each strand.
This frizz-fighting liquid styling gel is specially formulated with quinoa protein which will help to improve color retention, conditioning, and protection, while the rice protein will repair your curls while leaving them soft, voluminous, and bouncy.
This liquid styler provides a soft to medium hold without leaving your curls dry or crunchy.
I love using this gel especially during the humid summer days because it provides heat protection and frizz protection!
First Five Ingredient Breakdown:
Aqua (Water/Eau) –

See above description
Aloe Barbadensis (Aloe Vera) Extract –

See above description
Hydrolyzed Rice Protein –

According to

TheMestizaMuse.com

, "

Rice protein (molecular weight 1000 – 3000 daltons) enhances moisturization and tensile strength of hair. Interestingly, it raises hair volume when added to leave-on products. It is believed to be due to adsorption and strong film formation at the surface." Hydrolyzed protein like this one essentially helps repair the hair which increases the moisture retention levels as well as the overall strength of the hair making it more resistant to split-ends and breakage.
Hydrolyzed Quinoa –

Once again, According to

TheMestizaMuse.com

, "Quinoa is rich in protein. In fact, it contains the highest level of protein among all other grains. That's why it has been gaining popularity as a "master food". Recently, its hydrolyzed aqueous proteins have been added to hair care products. It offers smooth film formation along the hair shaft along with moisture retention and hair damage repair and control."

Hydroxyethylcellulose – see description above