Who and what is Hydratherma Naturals?
Hydratherma Naturals is an all-natural haircare company created and co-owned by Saleemah Cartwright, a licensed cosmetologist and registered nurse (BSN). Hydratherma Naturals creates products scientifically formulated with natural ingredients to provide hair with the perfect balance of moisture and protein — the key to healthy, thicker, and longer hair. This perfect balance of moisture and protein makes this brand the best choice for all hair types (wavy, curly, and coily). Through her brand, Saleemah, is committed to inspiring, educating and empowering consumers about achieving healthy hair. She is the co-founder of Healthy Hair Journey Enterprises L.L.C. and the Hydratherma Healthy Hair Product Collection.
"Help others reach their hair care goals is what inspires and motivates us the most."
-Saleemah Cartwright, co-founder of Healthy Hair Journey Enterprises LLC & creator of Hydratherma Naturals hair care collection.
Hydratherma Naturals Philosophy: "Our ultimate passion and motivation at healthy hair journey is to promote Healthy natural hair for women and men of all ethnicities and hair texture. Many people with kinky or curly hair textures typically do not know how to care for their hair correctly because they don't have the appropriate products, proper knowledge, and information on how to effectively achieve well-nourished and vibrant-looking hair. Our goal with the Hydratherma Naturals hair care collection is to provide superior products, effective systems, and accessible information to our community to end this struggle and realize their hair care goals."
SLS Moisture Plus Hair Cleanser
The curly girl method is all about finding what works for you. For me, Shampoo is a very important step in the healthy hair regime. Although we as curly girls love our co-wash, we cannot live on that alone. Conditioners deposit into hair, so every time you wash your hair with conditioner, it is moisturizing the hair but it is because it is depositing and binding those moisturizing ingredients into your hair little by little. Over time, without properly cleansing the hair and scalp with shampoo at least once a month, you will continue to weigh the hair down. This can result in frizzy undefined waves/curls/ coils.
This is why finding the right shampoo is so important to me. I normally shampoo once every week or every other week. Otherwise, I like to co-wash a few days out of the week. When I do grab a shampoo bottle, it HAS to be moisturizing. We use sulfate free shampoos to retain our hair's natural moisture. This shampoo is sulfate free and thank the lord because it is PACKED with moisture. This shampoo takes away the horrible dilemma of washday, "Should I co-wash for moisture, or clarify to keep balance?" Now you can have both!
The shampoo has a very thick consistency as you can see from the photo. Since the shampoo is so concentrated, it comes out of the bottle like a thick heavy conditioner. Once applied to the scalp and hair it quickly foams up. Normally suds dry out curly hair but this shampoo contains 11 botanical extracts for gentle and complete cleansing of the hair and scalp. As the suds took over, I could feel my hair turn into silk right underneath my fingertips. The product easily made its way down my hair. Paired with a scalp brush it gave me an awesome clean scalp feeling without stripping my scalp and hair of its natural oils. Once completely rinsed out my hair continued to clump as if I just rinsed out a deep conditioner.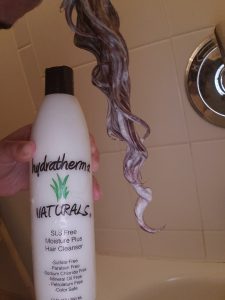 This shampoo keeps the hair soft, flexible and shiny while restoring elasticity. After each application, your hair will be full of body, soft and very easy to manage. Even better they sell 12-ounce bottles! Gotta love a company that knows we need more product for our buck!
This was an intriguing product to me since I am not one to use sprays during the winter. I normally use heavier products like jellies, custards, and butter to keep my hair sealed for long periods of time. Yet, one thing I am constantly battling in the cold winter months is the flakes and dandruff from dry scalp.
Winter months are the worst for our hair because there is no humidity (moisture) in the air. When we expose our hair to dry cold winds, all it does is dry out the hair and scalp. When the scalp is dry it tightens up and flakes resulting in those annoying embarrassing itchy moments. When our scalp is dry and flaking it means it isn't completely healthy. To have healthy beautiful hair you need to have a moisturized and healthy scalp. In order for our hair to grow healthy and long, we need to make sure our scalp is being moisturized and given the nutrients it needs to stimulate the follicles for not only hair growth but hair retention as well.
This follicle mist promises to deliver a unique blend of essential vitamins, nutrients, herbal extracts and proteins directly to your scalp. When using this mist it's best to incorporate scalp massages for best results. This product nourishes, stimulates, revitalizes and rejuvenates the scalp. With regular use, you will notice thicker and fuller hair. Leaves the hair soft and does not weigh the hair down.
When I first used the mist, I was afraid it would leave my roots feeling oily. It's ironic I have spent so much of my time telling people never apply any products to the root, so of course, you can see where my massive paranoia came from. The bottle states to use on wet hair, after you shampoo and deep condition. After rewetting my hair (since I didn't want to wash my hair that day, I had washed a few days before), I focused the mist on the parts of my scalp that were beginning to flake. When first applied and massaged, the formula gave me a very subtle but slightly noticeable little tingle. I did notice a certain relief that came from my scalp when the formula absorbed. The flakes stopped, and my scalp felt looser, it was definitely hydrated.  Once dried, my hair did not feel weighed down at all.
Protein Balance Leave-in Conditioner
This protein-based leave in conditioner is very light. This is probably the one product in the line where I used more than my normal dime-sized amounts. When you squirt the leave-in onto the palm of your hand, you will notice a very thin runny school glue consistency. Although light, the product itself provides great slip. It was very easy to rake into my hair.  It doesn't carry any notable scent. I did notice how much more manageable my hair seemed to become the more product I raked in. It has been a few weeks since I had done a gentle protein treatment, so the protein in this leave-in helped strengthen my hair, restoring my curls elasticity. My hair basically drank it up quicker than a whey protein drink at a bodybuilder competition. The formula provided my hair with a nice mixture of moisture and protein. I was sure to focus the protein leave-in mostly toward the ends of my hair. I did this because the ends of our hair are the weakest part of the hair. It's the furthest away from the scalp and the sebum produced there. By focusing the leave in on the ends, I gave my ends a nice dose of moisture and protein to strengthen, hydrate, and increase elasticity. This will prevent my ends from drying out and breaking off, during these harsh New York winter months.
I will admit when I first took this little bottle out of the shipment box, I had my doubts about how effective it would be. I am very hard to please when it comes to gels. Often many well-known gels like Deva curl and Ouidad just do not work for me. They just do not provide the right balance of hold and moisture. Well, God works in mysterious ways, doesn't he? Because he answered my prayers with this botanical defining gel. This medium- hold gel has a very thick consistency, so less is more when it comes to application. The bottle does say just continue to add more gel if you want stronger hold but I wouldn't recommend going overboard. A few nickel-sized amounts were fine for my fine 3a/3b high porosity curls.
When I applied the gel to my hair, I made sure to rub my palms together first to evenly distribute the gel in my hands. As I began to rake in the gel, I noticed it actually conditioned my hair a bit more as it evenly spread. My hair clumped quickly and my curls formed with a lot more definition than I expected. Once I scrunched out the gel cast, I was left with beautifully defined curls. Didn't even have to refresh till about day four.
*Product Contains Itchy M's (Methylisothiazolinone, Methylchloroisothiazolinone) – a preservative that may irritate sensitive scalps
Daily Moisturizing Growth Lotion with Emu Oil
This lightweight moisturizer is made with an exclusive blend of natural ingredients such as shea butter, coconut oil, sweet almond butter, olive oil, peanut oil, macadamia nut oil, emu oil, and vegetable glycerin. This product is meant to penetrate each hair strand immediately and prevent breakage. Seals in moisture. Makes hair soft, supple and easy to manage. Like the botanical defining gel, a little goes a long way with this lotion, so use sparingly. The scent is very subtle but you definitely smell the nut oils used. It is not in the least bit overpowering. When I applied the lotion to my hair, I did notice it seemed to suck up all the water in my hair. To continue gliding the lotion through my hair I had to keep a spray bottle handy. The more water I sprayed the better the product made my hair clump. While it is a light consistency it is a little heavier than the protein leave in. Overall the slip improves with the more water you use and definitely delivers when it comes to making hair soft and manageable. The day I first used this lotion I went ice skating. It was already freezing here on long island but the ice rink definitely didn't help the moisture levels of my hair. I did notice when I got home that my hair still had a lot of the moisture locked in from styling. I didn't have to co-wash the next day either! My hair stayed soft, very minimal frizz, and defined no matter how brutally cold and dry the winter winds were that week.
Aloe Curl Enhancing Twisting Cream
Normally I do not use twisting creams since they are mostly used in the process of protective styles such as braiding or twisting. Yet, this cream caught my attention because it contains one of my favorite ingredients, aloe vera. I have high porosity hair, so often, it is dry. Aloe vera is a natural moisturizer and sealant. Meaning it will moisturize your hair and naturally seal the scales on the outer layer of your hair strands to keep that moisture locked in for longer periods of time.
This cream is a perfect option for those that do not like gel. The multi-purpose cream provides great slip while providing hold to sculpt those beautiful waves/curls/coils. The cream is a bit heavy consistency wise so less is more with this particular product. This is the one product that has a scent and my god is it lovely. It carries a lovely citrus scent from the grapefruit extract. The product glided through my hair so nicely, it helped detangle my hair at the same time. I was planning on finger coiling that day, but the aloe immediately gave life to curls once more. I ended up just raking and scrunching. The result, once dry, were soft, defined, and moisturized curls.
*Contains Isopropyl Alcohol (drying alcohol) – if you notice your hair drying out while using this cream you can use the follicle spray or deep condition twice a week.
This thick oil blend has a very slight sweet smell to it. It's no surprise that it has a thicker consistency since the second ingredient listed on the label is castor oil, I think that's what got me most excited about trying it. Since I have such fine hair, using castor oil is normally impossible unless I hide it in a treatment that will be washed out. Since the blend is heavy, less is definitely more. I never use more than 3-4 drops of the oil when doing my nightly scalp massages. You can very easily use too much so experiment with one 1-2 drops on your fingertips to start with. I have also used this oil to scrunch out my gel cast. This is definitely something to only use 1-2 drops for. Overall, the oil is moisturizing, and if used correctly not too heavy. I was surprised to see an oil with Emu oil, it's such a rare occurrence! Emu oil is rich in essential fatty acids, which are known to penetrate deep into the skin and help nourish the follicles to promote hair growth.