My Beautiful #RedCarpetCurlsRoyalty,
One of the most essential tips I can give you in terms of repairing or improving overall hair health is enhancing your deep conditioning sessions (or other treatments) with some form of safe, indirect heat. 
It's a tip I wish I knew from my very first deep conditioning session, trust me, it would have saved me a lot of time, energy, and money. 
By now, if you have subscribed to my website, or read more than one article, you will understand how CRUCIAL your deep conditioning sessions are to the health of naturally textured hair. 
As discussed in my Science of Deep Conditioners article, when it comes to conditioners, there are two main layers of the hair strand we focus on; the outermost layer of the hair strand known as the Cuticle, and the innermost layer of the strand known as the Cortex. Most rinse-out conditioners focus on the Cuticle layer, that is because this layer contains overlapping scales (resembling roof shingles) that need to be properly moisturized. When all of these scales are properly sealed down, the hair strand can retain more moisture and produce more shine and bounce. 
Deep conditioners, on the other hand, focus on penetrating even deeper into the hair strand, all the way to the Cortex. Why? Because 90% of the overall strength and structure are all handled from this layer. Deep conditioners penetrate to this layer allowing the ingredients, whether it be moisture or protein to penetrate deeper, strengthening, repairing, and moisturizing the hair from the inside out. 
Unfortunately, healthy hair is not as easy as just applying a deep conditioner once a week. If your hair has a lot of build-up from products or just needs to be clarified,  the deep conditioner will not be able to penetrate as deeply or work as effectively as it can. This is also the case with low porosity hair. Low porosity hair also struggles with getting the moisture it needs. Essentially low porosity means the scales on the cuticle of the hair are closed so tightly they will not allow any moisture (water, products, treatments, etc) to penetrate the hair.
On the other side of the spectrum, there is High Porosity hair, which also has its challenges when it comes to deep conditioning. High Porosity hair essentially means the Cuticle layer has damage (holes/gaps) that allow moisture to leak out of the strands, leaving it dry, dull, and frizzy. Deep conditioners formulated with Hydrolyzed Protein help repair this damage over time, but adding indirect heat expedites this process revealing healthier hair sooner! 
That is why adding heat to your deep conditioning sessions will help you get the absolute most out of every treatment (regardless of your porosity) to give you the beautifully shiny, bouncy, and healthy hair you deserve. There are many different ways to add heat to your deep conditioners. But in my opinion, the Thermal Haircare Hot Head is the easiest way to enhance your deep conditioners and boost healthy hair growth.
What is the Thermal Haircare Hot Head?
The Thermal Haircare Hot Head is a unique microwavable deep conditioning cap developed by a professional hairstylist. It offers an easy and stylish way to achieve the results of a salon-quality conditioning treatment from the comfort of your home.
In my case, the Thermal Haircare Hot Head allows me to deep condition,pre-poo, and do other treatments like Rice Water from the comfort of my own queen-sized bed while I watch Scrubs on Hulu.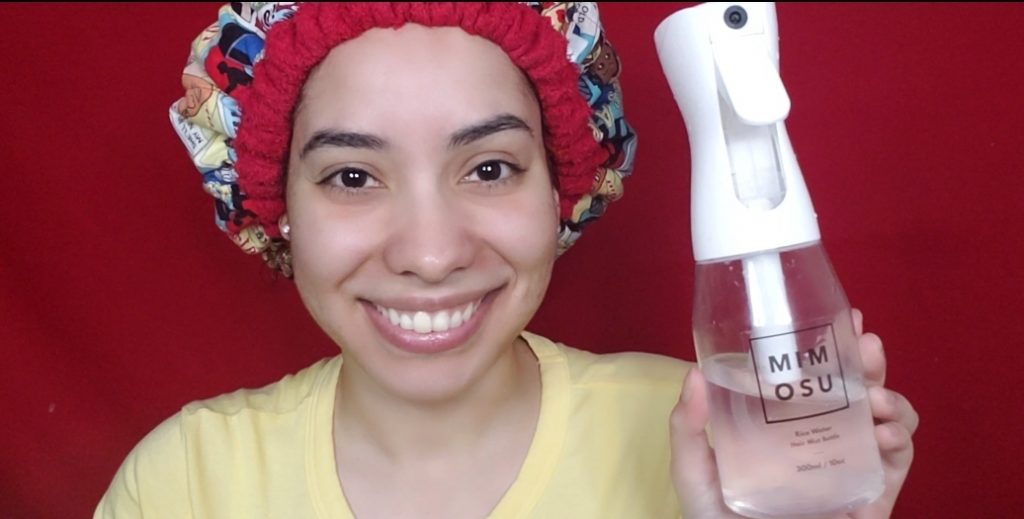 I also love enhancing my Olaplex #3 Treatments using my microwavable cap! You can check out my Instagram Reel below to see how I do that:
 

 

 

View this post on Instagram

 

 
The flaxseed pouches in the cap allow the cap to retain heat after being microwaved, perfect for 20-45 minutes of intensive treatment. The best thing about it is the fact that there are no cords, so unlike the salon visits, you don't have to sit in one spot for all that time. I personally like to binge on my shows, do dishes, clean up my shower after washday tutorial filmings, etc. 
The Hot Head is available in multiple prints, so embrace your creativity and style! The cap is also reversible offering yet another option so you can deep condition with style fitting your mood!
Does the Hot Head Come in Children's Sizes As Well?
Yes! The Thermal Haircare Hot Head comes in a variety of patterns in children's sizes. To look through those styles please click here.
Why Do I Need A Thermal Haircare Hot Head?
Every single hair type needs to deep condition. 
It doesn't matter if it's straight hair or naturally-textured hair. Naturally-textured hair needs deep conditioning far more than straight hair because the hair's needs are different. Naturally-textured hair is far drier than straight hair because the texture of our curl pattern slows down the movement of sebum from your scalp. The Sebum ( natural oils your scalp produces) is produced to moisturize your scalp and hair. 
Unfortunately, our pattern/texture slows the oil that slides down the hair strands and takes so much longer to moisturize your hair. Often, what happens is your hair, while waiting for moisture, gets so dry and brittle it produces split ends and breakage.
Deep conditioners supply the moisture our natural sebum cannot provide us in time. Therefore supplementing the moisture to our very parched strands. 
Deep conditioners can sit on the surface of the hair strands, similar to water, instead of penetrating effectively. The heat produced by the Hot Head assists by slowly heating up the deep conditioner applied to your hair. By heating up the conditioner, the hair follicles and scales on the cuticle of your hair gently lift allowing the moisture of the conditioner to work better than it would have without heat.
The Hot Head works great to enhance all store-bought conditioners, as well as DIY masks, hot oil treatments, pre-poo, etc. Basically, it's great to enhance any treatment for your hair. I particularly love heating up deep conditioners that I mix have added protein drops into, to help it work more quickly and effectively.
How Does the Thermal Haircare Hot Head Work?
The Hot Head is a reusable cap filled with sustainable flaxseeds, making it the most environmentally friendly way to deep condition your hair with heat at home. Since it's microwavable, there is no need to worry about plugging it into outlets or using batteries to generate the heat. Simply stick the cap into your microwave for three separate forty-five-second intervals. Please make sure to carefully follow heating instructions so you do not overheat the cap and damage it.
To learn more about how to properly heat the cap, please check out my YouTube Tutorial by clicking here.
Queen Monroe's Review of the Comic Hot Head
I absolutely adored my Comic style Hot Head. I loved the pop art print all over the cap, and it was perfectly paired with a red terry cloth material on the inside. This cap is reversible, so I can use either the comic side or the vibrant red, perfect for the Queen of Red Carpet Curls.
I adored how easy it was to heat it up and put it to good use. This helps ensure beautifully soft and hydrated curls for me. While I deep condition or do any other treatment, I can continue to shower, shave my legs, or even just lay in bed and catch up on my old sitcoms.
There are absolutely no cords or batteries to worry about making it perfect for travel.
Thermal Haircare has a 100% money-back guarantee of up to 30 days. So, it's great to know if you encounter a problem you did not waste your $29.95. Although I cannot see why you wouldn't love this amazing treatment cap.
It's worked perfectly for my hot oil treatments and pre-poos to ensure each treatment works to its fullest potential ensuring I come out with silky soft, shiny, healthy curls each and every time.
The treatment cap produces enough heat for 20-45 minute treatments. Although, you should not deep condition for more than 30 minutes because scientifically after 30 minutes your hair gets all the moisture it needs.
Please remember you do still need plastic shower caps under this terrycloth flaxseed-filled cap.
What About You?
Have you tried the Thermal Haircare Hot Head? Do you love it? Let me know in the comments below! And of course, if you have any questions don't hesitate to ask them below or in the comments section of the youtube video!