My Beautiful #RedCarpetCurlsRoyalty,
The longer we all continue our Curly Girl Method Journey, the more complicated it gets…or so we feel.
Listen, I get it, navigating that Target and Walmart battlefields can get real. It's overwhelming, the hundreds of products, the kids running around not letting you focus, the complicated words on the ingredient labels. It's very easy to end up with products full of silicones and other crappy ingredients.
Sometimes we steer off course because we forget the basics. So, today's article is all about getting back down to the basics. The basics are our foundation for perfecting our individual Curly Girl Method Journey.
Co-washing is a major component of the CG Method, but without all the necessary knowledge, co-washing can turn from a blessing to a curse for your hair and scalp health. So, let's get down to the basics of co-washing so you make the best and well-informed decisions for your hair.
What is Co-washing?
Co-washing is the physical act of cleansing your hair with a conditioner instead of a shampoo. The thought behind this is that conditioners are formulated with gentle cleansers known as cationic surfactants. They are gentle enough to cleanse (but not deep clean) while imparting more moisture into your parched tresses.
According to an article from Skin Appendage and Disorders, the theory behind co-washing is "it can prevent hair breakage and regain the balance of the sebum production by decreasing the overproduction of sebum and dryness that follow the deep cleansing, but there are no scientific data to prove it. The co-washing method involves mechanical removal of dirt and residues. Before co-washing, the hair should be thoroughly rinsed with water."
How does washing your hair with conditioner work?
Conditioners were created to accompany shampoos. Once sulfates were created in the 1930s, they would remove all the natural sebum the scalp would produce. This would leave the scalp and hair very dry which required the need for more moisture to be added back into the hair. Since sebum is the ideal conditioner for our hair, because that is what it is created to do, conditioners were created to fill the need. Conditioners were created to enhance the overall feel, appearance, reflectance, fullness, and manageability of the hair.
The need was felt for the synthetic sebum-like substance or a conditioner which was able to minimize static electricity, increase hair shine, volume and improve hair manageability and also to maintain hair styling. They are also used to re-condition the hair following chemical treatments, such as waving, straightening, and coloring, and following physical trauma induced by hair drying, brushing, and styling. (D'Souza, Paschal, and Sanjay K Rathi.)
Conditioners are formulated with Cationic surfactants. Cationic surfactants are a class of positively charged detergents (check out the differences between shampoos article to learn more about detergents) that are gentler to provide a light everyday cleansing as opposed to a deep clean.
Why does the charge of the surfactants matter? Well, our hair is negatively charged, similar to magnets, opposites attract.
The negative charge of our hair is attracted to the positive charge of the conditioner. This allows the detergents to bind to the hair gently cleansing and moisturizing the hair and scalp. Cationic surfactants are poor cleansers and do not lather well and are not compatible with anionic (surfactants strong enough to clarify all build-up from hair – including silicones) detergents, limiting their utility. However, they are excellent at imparting softness and manageability to chemically damaged hair and so are primarily used as daily shampoo for damaged hair such as in case of permanently dyed or chemically bleached hair. Examples are Long-chain amino esters, ammonioesters, cetyltrimethylammonium chloride. (D'Souza, Paschal, and Sanjay K Rathi.)
According to the International Journal of Trichology, some cationic surfactants examples are "trimethylalkylammonium chlorides and the chlorides or bromides of benzalkonium and alkyl pyridinium ions. All are examples of quats, so named because they all contain a quaternary ammonium ion. They tend to neutralize the negatively charged net of the hair surface and minimize frizz. They are often used as shampoo's softeners" (Gavazzoni Dias)
*These gentle cleansers work to provide more moisture than cleansing for the hair. These kinds of cleansers are perfect for light daily cleaning, those that do not have product build-up. 
Does this mean I never need to use shampoo again?
While the original Curly Girl Method was all about removing the shampoo from your regime, I would not advise you to throw out all of your shampoos, and here's why.
Conditioners are positively charged, they are meant to deposit moisture into the hair. To do this, conditioners seal the cuticle of the hair by coating the strand in a thin flexible film. Similar to silicone, the job of this film is to keep all the moisture in your strands locked up in there. Keep the moisture for as long as possible, the difference between conditioner and silicone is the seal will wash away with water and whereas silicones must be clarified out.
As days, weeks, and months the conditioner continues to deposit more and more moisture. This means the film accumulates along with your sebum causing build-up issues which inevitably lead to scalp issues.
If you allow your sebum and products to build-up on your scalp, it becomes the perfect breeding ground for fungus that causes common issues such as dandruff. Dandruff is a fungus often caused by overproduction of sebum. It lives off of sebum if you are properly clarifying at least once a month you make the scalp inhospitable to annoying fungus-like dandruff.
Your hair and scalp should be clarified with an anionic cleanser at LEAST once a month. The original Curly Girl Method suggested clarifying with apple cider vinegar or lemon rinses. The only reason I do not suggest letting an acid rinse be your only form of clarifying is that if you do not properly dilute the acid it can be too drying for hair and end up damaging it without properly cleansing. This will leave you with product build-up and dry brittle hair.
Sulfate-free clarifying shampoos should be kept around for the deep cleaning the scalp needs to keep its healthy balance. If you do not want to use a sulfate-free shampoo or feel sulfate-free shampoos aren't strong enough you can prepare the ultimate clarifying treatment, bentonite clay.
Do you have to buy specified co-washes or can you use a normal daily rinse-out conditioner?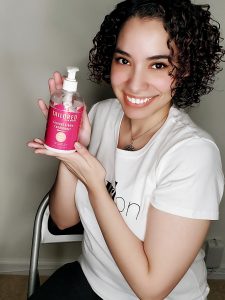 You do not have to buy specified co-washes on the market. For example, Shea Moisture sells co-washes but I never found it as cleansing as the Tailored Beauty Coconut Creme Conditioner. This conditioner is a normal rinse-out conditioner also known as an instant conditioner. It provides a gentle clean and lots of moisture. It's perfect for refreshing dry hair or re-styling hair.
Most on the market conditioners contain cationic surfactants so they will offer you the same benefit as a specified co-wash. The only difference in the products is marketing, you know big companies love to make money! That's what causes most of the instore confusion. You see so many odd names for products; custards, souffles, lotions, etc. The main difference is marketing. Lotions are comparable to daily conditioners. They offer light moisture for the day the same way regular conditioners do. The only difference is you are paying for two products instead of one.
In many cases, a single conditioner can serve many purposes. For example, a simple co-wash day for me is:
That's it! An entire wash day and all I used was three products in total; a conditioner, gel, and oil. This kind of washday is perfect for reviving mid-week curls when no build-up is present.
My conditioners contain oils, how can they cleanse my hair properly?
One word, Emulsion.
I know you must be thinking, "How on Earth, would a conditioner remove oils when oil and water do not mix?"  The only way for co-washing products to remove oil from the scalp and hair is to create a micelle emulsion process.
The emulsion process can be described as the preparation to combine two immiscible substances. Immiscible basically means two ingredients that just do not mix. Water and oil are perfect examples. Through this emulsion process, the water and oil are mixed or blended together to allow the co-wash to capture oils and dirt from the hair. Since specific ingredients do not mix, when the bottle is left on a shelf or in the tub, you need to shake the bottle first, because the immiscible substances will separate into layers. By shaking the bottle, you are remixing the immiscible substances will once again blend together to effectively cleanse your hair.
As we discussed earlier, most rinse-out conditioners on the market contain trace amounts of cationic surfactants or quats. When combined with water, quats absorb and cleanse away tiny quantities of dirt. This leaves the newly co-washed hair feeling clean but not "squeaky" clean.
How do I effectively co-wash my hair?
Remember one very important thing about washing your hair. It is not the product that effectively cleanses your hair it is the physical movement of your fingertips on your scalp. You are manually massaging and removing any debris that could be blocking the hair follicle from growing healthy hair.
Never use your fingernails to scratch the scalp as it can create a tear or cut in the scalp which can cause infection. Always use the base of your fingertips, massage gently.
If you want a deep scrub, you can look into a scalp brush. A scalp brush gives you a deeper clean, removing dead skin cells and debris for a squeaky clean feeling, even with co-washing.
Completely soak hair from root to tip. The water will loosen debris from the hair follicles making it easier to rinse out. Soaking your hair also helps distribute your product more evenly.
Squeeze out enough conditioner for your scalp and hair. This is the one time I will ever tell you to not worry about the amount of product. Normally, we describe the product by saying "a pea-sized amount," "a quarter-sized amount." This is the one time I'll tell you to squeeze that bottle to your heart's content to adequately coat the scalp and hair.
Focus product application on the scalp first then work your way down the hair. This will help the product breakdown the oils and any left-over styling products from your scalp.
Allow the conditioner to sit in hair for 3-5 minutes. You can leave it for a bit longer if your hair is very dry.
Use a clarifying shampoo once every 2-4 weeks to keep the balance of your scalp and remove build-up. Build up is inevitable which is why co-washing solely won't work.
Final thoughts from Red Carpet Curls
Co-washing is a fantastic alternative to traditional cleansing. It's a great alternative but never should be used as the main method of cleansing. Co-washing is best for those without sebum build-up/ product build-up to give a light surface clean.
Co-washing is also great to help preserve hair color. I get cherry red highlights every few months. Most color fades by three months. I normally stretch my color an extra month or two by choosing to co-wash more than shampooing. I am also sure to incorporate monthly apple cider vinegar rinses as they help lock in color and shine as well.
Co-washing is a personal choice, it can be done as often as every day (although no one should wash their hair every day) or as little as once a week or once a month. It's really up to you. The only constant in your regime should be a clarifying shampoo and moisturizing deep conditioner. Everything else is customizable to your hair's needs and your time.
Try looking for natural cleansing ingredients (Examples: lavender, rosemary, lemongrass, or even apple cider vinegar).
If you are looking for co-wash suggestions, I love: