I first started using Bourn Beautiful Naturals after they were kind enough to send me a sample of their Curly Girl Method line, this was back in June of 2018.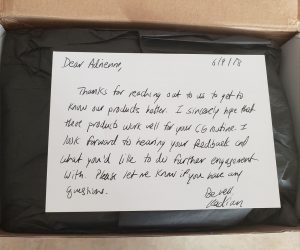 Yes, I use products I review for months even a year before I do a truly in-depth review. That's because I believe you have the right to know all the facts about products before you purchase them.  From the moment I started using these products, it made me realize, all-natural ingredients are what matters for perfect hair days, not brand-names.
From the moment I received the incredibly warm note in my package, I fell in love, and you're about to see why! So, start with What is Bourn Beautiful Naturals.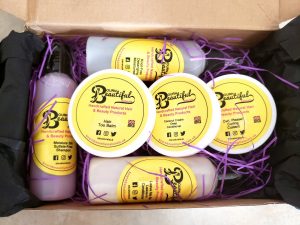 What is Bourn Beautiful Naturals?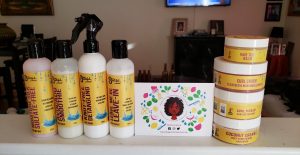 Bourn Beautiful Naturals is a U.K. based, black-owned hair and skincare company named after a brook in the West Midlands, U.K.
The ethos of Bourn Beautiful Naturals is all about maintaining hair and skin's optimal moisture balance in formulas that are both effective and feel luxurious.
They achieve this through mainly vegan and vegetarian ingredients.
What makes Bourn Beautiful Naturals Different from Other Companies?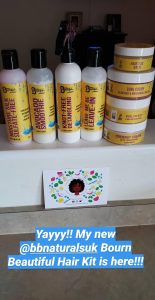 The products are formulated based on direct needs, not market research. All the products are made with love by the company founder, Kadian Pow.
So, rest assured, every product sold by Bourn Beautiful Naturals has been made and used by the founder herself.
I also LOVE the fact that this company has an ingredient dictionary available on their website. This education is essential, the more you familiarize yourself with ingredients and their functions, the easier it will be to find the perfect product for your hair every time.
Individual Product Reviews and Ingredient Breakdowns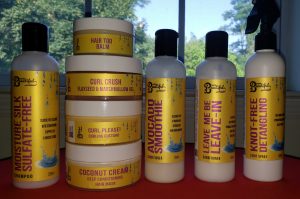 Moisture Silk Sulfate-Free Shampoo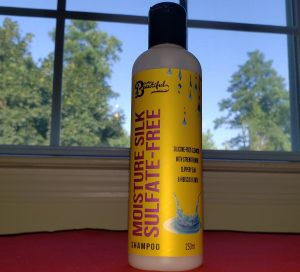 I love the soft Hibiscus aroma that comes from the moment you open the bottle. While the fragrance isn't the most important thing about a product, it makes the experience considerably better if you find a scent you like, hibiscus is mine. If Luxurious formulas are the goal, the shampoo ALONE delivers on that. The shampoo foams very quickly; Consider this a weekly low-poo. Paired with a scalp brush, or even without one, the thick moisturizing foam moisturizes and detangles hair instantly. Whenever I use this shampoo, I know I will not need to pre-poo beforehand, there's more than enough moisture in this one step.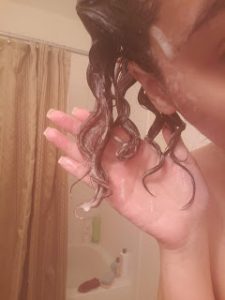 First Five Ingredients Breakdown- (this is what 80% of the product is made of)
De-ionized Water– Known as pure water and is safe to use for hair and skin
Cocoamidopropyl Betaine- Mild surfactant used primarily in shampoos and shower gels. These boost the foam and cleansing ability. These are made from renewable raw materials such as coconut oil and corn and fruit sugars and is completely biodegradable.
Sodium Cocoyl Isethionate- A luxuriously mild surfactant with dense, creamy bubbles that impart a soft, silky feeling to skin and hair. Gentle enough for baby's skin, but highly effective. It is a sodium salt ester or a fatty acid derived from coconut oil.
Decyl Glucoside- Mild surfactant used primarily in shampoos and shower gels. These boost the foam and cleansing ability. These are made from renewable raw materials such as coconut oil and corn and fruit sugars and are completely biodegradable.
Glyceryl Oleate- A skin and hair-conditioning agent; surfactant, and emollient. The use application depends on the concentration. It is a clear or light yellow liquid derived from olive oil, peanut oil, pecan oil, or teaseed oil.
So, from these first five ingredients, you see four of those fives are surfactants. Cocoamidopropyl Betaine, for example, is considered a Zwitterionic (amphoteric) surfactant. This is fancy wording to say this ingredient has both an anionic end (this is the clarifying class of ingredients, negative charge) and a cationic (positive charge) end of the molecule. That means since there are so many surfactants, this low poo has a deeper cleaning action than those of big box store brands like Shea Moisture.
This shampoo is perfect to use several times a week if you need, just make sure to have a clarifying shampoo around for once a month use as positively charged ingredients tends to build-up over time.
Coconut Cream Deep Conditioner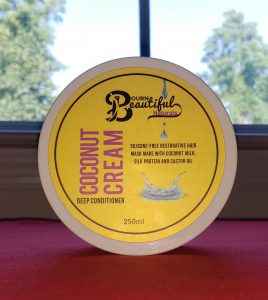 I adore the thick whipped consistency of this deep conditioner. It's perfect for any hair type of texture. This deep conditioner leaves hair feeling like silk. I know whenever I used this deep conditioner my hair is going to be defined, bouncy, and shiny.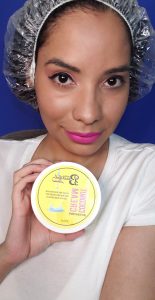 For wavy and fine hair use small pea-sized amounts per hair section and pair with heat to make it even more effective. If you have thicker density hair or a tighter and more fragile hair type like the Type 4 hair type, it's still perfect! Since it's so thick, it truly does take its time penetrating the strands but leaves them stronger, shinier, and healthier once you rinse this product out.
It's packed with pure coconut milk, rich in vitamins C, E, B1, B3, B5, and B6, this deep conditioner will nourish hair with the proteins from its rich fatty acid profile. Shea butter, coconut oil, avocado oil, maracuja oil, and silk protein leave hair super soft and luxurious.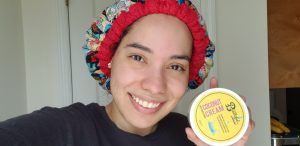 Deep Conditioner paired with Thermal Haircare Hothead
First Five Ingredients Breakdown:
Avocado Smoothie Conditioner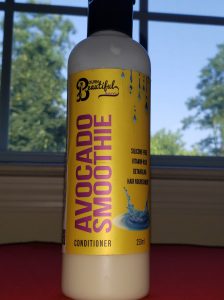 The very first BBN product ever created! This light consistency rinse-out conditioner is silicone-free food for your curls. Think of it as a nutritious green smoothie, but for your hair.
It's filled with slippery elm extract and fatty alcohols for slip, antioxidants, hemp seed oil for barrier protection and anti-itch properties, and easily-absorbed avocado oil.
This rinse-off conditioner will effortlessly detangle and leave hair feeling soft, smooth, and strong.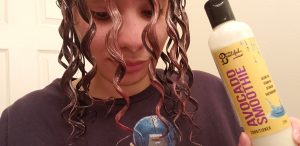 I absolutely adore how light this conditioner is, perfect for my fine density hair. Since the shampoo is so moisturizing, this light conditioner feels like the perfect balance to lock in the moisture my hair acquires.
When you apply the conditioner to soaking wet hair, watch the natural clumps come out so beautifully with such minimal effort! That's what quality, all-natural ingredients get you!
It has an incredibly soft scent, similar to the hibiscus in the shampoo. As compared to the shampoo, the scent of this conditioner is softer than the shampoo. Perfect for refresh days and beach/pool days to replenish moisture.
First Five Ingredients Breakdown:
Leave Me Be Leave-In Conditioner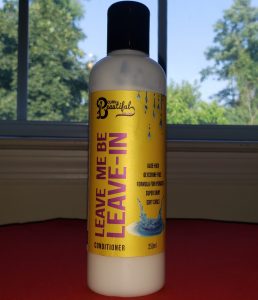 This lightweight conditioner locks moisture into just-cleansed tresses, smoothing the hair cuticle and acting as a protective foundation for styling products to follow. Always gives me the moisture I need to extend my wash n go.
Glycerin-free, and silicone-free, and coconut oil-free!
It is a perfect foundation for styling gels or creams like Curl, Please! Curling Custard or Hair Too Balm.
The leave-in smells amazing as the other products because it also contains hibiscus flower extract.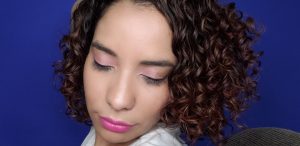 The conditioner doesn't give a heavy or greasy feel or residue, the slip is amazingly perfect for Bantu knots, finger-coiling, and twist-outs.  I actually use this leave-in with the gel to achieve finger-coils. This product provides me the slip the gel takes away when first styling.
I love pairing this leave-in with the gel from this line or even a few of my other favorite gels from Tailored Beauty and Hydratherma Naturals.
First Five Ingredients Breakdown:
Curl Crush Flaxseed & Marshmallow Gel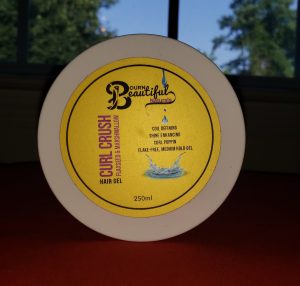 I am a big fan of gel, it's what's responsible for hold, and for fine hair like mine, it's a MUST. It has turned into one of my favorite gels because it's a medium hold and maximum shine.
This vegan flaxseed hair gel is here to give definition, shine, and softness, but without the crunch or flakes.
Thick without leaving hair weighed down, this medium hold formula is filled with an infusion of plant-based extracts to help curls pop. Curl Crush joins a small group of British-made gels specifically formulated for kinky-curly hair.
One thing to note about Flaxseed & Marshmallow, for specifically my high porosity hair, these ingredients tend to suck up all the water in my hair reducing slip. The way I correct this reaction is by continuing to spray water as I style, and adding pea-sized amounts of leave-in over the gel, you can find, the leave-in will provide you with the slip you need to finger coil. If this sounded confusing don't worry, I demonstrate in the visual YouTube Tutorial.  You don't have to avoid these ingredients, just learn how to work with them, because they give you the absolute best shine!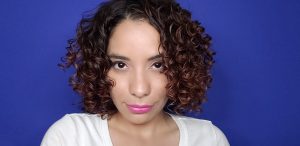 Free from glycerin, gluten, silicone, protein TEA, and made with just 11 ingredients (including water!)
I know whenever I grab this gel, I am going to have a beautiful frizz-free definition each time without any hard or sticky feeling. Did I mention I like the pink color and jelly-like consistency of the formula? Makes for a fun styling session. The smell in this gel is floral like the other ones but a bit stronger. Personally, I loved it, but if you have an issue with fragrances, this one has a nice hibiscus fragrance.
First Five Ingredients Breakdown: