My Beautiful #RedCarpetCurlsRoyalty!
The inaugural Red Carpet Curls Website Giveaway ended yesterday! Thank you all so much for subscribing and following all the rules.
I truly hope the articles have been helping and I cannot wait to share the new videos with you in due time.
But this post is all about the moment you have been waiting for, the grand prize winner!
Just to recap. The grand prize includes: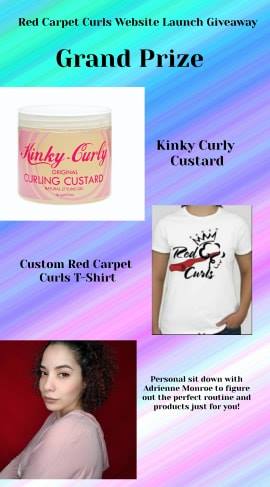 Kinky Curly Custard (A curly girl favorite, and my holy grail when it comes to gel!)
Custom Red Carpet Curls Royalty T-Shirt (Custom and exclusive since they are not available for sale yet! You will be the first beside the Queen to have your very own shirt.
Personal sit down with me, Queen Monroe, to guide you through your personalized Curly Girl Method routine. I will sit down with you and we will go over everything, from what your true curl type and porosity are, I will educate you on the science of your hair so you will know what to look for. I will even break down the best styling techniques and answer EVERY single CGM question you have ever had! Consider me your CGM Coach in your pocket!
Once again thank you all for participating! We got over seven thousand views for the website in the past two weeks alone and over 400 of you have subscribed to the website! That is amazing and a true testament to our sisterhood. I wish I could gift each and every single one of you with the grand prize…but there can only be ONE winner.
And that winner is…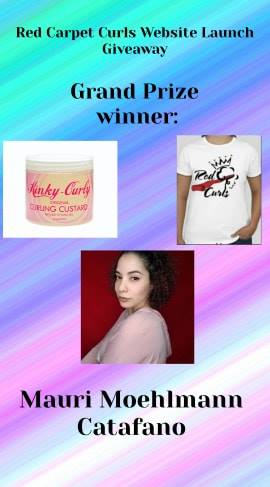 Mauri Moehlmann Catafano!!!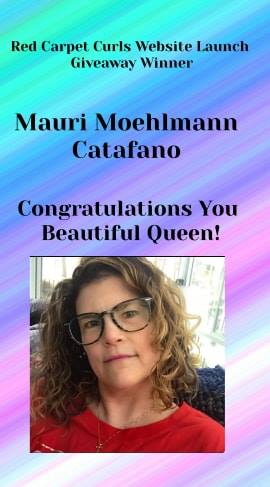 Congratulations my beautiful curly sister! Please make sure to message me within 48 hours to claim your prize and begin your Curly Girl Method Coaching! I cannot wait to work with you Mauri and thank you so much for entering!
To the rest of my queens, thank you so so much for entering! Please, don't feel discouraged that you didn't win this particular giveaway. I will be having many many more giveaways to come pretty soon! So make sure if you aren't subscribed that you do so right now because the next giveaway only SUBSCRIBED members of the website will get the notification a full 24 hours before any formal social media announcement is made. So, you won't want to miss that!