What is Pre-Poo?
Pre-poo is short for pre-shampoo. Pre-poo is a treatment done before the practice of shampooing, to prepare the delicate hair for the very stripping act of the shampoo.
What are some benefits of Pre-poo?
Increased Shine
Hydrated scalp and hair will lead to less flaking and dandruff
Quicker hair growth
Lots of body and bounce
Strengthened elasticity
Primes hair for manipulation
Adds extra moisture
Softens hair, therefore, improving manageability and health
What is the function of a pre-poo?
The main purpose of a pre-poo is to protect the scalps natural oil (sebum) from being washed away with the shampoo. Sulfate free shampoos are meant to clarify the hair. They are meant to wash away any old product, buildup, and sweat from the hair. Therefore the cleansers in the product must be powerful to remove all that. In the end, everything we intend to be removed from our hair will be removed, unfortunately, so will everything we didn't plan on removing.
The excess oil from the pre-poo will create the barrier needed to protect the scalp's natural oils. After rinsing out the shampoo, you will have that nice clean scalp feeling while still having your scalp's natural oils intact.
Hair naturally gives off a negative charge, while conditioners give off a positive charge. The positive charge from the conditioner is attracted to the negative charge the hair gives off. Once attracted, the conditioner binds to the hair and cleanse the strands and scalp. Which is why co-washing works between shampoo washes.
If co-washing cleanses the hair like shampoo, why can't I solely co-wash so I don't have to pre-poo and shampoo?
Since conditioners give off a positive charge, our negatively charged hair is not only attracted and binds to it, the conditioner "deposits" the moisture into the hair. Over time this will weigh hair down (especially finer hair like wavy and curly hair). This is why solely co-washing is not good for the scalp. Yes, I know the original Curly Girl Method states to only co-wash and use vinegar and lemon juice to clarify the hair. I do not suggest this for people new to the method since if not measured properly the acids can harm the hair by drying it out too much, causing further split ends and breakage.
The best way to clarify hair is to use a sulfate free clarifying shampoo like Inahsi Naturals Soothing Mint Sulfate-Free Clarifying Shampoo. This is my go-to clarifying shampoo since I go about two weeks at a time without washing my hair. You always want to have a clarifying shampoo around to keep the proper PH Balance in your hair. Otherwise strictly co-washing can lead to greasy, weighed down hair, or even worse hair falling out or scalp issues.
Since clarifying shampoos are meant to remove absolutely everything from hair to give that squeaky clean feeling, it's best to protect those natural oils with a pre-poo to prevent those annoying scalp flakes after washday.
How often should I pre-poo?
Although you should pre-poo every single time you shampoo no matter what time of year, pre-poos are especially helpful in the winter months. Since there is no humidity in the air (water in the air) there is nothing to moisturize your hair. In fact, winter months have some of the driest and harshest air, which eventually sucks the moisture out of your hair. Adding this simple step to your washday will save you lots of time on restyling and rewashing. It will extend the life of your wash and go! Rule of thumb pre-poo before you shampoo, may that be once a week or once a month. Pre-poo takes at least 15 minutes to penetrate the hair but can be left on overnight. It will not cause hygral fatigue. Adding heat such as sitting under a dryer or using a microwavable cap, or even a hair steamer helps the oils penetrate.

Can I wash my pre-poo out by co-washing?
I would not recommend washing a pre-poo out with conditioner. As mentioned above, conditioners deposit moisture into the hair. Over time it will weigh the hair down. This is why the oil is meant to be washed away by shampoo and not conditioner. For further information on co-washing, click here for the full in-depth article.
Can I pre-poo with any oil?
NO! There is a big difference between oils. Some oils are moisturizing, which means they work to penetrate the cortex of the hair strand in order to moisturize from within. Whereas a sealing oil, will basically coat the strands to create a protective seal to keep hair moisturized longer. The coating seals the moisture from your wash and go for longer periods of time. If you use a sealing oil on your scalp it can clog the hair follicles preventing hair from breathing and receiving the nutrients it needs. For pre-poo, hot oil treatments, or any other uses where you need oil to penetrate look for moisturizing oils.
Don't know the difference between sealing and moisturizing oils? Click here for the full in-depth article with examples for each category.
How does the Queen Pre-poo?
How do I pre-poo you ask? Well I am so happy you did, and you can probably already tell from the photo in this article, I ADORE my Q-redew hair steamer. I use the hair steamer to gently detangle my dry hair (since I like to pre-poo on dry hair, you can totally pre-poo on wet hair as well) and soften it. The steam works to penetrate my strands and push moisture from the vapor (water in steam form) into my hair to strengthen the strands. Once the hair is detangled and hydrated I turn my attention to the oil. Before using the oil I like to heat it up by placing the plastic bottle in a bowl of hot water.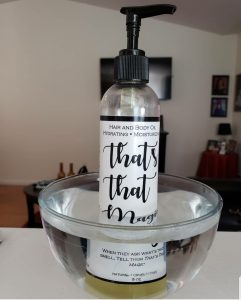 The heat from the water will warm up the oil. This step will help penetrate the strands more. This is also the step to take in hot oil treatments. I take the oil bottle out of the water, dry it off, and begin to apply. I pay special attention to my scalp since I often get flakes by day 4 and 5. Once I apply the oil to all of my scalp, I begin to massage it in for 2-3 minutes. Once my scalp is fully saturated with the oil, I turn my attention to the strands by pouring the oil onto the palm of my hands, massaging them together, and raking the oil through my hair as I would any styling product. Continue this until my hair and scalp is covered in oil and then I put on a shower cap and allow it to work for about 2-4 hours, if not overnight. I rinse with a sulfate free shampoo and continue with my normal wash day routine.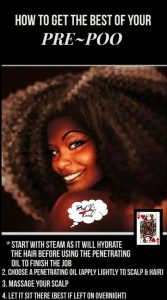 References
A.S. Rele, R.B. Mohile. "Effect of Mineral Oil, Sunflower Oil, and Coconut Oil on Prevention of Hair Damage." Journal of Cosmetic Science (2003): 175-192.
curlynikki.com. The Art of the Pre-Poo…and How to Master It. 20 August 2015. 28 February 2019.
—. Why You Should Add Pre-Pooing to Your Routine. 28 June 2013. 28 February 2019.
Kenneth. Pre-Poo: How to Make the Best of Your Pre-pooing Routine. 31 December 2017. 28 February 2019.
MATILDEBENGTSSON. "All-day hair manageability for textured hair types." A revision of the current anti-frizz technologies and suggestions for the future. Gothenburg: Chalmers University of Technology, 2016.
Mielle Organics. Benefits of a Pre Poo. 31 August 2017. 28 February 2019.
NaturallyCurly. 5 Reasons You Should Pre-Poo. 29 May 2018. 28 February 2019.
Science-y Hair Blog. Oil Pre-Shampoo or Pre-Wash (And how to make it work for YOUR hair). 20 March 2014. 28 February 2019.
Strickland, Aishia. 6 COMMON SHAMPOO MISTAKES NATURALS MAKE. 4 January 2016. 28 February 2019.
Trials n Tresses. 6 Inches In 6 Months Hair Growth Challenge Week #4 Pre Poo. 17 April 2017. 28 February 2019.