Some say necessity is the mother of all inventions. That definitely seems to be the case for this small, family-owned all-natural skincare company by the name, Colors Skincare.
Colors skincare all started with a simple but persistent problem for the founders: Eczema. After spending hundreds of dollars on over- the- counter, incredibly overpriced treatments for their four-year-old son, these two problem solvers decided to find a natural way to heal the problem. Most over- the- counter solutions contain bad chemicals that can further aggravate skin conditions.
As time went on, they began formulating their own all-natural treatments to help their son. Soon, a new sensitive skin addition to the family gave the founders the push to launch the business we know today as, Colors Skincare.
Colors Skincare has one mission:
To help their children and other children struggling with skin complications like eczema, psoriasis, rosacea, acne, etc.
Out of necessity for their son, came the best all natural products to help with many skin conditions. Let's talk about the two products they currently have for sale.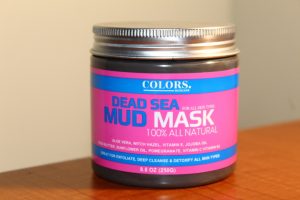 This Dead Sea mud mask is definitely an experience. This mask has become the most peaceful twenty minutes in the craziness that is my normal week. What I love most about this mask is the nice gentle tingle. I used to dread the skincare night of my week because the well-known treatment masks for acne, like the Indian Healing Clay Mask, often become very tight on the skin when it dries. I cannot stand that "frozen –in – time" kind of feeling. I normally do my masks as I catch up on my Netflix binging. What good is a "relaxing" mask, when you can't even laugh at the punchline of a show?
This mask is meant to exfoliate, deep clean, and detoxify your skin. The mask extracts toxins and impurities located deep in the skin's layers. It absorbs excess oils, removes dead skin cells, dirt and toxins, that can clog the skin's pores.  I always apply my mask on dry, freshly- cleansed skin with a face mask brush. You can use the mask with your fingers but I prefer using a brush. A brush just offers more benefits and protection in my opinion. By using a brush, you will use less product as the brush will evenly distribute a thin layer of the product to the prepped skin. I prefer not to use my fingers because I do not want to stick my fingers into the tub of the mask and contaminate it with bacteria that can linger on fingertips and under the nails.
Once applied (please make sure to avoids eyes and lips as always), I allow the product to sit for the recommended 15-20 minutes. Upon application, the mask is cold and soothing at first, once on the skin for about 60 seconds, a slow warm tingle will begin. The mask does dry on face, tightening pores a bit but not enough that you cannot move your face. My Netflix shows have been way funnier ever since I could indulge in my laughing once again.
Once my timer goes off, I rinse my fingertips with warm water before massaging my face in circular motions. As you massage, the water on your fingertips will rewet the formula on your face and allow you to use it as an exfoliation treatment. When done exfoliating (I normally do for about 30 -60 seconds), continue to rinse with warm water. After the mask is completely washed off, fresh, soft, clear looking skin. Leaving behind clean pores, even skin tone, and refined skin texture.
Unlike many other masks on the market, this mask is:
100% all natural
Vegan
Cruelty-free
Gluten free
Non- GMO
FDA approved
Gentle enough for kids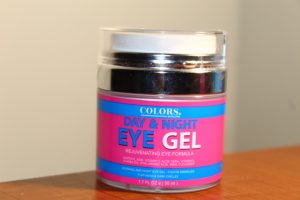 This recent addition to the magnificent roster of products seemed to come at a perfect time for me. I have just turned 24 and have recently been researching a lot about how to treat under-eye puffiness and discoloration. For years I suffered from a liver condition that gave me the worst under eye bags ever (try living up to the cool girls I high school with huge dark bags under your eyes). Thankfully, fast forward almost a decade later, and I am in great health. Yet, constantly working on this website and new content does leave some stress that is noticeable under the eyes. That's when Colors Skincare decided to reach out and tell me they had the answer to my prayers. As women get older the skin under our eyes and under our neck thins out and causes even more imperfections like fine lines, wrinkles, and dark circles.
This new all-natural eye repair gel is what every single woman needs in their beauty arsenal. This multi-effect gel takes care of dark circles, bags, wrinkles, fine lines, crow's feet and puffiness under the eyes. The intensive gel can be used both day and night. Less is more with this product.
I like to squeeze the bottle down to only allow a pea-sized amount of products to dispense onto my fingertip. I always apply the product to my index finger and simply rub both index fingertips together to evenly distribute a thin layer of the product to both under eye areas. I like to gently tap the product onto the skin. Since the under-eye area is one of the most sensitive areas of skin on the body since it is so thin. The more it thins out the more noticeable lines and puffiness will be. By rubbing products on, you can cause damage to the skin and counteract the effects of the formula. By tapping the product in, you gently distribute and the skin begins to absorb the product without any damage rubbing can cause in the long run.
The gel absorbs very easily and quickly into the area. There is no greasy feeling left, so it is perfect to use as the final step of your skincare regime before applying any primer to wear makeup. The formula does not contain fillers, harmful fragrances, dyes, silicones, or parabens. It is completely #curlygirlmethod approved (if you apply the method to skincare as well). With all-natural and vegan ingredients including aloe vera, cucumber, and jojoba, just to name a few! That's what makes this gel perfect for even the most sensitive of skin types.
Your skin deserves the very best without breaking the bank, and it just doesn't get any better than Colors Skincare.